With guests returning to restaurants, it's important to be organized at the front of the house to gain the initial momentum of the evening, which leads to a great night of service.
The need for waitlist and reservation management is also increasing since the popularity of going out to eat is getting back to normalcy.
When restaurants take reservations, it does more than secure a table for customers — it benefits you and your staff. Your manager knows what's ahead as far as how and when to expect the busier times, which affects how you should schedule staff for the evening.
However, the old-fashioned system of taking customer calls and keeping a registration log in a book or spreadsheet has always been a cumbersome process.
What if your restaurant is already short-staffed because of a labor shortage?
If you dedicate time and effort for a staff member — or two — to take reservation calls, that employee may get caught trying to rush through one call if other calls are coming in at the same time. It's even worse if you have staff taking calls while at the host stand, with more guests in the restaurant waiting to be seated.
The more a host delays the current guests' seating, causes a disruption in the overall flow of the restaurant, and could have a possible effect on how the kitchen performs.
And what remains are unsatisfied customers.
During the first quarter of 2022, a Yelp survey claims that complaints over short-staffed restaurants were up 229%. Meanwhile, searches for reservations increased 107% over the same quarter.
If your reservation system is limited to just taking phone calls, it can lead to missed bookings and other organizational mistakes, which all come down to affecting your revenue.
An online reservation system can keep your restaurant organized, well documented for other staff to see, and gives you a detailed road map of how the evening will go.
Here are three reasons why your restaurant needs to add an online reservation system to organize your restaurant and keep your customers satisfied:
1. Online Reservations Give Customers Flexibility
If your restaurant is only taking call-in reservations or even email reservations, you are missing out on a significant portion of your customer base.
PYMT's 2022 Edition of the "Restaurant Readiness Index" found that only 14% of restaurants have their reservations/bookings operations mostly or fully automated. The research also notes one in three restaurants report that their level of service has decreased as a result of staffing issues.
When you add an online reservation system, you give customers a simple method of taking that step from viewing the menu to making a dining commitment at your restaurant. A 2021 Hospitality Technology study claims tech investment aimed at improving digital customer engagement is the No. 1 goal for restaurants.
A reservation and guest management system adds a top layer of convenience for the customer and your staff.
The obvious benefit is you're taking away time your team has dedicated to answering phones and writing down names and times on a reservation log. That may not seem like a lot of time, but keep in mind whoever you have taking the call has to spend time with the customer to search for an open time slot that works.
The other benefit is that your customer sees the times available on their phone or laptop and gets to pick the preferred time.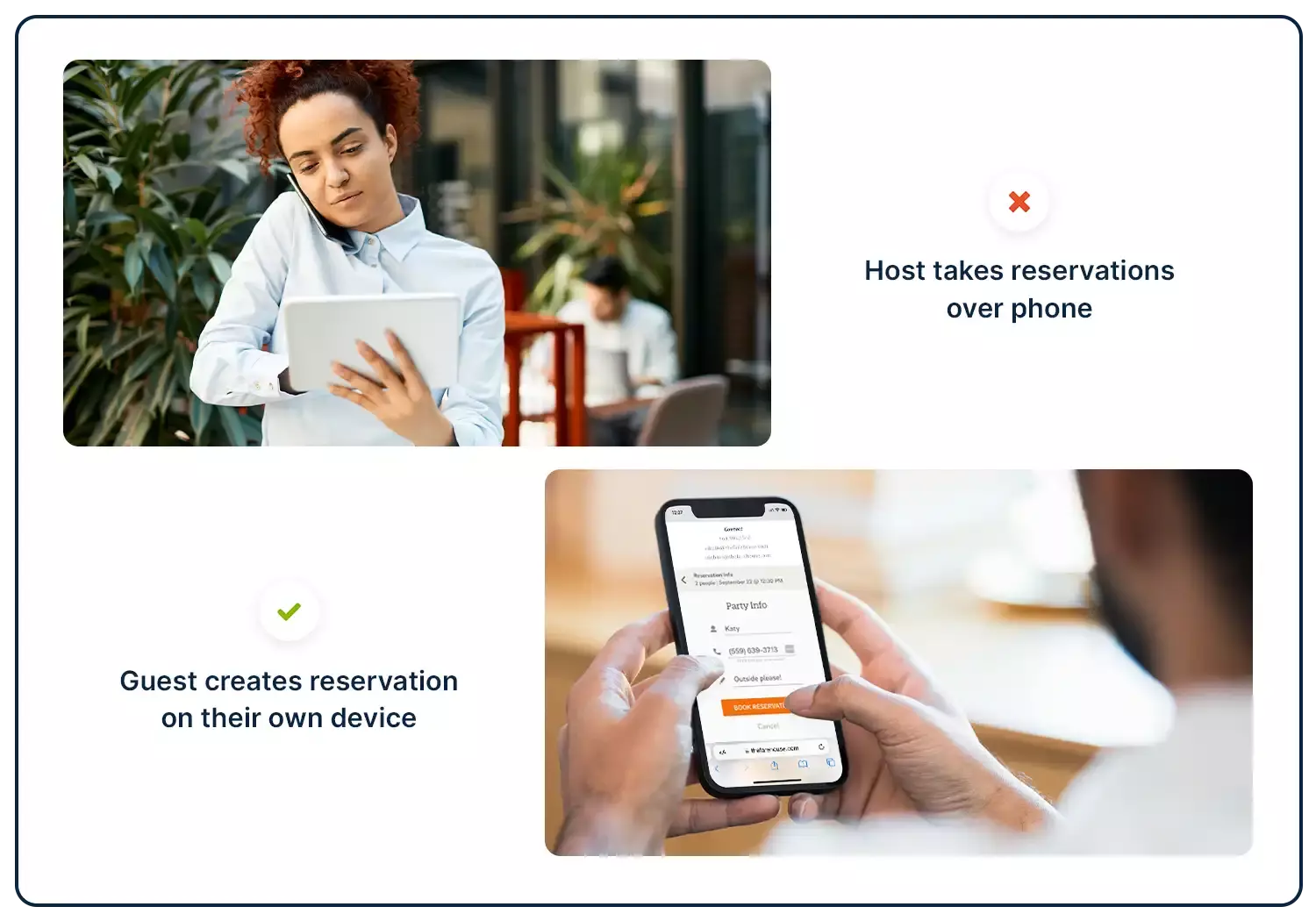 2. Reservation Confirmation and Communication Make Guests More Comfortable
With an online reservation system, once the customer selects their time, your management program can automatically send a text message to the customer.
There is a two-fold reason online is better than calling in. This confirms to the guest that their booking is reserved, and secondly, the guest sees their preferred time, which matches in the system and limits any mistakes by either your restaurant or the guests.
You can also automatically send out a text to the customer the day before or the day of their booking as a reminder, which makes the customer feel comfortable.
In the old-fashioned system, a customer called the restaurant, the information was put in the book, and the customer didn't hear from the restaurant until they showed up.
If your staff made a mistake, let's say the time was an hour off by one way or the other, you are left with an angry customer, and you have to scramble to make things right while possibly inconveniencing other guests with adjustments.
It's a possible snowballing of problems, or you have a restaurant lagging for reservations or longer wait times for walk-ins.
3. Reservation Systems Improve Customer Engagement
When a customer uses your online reservation system, you can capture the guest's information and you have several bonus features you can perform.
Immediate reservation special: When guests reserve a table online, surprise them with a thank you and because they made the reservation online, give them 10% off their bill, or free dessert.
Follow up with a survey: After the guest dines at your restaurant, text them and find out how their experience was. You can get information about food, service, etc.
Integrate with your loyalty program: With the guest's information, you can text them to become part of your loyalty program to keep them coming back.
Run a retargeting campaign: If some customers haven't made a reservation with you in a while, text them to come back and let them know about new menu items or other changes. It's easier to get customers to return to your restaurant than trying to acquire new ones.
An online reservation system is more than just a convenient way to hold a spot at the table for a customer. It's a way of gathering information on your customer base and utilizing it to be a potential revenue generator in the future.
Conclusion
Restaurants have advanced way past the point of accepting simple call-ahead for reservations, and with more customers being tech savvy, having an online reservation system should strongly be considered.
Providing online reservations is not a way of cutting corners for restaurants facing labor shortage issues but a better way to manage staff, predicted covers, and guest management.
CAKE's Reservation and waitlist platform provides a smooth and seamless experience from start to finish with its reservation and waitlist technology.