Looking for new ways to boost your bottom line? Do you offer alcohol at your restaurant? What if guests could bring their own?
Allowing your customers to drink alcoholic beverages makes them happy. Whether you offer a full-service bar or not, offering a BYOB policy in your restaurant can be a win-win situation.
Based on your restaurant location, the local laws on alcohol consumption vary. But, because of liquor license expenses, restaurants are turning to offering BYOB. In this situation, your guests have a good time, and your restaurant cashes in at the same time.
What Is BYOB?
"BYOB" is short for "bring your own bottle" or "booze." You may have received a party or barbecue invitation with the BYOB acronym on them. If a restaurant has a BYOB policy, the establishment allows guests to bring in their own alcohol.
A BYOB restaurant isn't as self-explanatory and straightforward as it sounds. Why's that? Because these establishments can offer different levels of service for BYOB.
In a typical BYOB restaurant, the eatery serves only non-alcoholic beverages and food. Guests can then bring their beer, liquor, or wine and pour their own alcoholic drinks. Check your local laws for restrictions on what type of alcohol your guests can bring in and you may find it may be better than having a bar.
Learn more: 7 Must-Haves to Open a Bar
How Is BYOB Beneficial to Restaurants?
Having a BYOB status can be beneficial for restaurants in some meaningful ways. The most significant benefit of running a BYOB restaurant is saving money. Liquor licenses or permits may have six-figure price tags and vary by location. This puts them out of the reach of many restaurateurs.
If your restaurant implements BYOB, you can use that saved money and invest it in other aspects of your business. Finally, upgrade your kitchen equipment or remodel your dining room.
On top of saving you money upfront, BYOB can benefit your establishment in the following ways:
1. Enables Guests to Connect With Your Restaurant
As a general rule, successful restaurants are eateries that connect with their customers. If you offer BYOB, this will allow servers to spend some more time at the table engaging with your guests. This is an excellent opportunity to ask questions, such as if it's their first time with you or celebrating anything. If a customer brings in a nice bottle of wine, sometimes there's a backstory to it. Ask, listen, and connect with your guests over drinks.
2. Provides Chances to Make Specific Recommendations
Restaurants that offer BYOB give servers the chance to make specific product recommendations. If a guest brought in a bottle of pinot noir, they could recommend a creamy pasta dish. Based on the alcohol they bring in, up-sell and gear your guests towards dishes that will pair well.
If guests let the host know ahead of time what kind of alcohol they are bringing, make a note of it. Vice versa, if you are running new specials that night, the host can suggest what would alcohol would pair best. Servers should always check the reservation notes and begin to think of complementary dishes.
3. Distinguish Your Business From Competitors
Take a look at your competitors and see what kind of bar service they offer. If you offer BYOB and they don't, your restaurant will stand out against its competition.
Dining at a BYOB establishment offers a different shareable experience. Many people seek out locations across the country that offer this service.
4. Allows You to Create Classic and Signature Mixers
BYOB restaurants have the opportunity to create classic and signature mixers for guests. For example, if a customer wants an old fashioned, you can provide bitters and orange simple syrup.
For guests that enjoy other kinds of spirits, make mixers that you can't find elsewhere. Explain to your guests that all your mixers and made fresh in-house.
These craft recipes will help you stand out against your competitors. Examples such as cucumber or hibiscus and citrus both pair well with gin and tequila. Make sure your mixers complement the food you serve in your restaurant.
5. Breeds Culinary Creativity
BYOB restaurants don't enjoy the margins typically associated with traditional alcohol service. Take other alternatives to make up for the money other establishments earn.
One way to do this is by serving creative fare that your competitors don't offer. You can create a rotating menu that shows off the best seasonal ingredient or a specific type of cuisine. Being a BYOB restaurant allows you to have more room for creativity with the food you serve.
6. Makes the Cost of Dining Out More Manageable
According to the United States Bureau of Labor Statistics (BLS), the typical American household spends $3,365 on food away from home every year. They also report that Americans spend 1% of their gross income on alcohol. That translates into an annual expenditure of about $565 per year.
Going out to eat can be cost-prohibitive for some diners as specialty cocktail prices rise. Help your guests' dollars go further by allowing them to BYOB. A BYOB policy can make dining at your restaurant more affordable and approachable.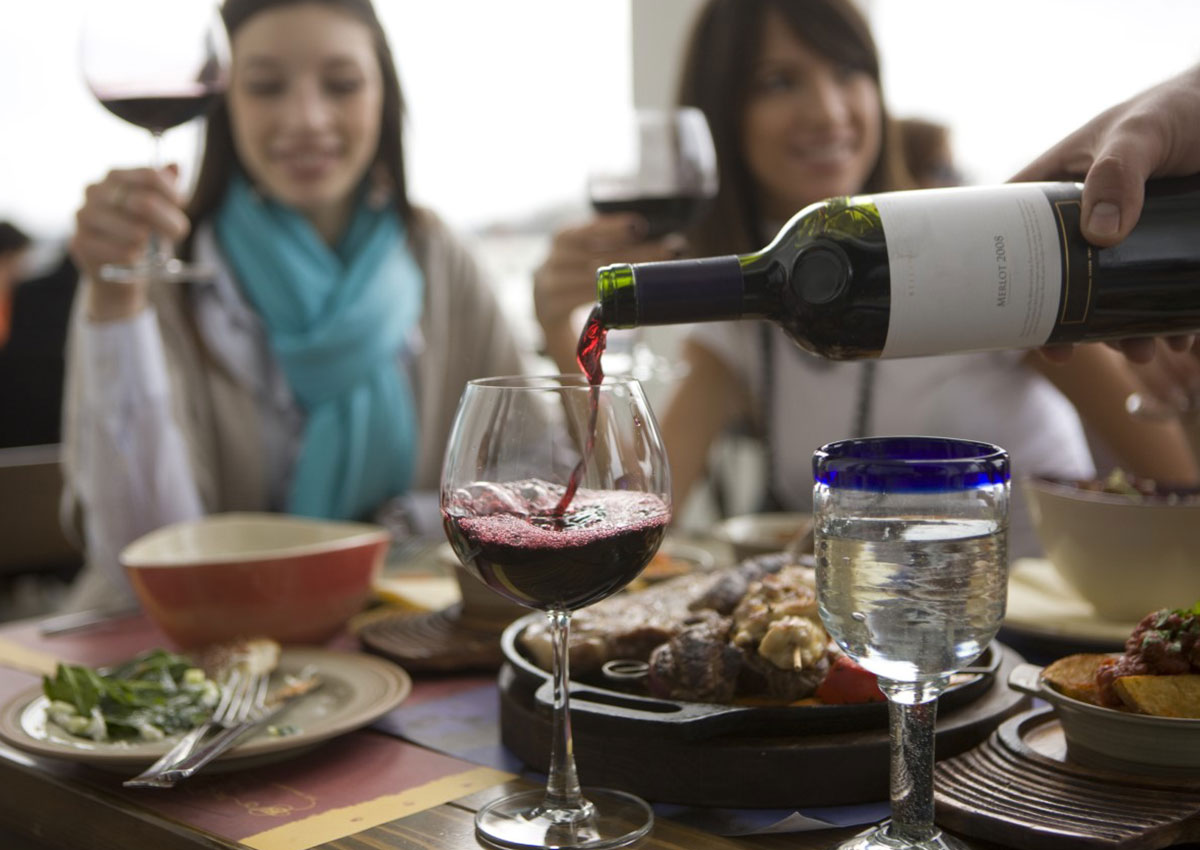 7. Lowers Inventory Costs
Allowing people to bring their own alcohol makes the cost of eating out easier for many people. It can also help you keep your inventory costs in line.
When you have a bar—limited or full-service—you must carry an inventory of alcohol. This can tie up valuable cash until it sells. If your restaurant is BYOB, you'll be able to invest that money in other areas of your business or keep it in the bank.
8. Creates Opportunity for Additional Revenue Streams
If you run a BYOB establishment and you're not already charging a corkage fee, you may want to put one in place. Implementing one will help establish a new revenue stream.
Some corkage fees are a few dollars per bottle, while others might be a little more pricey. The key is to determine a corkage fee your customers will be able and willing to pay.
BYOB Alternatives
Dining in a restaurant with a BYOB policy allows guests to bring their own alcohol for an enjoyable, intimate evening. However, many entrepreneurs are looking for ways to reinvent the traditional BYOB experience. Here are some alternatives to the traditional hands-off BYOB policy:
Here are some alternatives to the traditional hands-off BYOB policy:
1. Complete the Drink
The first spin on a traditional BYOB restaurant is an establishment that "completes" the drink. It provides guests with the tools needed to create an alcoholic beverage. In cases where you allow spirits, offer mixers and garnishes like olives or fruit twists. This is a fun opportunity to provide guests with "build your own mimosa" if they bring champagne. This type of eatery offers all the things necessary for guests to act like their table's own bartender.
2. Full-Service Optional
Like the first alternative, this BYOB restaurant completes the drink, but at the table. Servers can offer a full-service option to their guests and would pour their alcohol for them. If this is the accepted option, the alcohol containers are generally left on the table.
3. Full-Service
This type of hybrid BYOB restaurant is quite like the one discussed above. The key difference between the two is how the alcohol a guest brings in is presented. In this situation, customers give their alcohol to a restaurant employee or "bartender" upon arrival. Then, servers will deliver alcohol to the appropriate table as if the guest chose it from the drink or wine list.
4. Corkage Fee
The fourth hybrid BYOB restaurant can be any one of the three mentioned above. But, this policy is different from the others relating to its fees. This type of eatery adds a "corkage fee" to the bill of diners who bring in their own beer, wine, or spirits. A corkage fee is what a person must pay to enjoy the privilege of drinking alcohol at the restaurant. Establishments usually assess corkage fees on a per bottle basis.
What to Consider Before Implementing a BYOB Policy
First, figure out whether it's possible to have a BYOB policy in your establishment.
The rules that govern alcohol service vary from one state to another and between locales. Some states need a restaurant to have a license to sell and serve alcohol on its premises. Others might enforce a license or permit that allows guests to consume alcohol on site.
Once you have your license or permit, you'll need to determine the type of BYOB eatery you want to have. Will you allow your guests to bring in wine only, or will you permit them to bring in liquor as well? Is your restaurant going to be 100 percent BYOB, or will you sell alcoholic drinks too?
After you determine your policy, think about your restaurant's insurance. If you don't plan on selling your own alcohol, you might not need the same coverage as a full-service bar. Liquor liability insurance is a must. But, BYOB restaurants are more of a social host rather than licensed servers.
Social hosts aren't held liable for as many things as licensed servers can be. But, they still need the appropriate type and level of liquor liability insurance. Find a knowledgeable insurance agent who is familiar with BYOB restaurant requirements. Your staff should also be adequately trained on the responsibility of serving alcohol.