Spring is officially here! After bracing one of the most challenging winters yet, spring brings excitement to people and restaurants for the return of warmer weather and outdoor dining. 
Dealing with seasonality is second nature in the restaurant industry. Yet, restaurants that know how to capitalize on each season are the ones drawing new customers in and keep them coming back. 
Springtime is when restaurants begin to see business pick back up, and it's vital to the success of your business and bottom line to be prepared. 
Have you updated your menu? Is your patio ready to go? 
The list of things to review can get long, that's why we've outlined these nine tips.
1. Spring Cleaning Comes First
 A clean and sanitized restaurant is a top priority for consumers when it comes to dining. Recent data from Ecolab shows that 95% of consumers want to see as many or more cleaning practices post-COVID. 
This means you need to take spring cleaning to the next level in your restaurant. Measure Protocol notes that 86% of consumers want visible evidence of cleanliness, which is essential to them feeling safe. 
You can attract guests to your restaurant when you post publicly on your social media your cleaning efforts. 
If your indoor dining was closed for an extended time, cleaning and sanitizing are even more critical before reopening. Prepare your restaurant by setting up multiple sanitation stations and ensure your cleaning efforts are ongoing during all operating hours.
Learn more: How to Properly Sanitize Your Restaurant 
2. Prep for Patio Season
Restaurants tend to see an increase in business during the warmer months as it's more appealing for customers to venture outdoors. That means patio season is back!
VSAG (Vucurevich Simons Advisory Group), a leader in international restaurant and hospitality consulting, has found that by simply adding an outdoor patio to your restaurant, you could increase gross profits by up to 65%. 
Guests love to indulge in outdoor dining, and post-pandemic, this is even more appealing as open-air environments make them feel safer. According to the National Restaurant Association, 84% of adults say they favor allowing restaurants to continue setting up their outdoor dining on a sidewalk, parking lot, or street permanently. 
Outdoor dining has been a lifeline for many restaurants throughout COVID, and though it was difficult to maintain in the winter, spring brings hope. Now that doesn't mean you can get rid of the patio heaters yet, but you must begin to think of what you will need for the sunnier days ahead. 
Do you have umbrellas to keep your guests shaded? Or a patio awning for when it rains? The best patios are equipped with the right tools to handle all last-minute weather changes. 
You can also keep business flowing on your patio during the night by adding string lights. These are a great way to attract people walking or driving nearby to come to dine with you.
3. Plan for Seasonal Staffing
As dining restrictions begin to ease up and restaurants can operate at higher capacity limits, you're going to need more hands-on-deck to help manage the influx of customers. 
Right now is the time to get more staff hired. When you plan ahead, you'll have enough time to onboard new hires, get them familiar with your restaurant, and train them properly before business booms.
Hiring more people for the busier seasons is also going to help prevent burnout from your rockstar servers. When you provide them with the right amount of help from bussers, food runners, dishwashers, you name it; they can do their job more efficiently and spend more time engaging with guests. Every staff position in your restaurant is equally important to the success of your business. 
It's also important to note that you should evenly divide server sections across your restaurant and patio with your daily floorplan. You're going to run into those days where everyone wants to sit outside, and if you only have one server assigned there, you're putting them at a disadvantage. Keeping the number of tables even between your servers will help ensure proper rotation, and nobody gets left in the weeds. 
Learn how to optimize your restaurant floor plan. 
4. Update Your Menu with Creative Seasonal Offerings
Updating your menu is a must for your spring preparation. Your guests' preferences are changing, and your menu should reflect that with in-season produce. 
On a hot sunny day, your customers will want something fresh and light, not the warm hearty dishes you were serving this winter. 
Spring brings an excellent opportunity for your restaurant to partner with local farms and suppliers to incorporate their produce in your offerings. Are you using local honey in one of your cocktails or breakfast items? Make sure your guests know.
Your menu should highlight local ingredients because this is an effective way to show your restaurant's role in its community. Today's consumers care about food transparency and want to see how their decision to support your restaurant affects their environment.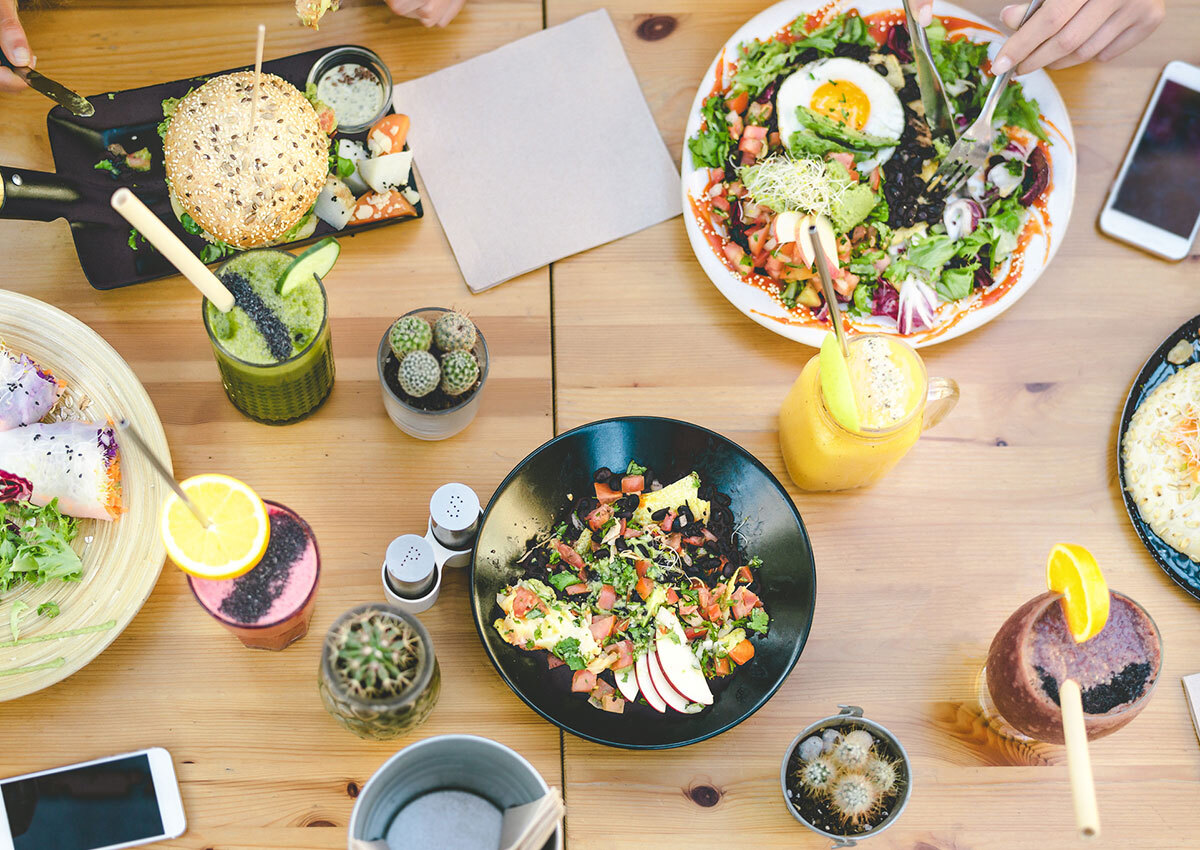 Our trend research found that consumers want more superfoods and flavors with health benefits. Consider adding ingredients that boost immunity, such as ginger, turmeric, CBD, and chia seeds to your menu. 
Don't forget about your cocktails as well. With patio season in full effect, your guests will want refreshing drinks to keep them cool. Having specialty cocktails that are creative and reflect the season can help drive sales and attract more customers. 
5. Controlling Warm Weather Delivery
While on-premise dining is expected to increase, takeout and delivery will remain popular among consumers. Whether it's hot or cold temperatures, weather plays a significant role in how your food is delivered to your customers. 
But in preparation for the warmer months, you need to make sure you have suitable to-go packaging to keep items cool. For example, salads or acai bowls in a hot car do not mix well. By the time it gets to your customer, it's a soggy or runny mess. 
To ensure proper delivery, you'll want to invest in insulated bags, ice packs, and containers that will help you separate components by temperature. 
6. Be Ready for Spring Holidays
The spring season is full of holidays, giving you numerous chances to run promotions to attract customers and increase your revenue. 
Mark your calendars with these popular holidays to start planning your promotions: 
Easter – April 4th

Cinco de Mayo – May 5th

Mother's Day – May 9th

Memorial Day – May 31st

Father's Day – June 20th
When it comes to the more significant holidays like Easter and Mother's Day, entice your guests to come in by offering a prix fixe menu or to-go family-style meal kits. 
Does your restaurant offer brunch? Brunch started as a holiday-based tradition, but it's a fun way for guests to enjoy a late breakfast on the weekends in the springtime. Consider offering brunch throughout the spring and summer, so there's a new opportunity to offer promotions every week. 
7. Freshen Up Your Decor
Spring embodies a warm atmosphere, and as you're updating your menu, it's important to freshen up your decor at the same time. 
Brighten up your counters and tables by adding a small vase of flowers or some greenery with plants. These are cost-friendly options that create a gorgeous visual (and Instagrammable) impact for your restaurant. 
Something to keep in mind is that your outdoor space and decor should feel like a continuation of your indoor space. Always stay on brand using the same color scheme and vibe of your interior. 
Additionally, a great way to enhance your decor and to always have fresh ingredients on hand is by adding a small garden on your patio. For example, check out Aventine's garden. It's visually appealing and doubles with the functionality allowing them to serve food from garden-to-table. 
8. Revamp Your Marketing
Patio seating, spring cocktails, and holiday promos will only bring guests in if they are aware of them. Make sure you are keeping guests informed of upcoming events and specials, so your efforts don't go to waste. 
Start off by reviewing your restaurant's social media marketing strategy. What's working? What's not? Set aside a day to take photos of your new dishes, drinks, and decor to update your website and use on social media.  
Find free tools to elevate your online presence in our Restaurant Social Media Marketing Guide.
9. Use Technology to Serve Customers More Efficiently
Whether you plan to expand your restaurant with patio seating or not, tableside ordering can help your servers better engage with your customers, giving them more time to upsell and enhance the guest experience. 
Using handheld devices to take orders tableside is a strategic solution to increase efficiency, turn tables faster, and serve more guests in your restaurant.
Reduce your servers' chaos of running back and forth between terminals and tables by investing in mobile technology. Having the ability to input orders table-side will help prevent servers from getting too backed up and forgetting to input orders. Or vice versa, inputting all their table orders once they finally have time to reach a POS and slam the kitchen. 
Spring Success
Be a forward-thinking restaurant owner and use the tips above to help prepare for the upcoming busy season. 
Start on the tips you think would benefit your restaurant the most, and begin to implement more as you're ready. Success doesn't happen overnight, but when you put in the work of updating your menu and stepping your patio game up, it won't go unnoticed.