With thousands of restaurants across the US, how do you stand out in this saturated market? Well, it all comes down to your restaurant concept. Hence why carving your niche is one of the first steps in opening a restaurant.
From cafes to fine dining, your restaurant concept is the roadmap to the details of your new business. What's going to make your restaurant special? To answer this, it's essential to know the most popular types of restaurants and the technology needed to accompany them. From here, you can ensure the niche you choose can distinguish itself in the market.
Below, we'll go over nine types of restaurants, highlight examples, and show you how to decide on your niche restaurant.
What are the different types of restaurants?
1. Fast Casual
A fast-casual restaurant concept is the perfect blend of fast food and casual dining. It offers the ease and convenience of fast food but with high-quality ingredients.
Fast casual has a friendly sit-down atmosphere but does not offer full table service. These restaurants are booming in popularity at a rapid rate. Some examples include chains such as The Buffalo Spot and Ike's Love & Sandwiches.
Self-service kiosks are becoming increasingly popular at fast-casual restaurants as they can be used in-line. This allows guests to order independently and include any modifications or add-ons they'd like, driving up to 30% higher check sizes.
2. Fast Food
Fast food is the most familiar type of dining concept in the US. Usually, these restaurants are chains like McDonald's or Taco Bell. The restaurant industry refers to fast food places as quick service restaurants (QSR).
QSRs focus primarily on speed and convenience. Orders and payments can be taken in line, online, or curbside. All these alternative ordering solutions eliminate wait times, resulting in faster service.
3. Casual Dining
A casual dining restaurant is a full-service restaurant with a fun, laid-back atmosphere. A few industry leaders are Chili's and Buffalo Wild Wings. Casual dining restaurants offer extensive, affordable menus with alcohol, appetizers, and entrees.
There are numerous ways to order food and drinks at these establishments. Many casual dining restaurants offer tableside or QR code ordering. This allows guests to ring in their order at their own pace, without feeling pressured by the hovering server, increasing the average check size higher than fast casual dining. Patrons are more likely to eat and spend more when they have access to order at any time.
4. Fine Dining
Today's fine dining restaurants offer an upscale ambiance and a high-end experience. This type of restaurant features precise attention to detail and exceptional service. With that in mind, fine dining typically has the most expensive pricing. Guests are paying for more than the food; they're paying for the whole experience.
Restaurants at this level offer top-shelf wine, spirits, and food. Often there will be a formal dress code and fine dining etiquette enforced. Each fine dining restaurant is unique, providing something others can't.
Fine dining restaurants often have hosts to greet guests and seat them at the front. Hosts can take advantage of using a guest waitlist management solution. This maintains a steady flow of seating parties quicker and spreads guests evenly to ensure staff gets an equal amount of tables.
5. Contemporary Casual
This is the most recently developed concept, a branch off of fine dining restaurants. Contemporary casual restaurants are more prevalent in urban and metropolitan areas. What sets this concept apart from casual dining is that there is a focus on being a distinct brand.
Contemporary casual dining allows for tableside ordering. Guests can enter their order on their device and see pictures of the food and drink items. This also allows them to add to their order any time instead of waiting to wave down the server to take their order.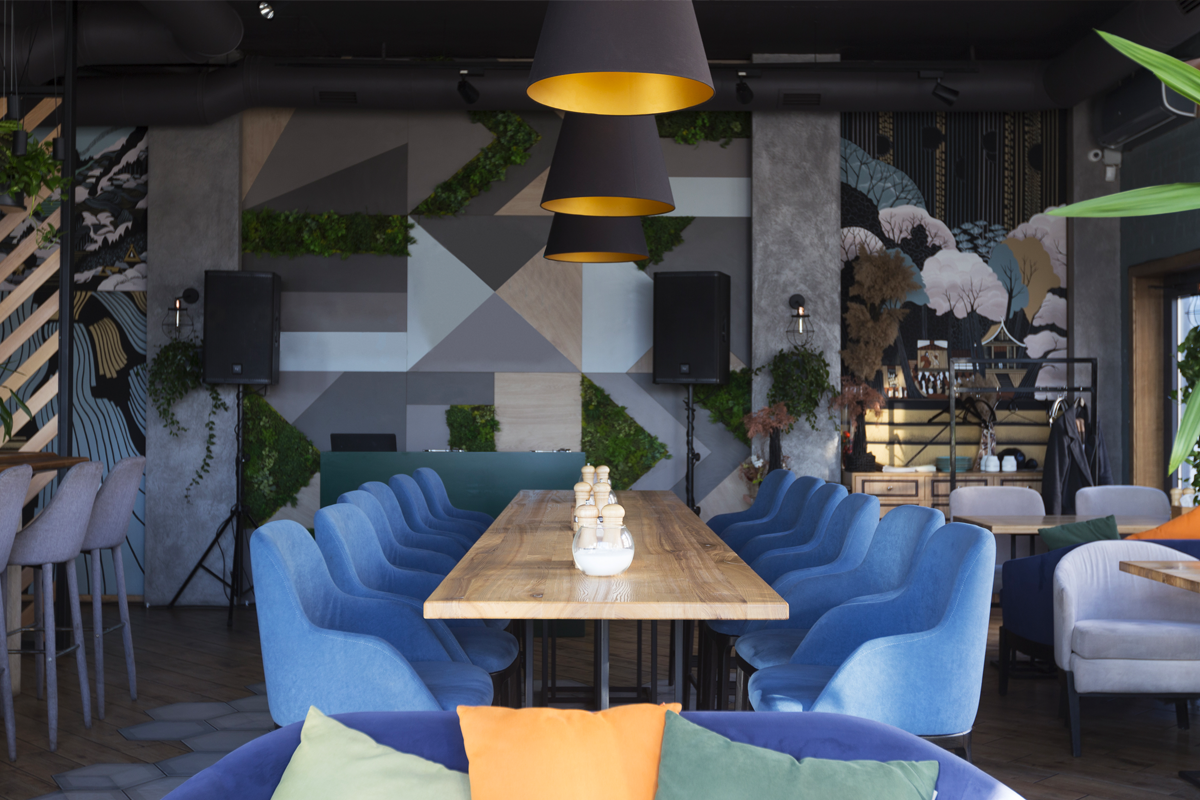 6. Full Service
Full service restaurants are where casual dining meets fine dining, creating the perfect combination. The atmosphere is less formal than fine dining, but guests still get the whole dining experience. Full service is a bit more personalized than casual dining because there is full table service where servers greet the tables and take their orders.
A well-known full-service restaurant is P.F. Chang's. This chain's interior provides an ambiance of the Asian culture, with light fixtures and statues resembling it. They offer an extensive food and drink menu along with the option for reservations and online ordering.
Servers typically utilize a mobile ordering solution to take and ring in orders directly from the tables. This device fully integrates with the point of sale system, instantly sending orders to the kitchen. Fast-acting technology like this allows drinks to arrive at the table before the server even leaves.
7. Café or Bistro
A café or bistro restaurant has an intimate and relaxed atmosphere. Many people enjoy going to these types of restaurants to work and socialize. Cafés specialize in coffee, espresso, tea, and small food items. Bistros are like cafés but may offer a wider variety of food options.
Service in a café or bistro is over the counter, and customers serve themselves when their order is ready. Many customers use online ordering, so their items are ready when they get to the café or bistro, whether curbside or in-house pickup.
8. Bars & Pubs
Bar and pub restaurants are known for having a wide variety of alcohol and a lively atmosphere. These are often associated with watching sports, playing games, and live music.
Many bars and pubs have fast QR code ordering and payments. These significantly streamline the experience because guests don't have to wait their turn while the bartender manually takes each order. QR codes allow guests to enter their order from their own device, automatically sending it to the point of sale system.
9. Food Trucks
The food truck concept is essentially a mobile restaurant. With limited space, it's common for food trucks to offer a limited menu focusing on a specific type of food. Food trucks are unique because they can move and travel to customers.
Service is quick and to the point at food trucks. The worker takes their order on the point-of-sale system, where customers can tap their phone to a cube, and payment is accepted.
How to Choose Your Niche Restaurant
Restaurateurs must identify a niche to keep up in today's market. So, what is a niche, and how do you choose it? A niche is a specialized market segment for a particular type of food or concept. The most profitable establishments are niche restaurants, which are high on demand and low on competition. Your niche is specific to you and sets you apart from the competition.
The first step in choosing your niche restaurant is evaluating the local market. Ask yourself questions like these:
What kinds of restaurants already exist in my market?
Is there a specific type of restaurant missing that consumers want?
What style of restaurant would your market be best served by?
What technology do you look to implement?
This first set of questions will help you decide the type of restaurant you should pursue. From there, you can begin to narrow down what you want your niche to be.
Here are the top factors that will influence this:
Target Market
Customer Expectations
Restaurant Branding
Menu Offerings
As you think about these, continue to ask yourself – what can my restaurant provide that others can't? You will need a thorough market analysis in your restaurant business plan and will need to evaluate financing options to continue growing your business. This will help you back up your niche restaurant and service concept.
Discover how to choose the branding for your restaurant here.
The Next Step
Thinking of owning a restaurant? As you can see from above, there's a lot of work that goes into the process of choosing your concept and turning it into a niche restaurant. In preparation for your opening journey, continue to do your research, look for things to know, and seek advice from experienced restaurateurs to ensure that you are well-prepared for success.