Are you ready for some football?
Restaurant owners, managers, CEOs of enterprise chains ask that same question around the middle of August and then continue that process every week through the Super Bowl, traditionally the first Sunday in February.
Preparing for the blitz of fans and patrons during various weeks of the football season is no easy task. Depending on your restaurant or bar location can significantly affect business when the hometown team plays and if it's a home game. It will likely draw more fans into your restaurant if the team is on the road since they can't go to the game.
But there is no doubt the No. 1 sport in the United States is football, and by a wide margin. According to a Gallup poll, 37% of fans list football as their favorite sport, basketball is next at 11%, and baseball is at 9%. Add 15% of Americans who say they don't have a favorite sport, and you can see how dominant football is.
It's not just the National Football League, which is on Sundays primarily, that causes fans to rush to restaurants and bars for the array of TVs broadcasting games. Saturdays are even more prominent in places like the South and the Midwest, with a full day and evening of college football games.
Preparing with staffing, inventory, food preparation, menu changes, specials, and everything else is a daunting task for just one event. Now do it for as many as 26 straight weekends of football season, and it can be a nightmare.
But if you stay ahead of the schedule of games each weekend, know your base of customers, and with the help of restaurant technology like a mobile POS with the possibility of putting all the ordering and payment in the customer's hands, every weekend will be a victory.
First Down: Start With Scheduling Your Staff
Every week, you can eliminate the slow nights of the season – Tuesday and Wednesday – so you'll probably give the bulk of your staff those nights off. But depending on where you are in the U.S. has an impact after that.
NFL: Your busiest day is usually Sunday if your restaurant or bar is in the Northeast or Western U.S. since pro football is more prevalent in these areas.
With the NFL, many of the starting times for games are pretty well-formatted – 1 p.m., 4:25 p.m., and 8:20 p.m. Eastern time, and that's been traditional for many years. That should make scheduling your staff more manageable. It just depends on when you're local or the most popular teams play.
You will want to schedule your more experienced and fastest staff based on when those teams will play. For example, if your restaurant is in western Massachusetts, you'll probably plan around when the New England Patriots are playing.
College: This is without a doubt the most challenging day to schedule staff. Games can start from noon to 10:30 at night in the Eastern time zone with as many as 65 to 70 televised games.
And if you live in a state where college football is a way of life, you have to pay attention to the schedule. For example, the Georgia Bulldogs, South Carolina Gamecocks, and Clemson Tigers are all popular in parts of South Carolina and Georgia. All three teams could play at different times on a Saturday, or two playing simultaneously, or all three at the same time.
In Florida, where the Florida Gators and Florida State Seminoles are kings, a sports restaurant owner can be a little more balanced toward scheduling.
With much of the state as transplants from the north, the owner should know it can be busy when Ohio State, Michigan, or Notre Dame are playing since these schools have a national following. There's more of a chance that the restaurant will be busy throughout the day with that kind of popularity.
The broadcasting networks can hold out and not schedule a time for many of the games until four or five days before the Saturday of the scheduled game.
This can present a scheduling nightmare for owners, "where do I put my best people?"
The best way to defend against the surge of customers is to spread your offense out. Line up the best people throughout the day and mix in the less experienced staff.
Above all, stress teamwork. Saturdays and Sundays can be extremely busy.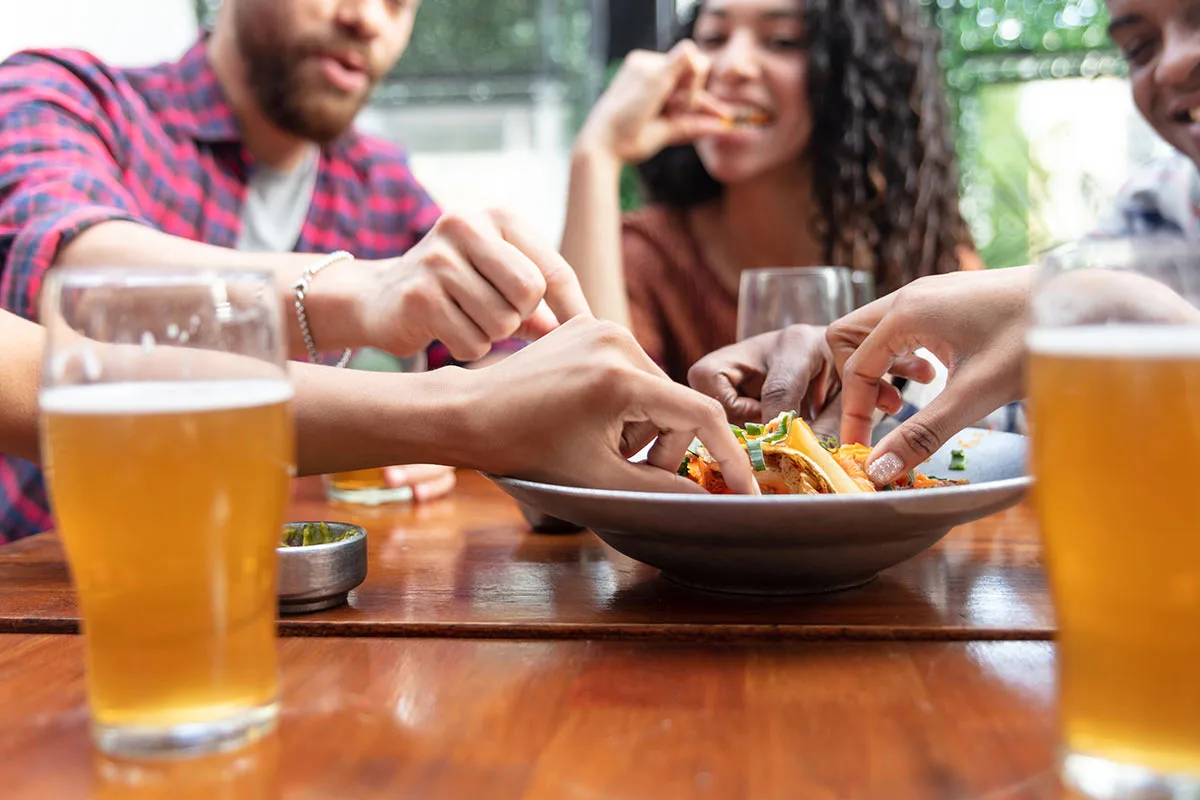 Second Down: Preparing For The Food Blitz
If a customer is at your restaurant to watch a specific game, chances are they're not there just to have a drink or two. A game can last as long as four hours.
If it's a large group, they will be ordering food at various times during the game, all by different people at the table.
That can cause a server to feel the pressure of the blitz. But stay poised and stand tall.
In busy times, a server needs the speed and finesse of a running back juking through tables, patrons walking through the restaurant, and other servers in a mad dash back and forth to the POS system to put in the various orders.
It may seem like a server can have as many as 200 yards rushing during a shift.
An owner may think that's an excellent exercise regimen for a server, but the clock runs out by way of customers having long waits as the POS system gets clogged with other servers trying to put in orders at the same time.
In reality, a savvy owner should shorten the field and make it easier on their servers, the kitchen, and even the customers.
A mobile POS takes away the running back and forth between the POS system. With tableside ordering, now the server can engage with the customers more frequently and take orders that go directly to the kitchen.
A mobile POS turns the server from a running back to a quarterback. Now the server is in control, taking the order, then passing to the back of the house into the waiting hands of the chef.
This process cuts order times by as much as two minutes, which leaves time on the clock to get more orders in before the game ends.
Third Down: Audibling Through Inventory, Menu Changes, And Specials
Making the right call is critical during football games as well as restaurants.
If a customer makes an order during a game, the server runs to the POS and puts in the order only to return to the customer to tell them they don't have the item. For the customer, this can be as bad as their team committing a 15-yard penalty.
With a mobile POS, the server can tell the customer instantly whether they have an item or not. But, in addition, the server is equipped with a wealth of knowledge to handle all kinds of customer inquiries about food allergies, gluten-free dishes, and gameday specials.
It's like handing a server the full play-calling sheet and they make the calls. With that speed and knowledge, servers will have bigger tips because of excellent service.
A mobile POS is part of a central system throughout your restaurant that manages food inventory. It sends alerts when stock is low and can even automate the reordering of products.
But if a large surge of customers causes a restaurant to run out of an item, then a manager can quickly make a menu change, and a fumble is avoided. Additionally, score extra points by letting customers know of special promotions like when their team scores a touchdown or wins the game.
The mobile POS is essential for setting up a game plan and increasing revenue for the upcoming football weekends.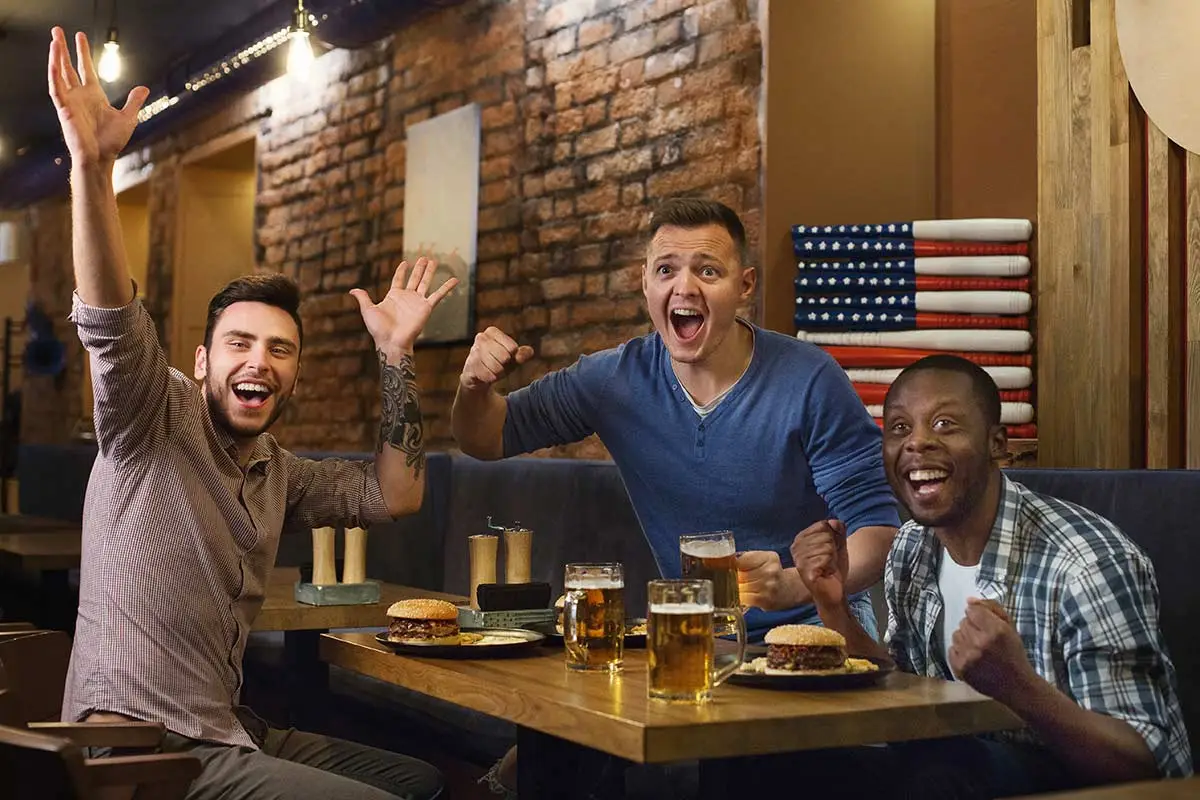 Fourth Down: Letting The Customer Go For The Game-Winner
To further increase speed of service and customer satisfaction, pitch the power to the customer and let them run with the ball.
Dine-in mobile ordering puts far less stress on restaurant staff and allows guests to order on their own devices. The servers and the runners view the orders in real time and deliver the food and drinks faster than waiting on a commercial break.
But for football fans at their tables, the best feature of dine-in mobile ordering is the open ticket. If a customer, or customers at a table, want more wings, or they now decide on that burger or a drink, all they have to do is pick up their mobile device and add to the initial order they placed.
With the power in the customer's hands, there's no delay of game in trying to flag down a server, get their attention, and then missing plays discussing an order.
And when the game ends and fans finish, a contactless payment system allows customers to take care of their bill without waiting for a server to deliver the check and going through the process of signing a piece of paper.
Conclusion
Football season is arguably the busiest time for many restaurants and bars and it can be stressful on the staff. This is especially true in 2021, when so many restaurants around the country are facing labor shortages.
But easy scheduling, teamwork, and restaurant technology will help your staff complete orders to hungry football fans quicker and increase customer satisfaction.
A mobile POS system will immediately help a restaurant's staff handle large crowds who enjoy the most popular sport in America.
Mad Mobile allows your restaurant to score big points and put you in the winner's column against the competition. You will have knowledgeable staff, increased speed of service, and mobile payment options.