Siri. Amazon's Alexa. Google's Home Hub. Facebook's Portal. Apple's HomePod. Samsung's Bixby. Microsoft's Cortana. Today's assortment of voice assistants and smart speakers have integrated into the lives of everyday people — and the restaurant industry is taking note.
When 72% of smart-speaker owners claim their device is an integral part of their daily routine, restaurant owners and managers have a pivotal opportunity to use voice search to their business' benefit.
From voice-search assisted reservations, to virtual "get in line" check-ins, to streamlined speech bot ordering, AI and voice-assistant technology are tools the restauranteur can utilize to their advantage. Doing so stands to make your dining establishment more progressive and profitable — and convenient for today's hungry consumer.
Prevalence of Artificial Intelligence (AI) and Voice Search in Restaurants
Voice search provides a multi-functional platform for consumers looking to dine out. Consumers already prefer their smart speakers for a variety of food-ordering and restaurant-dining activities:
61% use their voice assistants to find directions to a restaurant or to locate nearby dining choices
55% make calls to restaurants and dining establishments via their voice device
47% find and listen to restaurant reviews through a voice-assistant search
45% make reservations through their voice assistant
35% order food through their voice assistant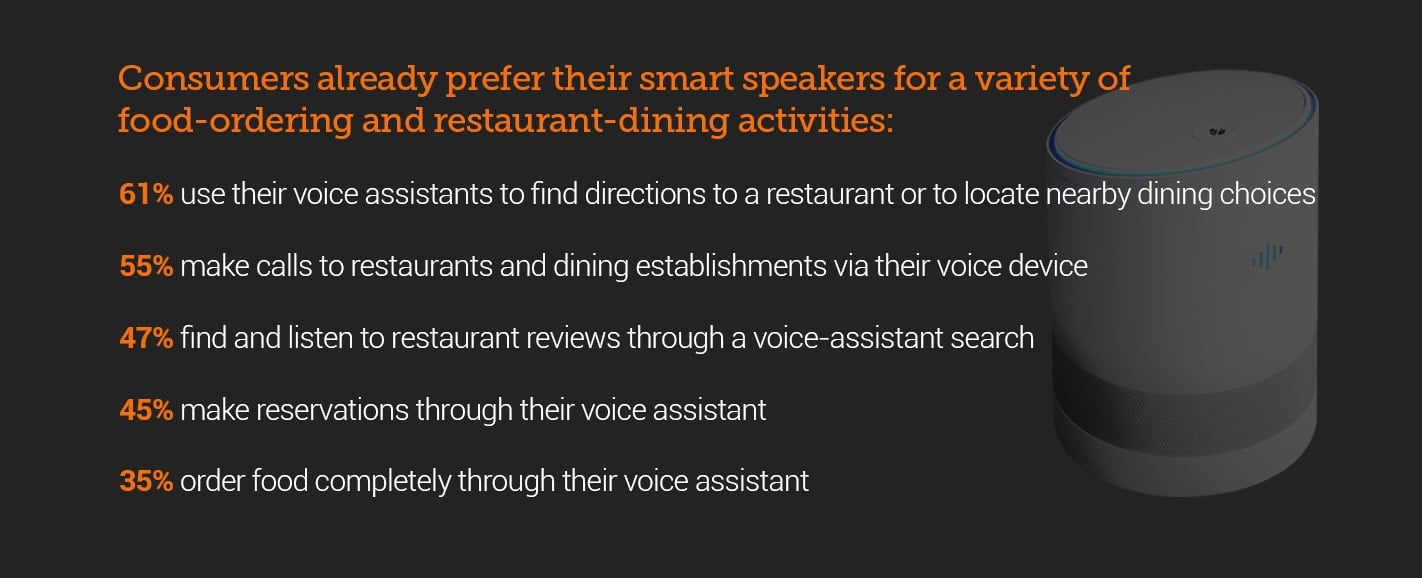 This range of applications demonstrates the presence voice assistants have already made in the food industry. The more reviews, ratings, and positive engagement your restaurant maintains online, the more likely a voice search will highlight your establishment during appropriate search queries.
In short, restaurants that maintain rich, dynamic digital profiles on their websites and social media accounts have already prepared themselves to benefit the most from current consumer voice search behaviors when dining out and ordering in.
AI and Voice Search Potential for the Foodservice Industry
Current voice search trends indicate consumers are comfortable using their voice assistants for a variety of food and restaurant-related needs.
Restaurants need to do more than just position themselves to be found by today's voice assistant technology. They also have to leverage these devices to entice further engagement and desired behaviors from prospective customers, namely by capitalizing on the awareness a voice search query spurs:
24% of people—just about one in four—will visit the restaurant their voice search suggests
31% of consumers will visit a restaurant's official website after their AI voice device suggested it
Another 20% will ask their voice assistant for further information about the restaurant in question—its specific menu, price range, ratings, wait times, distance, and more, most of which these devices gather from your website and online ratings.
Pull back the lens, and the future of AI and voice search for restaurants reveals:
All this research paints a promising portrait, as more individuals and households own a voice assistant device, AI-fueled search queries, and use will intensify. One in four consumers already visits or orders from a restaurant discovered during a voice query. With an expanding voice assistant-owning consumer pool, those numbers stand only to grow.
The Future of Artificial Intelligence (AI) and Voice Search for Restaurants
AI technology is already being used by the foodservice industry, particularly when it comes to reservation management.
Restaurants have many technologies at their disposal to improve efficiencies managing their reservation systems as well as meeting the growing use of voice-search for ordering delivery, finding directions, reading or writing reviews, and more.
The following voice search platforms have made the most impact on the restaurant world. Owners and managers can harness these platforms' features to their advantage, all to garner attention, rank higher in voice searches, and draw in more reservations.
1. Google Duplex for Restaurant Reservation Management
Unveiled at Google I/O in May 2018, The Verge has since described Google Duplex as "a marvel of AI advancement." Duplex is a technology that currently enables Pixel phone users to command Google Assistant to make reservations at a restaurant of their choosing.
Through Duplex, Google Assistant calls your restaurant and interfaces with your staff to make a formal reservation over the phone. Before placing the call, Duplex asks guests for the number of people in their party, the preferred date and time of their reservation, plus the backup date and time if needed—eliminating your own staff's need to inquire for these details and streamlining the overall phone reservation process. Duplex will then share reservation details back with the guest, sending them a notification of the date, time, and other relevant information for the reservation.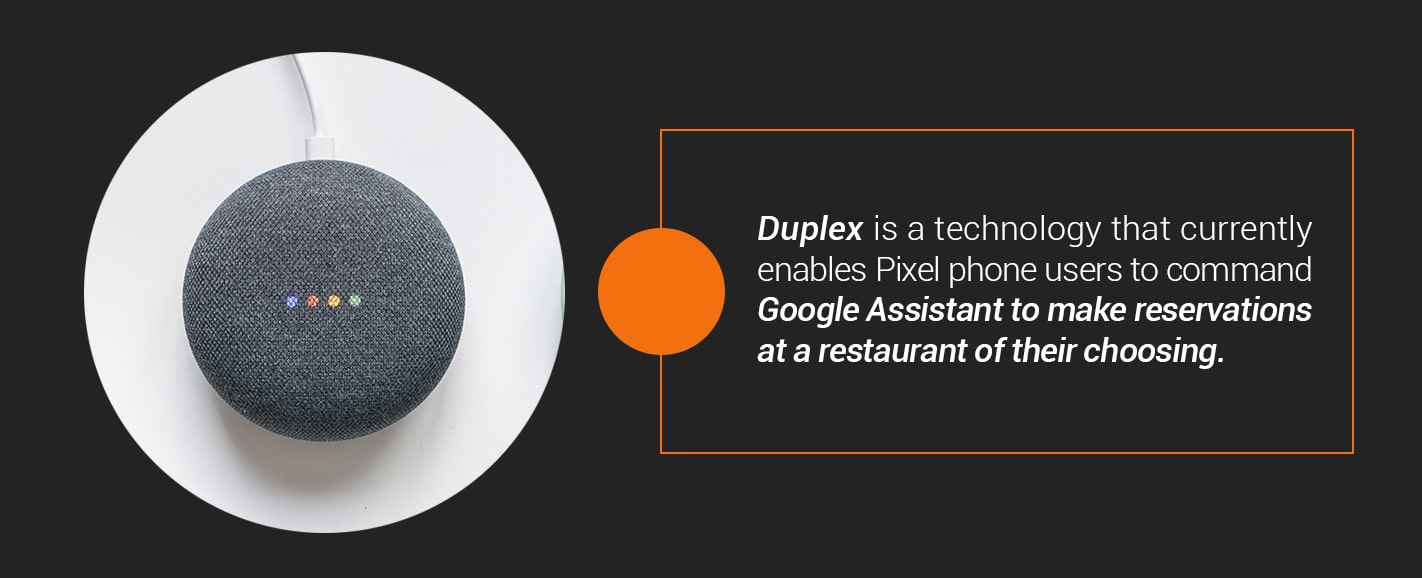 Google Duplex is limited to only making restaurant reservations for now. Originally rolled out for testing in select cities, Duplex is now available for use in all but the following seven states:
Indiana
Kentucky
Louisiana
Minnesota
Montana
Nebraska
Texas
Pros and Cons of Google Duplex for Restaurants
Google Duplex provides restauranteurs several convenient reservation-management features:
Streamlines phone-based reservation management
Drives web-based reservation traffic to your establishment
Is human and life-like—so much so, restaurants that served as initial test users weren't always aware they were talking to an AI-generated voice, not a real human's
Expanding to include iOS and other Android smartphones models as well, further widening your voice-reservation guest pool
Cons of using Google Duplex at your restaurant:
The technology currently works with restaurants that accept reservations but aren't set up to do so online. When Duplex becomes more widespread, your business has the opportunity to opt-out if you don't want to allow prospective diners to make reservations using the AI platform.
Can I Use Google Duplex to Change and Cancel Guests Reservations?
Yes. Google Duplex can do even more than automate phone reservations at your establishment. It can also be used as a management portal to review, change, and cancel reservations under given circumstances.
If customers' plans change after they've made a reservation over the platform, they can use Duplex on their end to reach out and make a formal cancellation. Duplex then triggers a temporary hold, where that customer cannot reschedule or contact your restaurant over the platform the day they've canceled their plans.
On the restaurant's end, Google Duplex has also implemented a series of platform protections guarding against AI spam calls. It also penalizes guests who repeatedly cancel reservations, flagging their accounts and temporarily deactivating call and cancel features on their end until further notice.
Where Can I Access and Hear Google Duplex Calls?
Google Duplex does not currently support conversation transcripts or saved call recordings, a con many managers and restaurant owners are quick to point out as a downfall of the platform. Your staff answering the phone are the only direct source into the technology's communications, as well as the ones who can offer the best feedback on its user-friendliness and integration alongside any other reservation system you currently manage.
2. Online Chatbots for Customer Q&A, Answering Live Voice Queries
A chatbot is an automated version of a chat box, typically employed online as part of your restaurant's public-interfacing features. Similar to voice-assistant reservations platforms like Google Duplex, this technology relies on AI and machine learning algorithms to provide prospective customers with real-time answers to their inquiries. Freeing up your phone lines and relieving your staff from everyday functions so that they can focus on delivering the best service for your guests.
Visitors to your website can type in their questions to the chatbot or select from a drop-down menu of pre-framed common FAQs. The chatbox then provides support in a manner that closely mimics the way a live person would offer help and answer questions.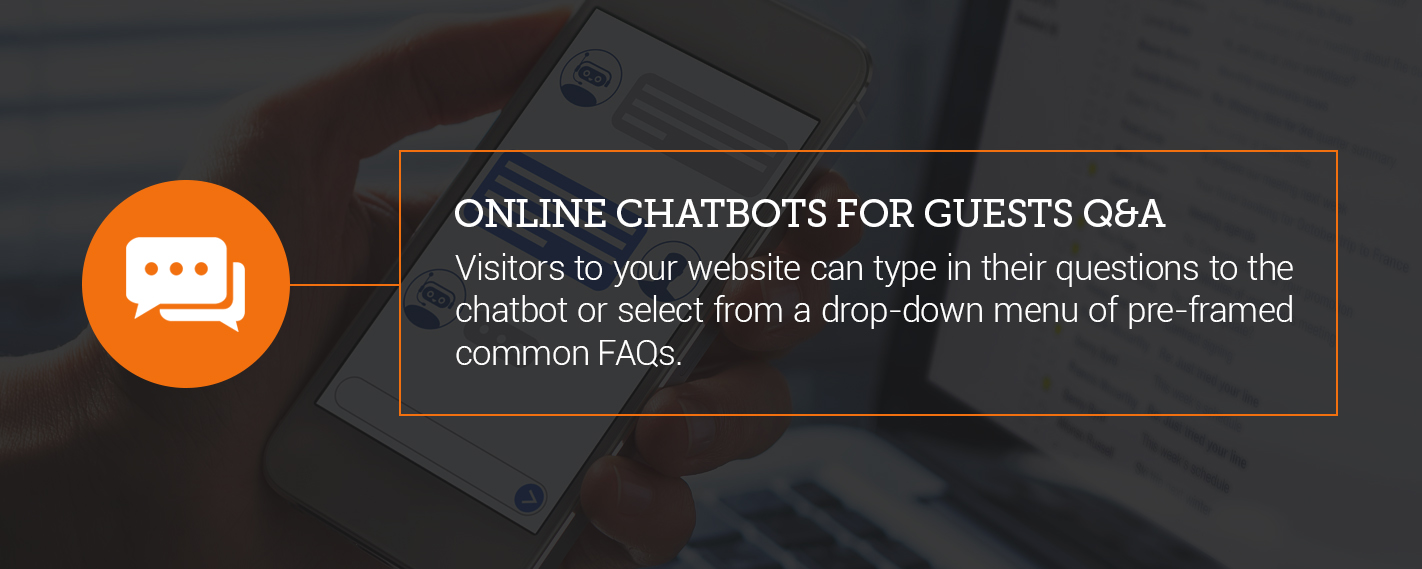 If your restaurant has a website, you can use a chatbot to do any one or all of the following functions. Each provides a highly personalized, engaging user experience that doesn't require human involvement from your busy staff:
Accept, change, and cancel reservations
Take online orders
Respond to questions about the menu, hours of operations, holiday schedules, and more
Make food or beverage suggestions
Relay slow or peak times of business
Confirm wait times
What's more, with the growing number of people relying on voice-command technology, developers are now creating chatbots that can respond to the spoken word. Meaning you may be able to have a chatbot on your website that operates similarly to many of the branded smart speakers mentioned above, such as Siri, Alexa, and Cortana, which can understand spoken voice queries and respond with visual and audio answers.
3. Voice-Enabled and Activated Mobile Apps
If you don't have a mobile app for your restaurant yet, you might be missing out on valuable opportunities to win and retain customers.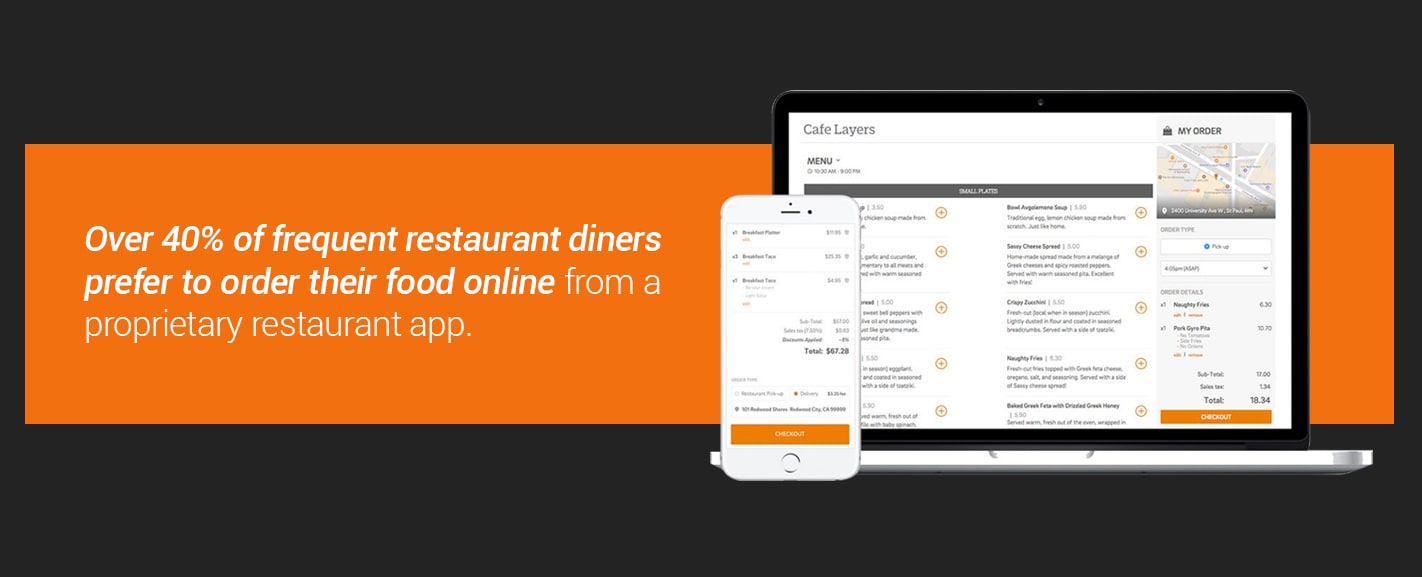 Over 40% of frequent restaurant diners prefer to order their food online from a proprietary restaurant app. These proprietary apps allow for guest personalization and customization — which an overwhelming 70% of customers consider a top priority in their dining experience.
Your guests want to feel like you "know them"—their favorite entrees, appetizers, dining schedules, party sizes, even their birthdays and special dining celebrations. They also prefer personalized deals and discounts, all of which can be generated through a mobile app.
Apps designed to include voice-enabled features take convenience, customer service, and customization one step further. They allow guests to make online reservations and dictate orders by speaking into voice-integrated reservation or ordering platforms.
For example, Domino's AnyWare app pioneered mobile app voice integration. It allows guests to voice their order in a step-by-step system that integrates with Alexa, Google Home, Smart TVs, wearables, smartphones, and apps.
Here are some of the things you can do with an AI voice-integrated mobile application made specifically for your eatery:
Share personalized offers and promotions
Send information about upcoming events
Share push notifications
Make recommendations for food and beverages to relevant customers
Offer directions to your location using geo-targeting technology
Accept orders and process payments, even bill splitting
A restaurant-specific app isn't the only kind of mobile application you should consider investing in. If you don't offer delivery service at your establishment, you may want to sign up with a third-party delivery service that has a mobile app.
When you enroll with one of these services, your restaurant will appear as an option for hungry consumers looking for food within the delivery area. People can look over your menu, find what they want to eat, order their food, and pay for it through the delivery service's app. By expanding into these offerings, you are making your food widely available to more customers than you can imagine, including those who may have mobility issues.
4. AI Software for Resource Planning, Inventory, and Restaurant Enterprise Management
Although using technology to manage operations isn't new to most restaurant owners or managers, the machine-learning affordances fueling AI technology takes things to the next level. More specifically, AI today has the capacity to input, arrange, store, and analyze large sets of data far beyond what traditional, manually managed spreadsheets can — simplifying many back-of-house restaurant operations that are time-consuming.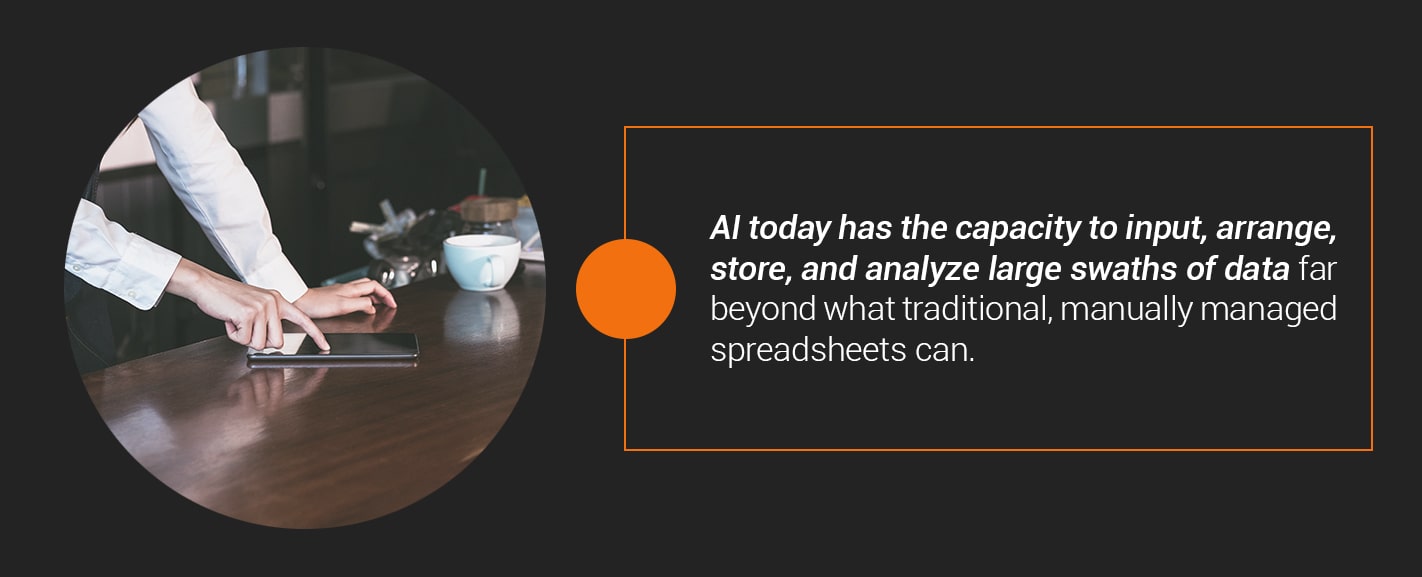 Given the ability of AI software platforms to analyze so much data, the technology is eliminating a lot of the guesswork that was once commonplace in the foodservice industry.
AI technology can analyze data quickly and provide accurate projections without manual and time-intensive administrative oversight from you or your staff. These informed projections can:
Improve your inventory management, including order and delivery forecasting
Ensure you're scheduling staff members at the right times to address data-backed peak hours and days
Allow you to prepare orders with greater accuracy
Reduce kitchen waste
The longer you have an AI management platform at your location, the more information the system will have to analyze. This means the system will fine-tune the projections it provides as time passes. It's this tremendous capability that sets AI technology apart from earlier kinds of management software. It's also what will enable you to make even better, more informed, and more profitable back-office management decisions as you move your restaurant forward.
Technology Impacting Restaurant Profitability
Now more than ever, technology can help restaurants improve operational efficiencies. Here are some of the ways AI can help increase your eatery's profitability:
Decrease labor costs: By implementing voice-automated reservation technology within your restaurants and implementing a chatbot on your website, you can cut your labor costs and liberate your employees' time. Staff will no longer have to be the ones taking orders or respond to inquiries, letting them reprioritize core activities like creating and plating delicious foods and drinks, delivering outstanding customer service, and supporting an overall unforgettable dining ambiance.
Reduce employee mistakes: When your guests can place their orders and make reservations via voice-search apps and voice-activated chatbots without involving human touch points, it reduces the chance your staff will make costly human errors.
Make the overall experience better for guests: Technology can make a guest's overall experience with your eatery better from the first touch point. In addition to letting your guests set the terms for their interactions with your restaurant, technology frees up your staff members so they can focus on your guests when they are physically present at your location. You have fewer headaches and manual activities to manage, and your customers—in-house or take out—have a more personalized, contemporary experience catered to their tastes and needs.
Provides another marketing channel: With an app, chatbot, or website geared toward being found via voice search, you have access to new and diverse channels you can use to brand and expand. Use all these platforms to share promotions, relay menu updates, send event notifications, promote content marketing material, and more. Given the machine learning capabilities of AI, this type of technology enables you to send highly personalized marketing messages to guests, which may motivate them to spend more in the moment or visit your location more frequently.
How Mad Mobile's Products Help With Reservations and Profitability
At Mad Mobile, we know that technology is the key to improving the dining experience for restaurant owners and managers as well as their guests. We're proud to offer an integrated software and hardware platform that's ideal for quick- and full-service eateries alike.
1. All-In-One POS System
Our intuitive POS system is a breeze to operate, allowing your employees to enter and edit orders faster and more efficiently. The All-In-One POS System comes with cloud reporting, round-the-clock customer support, and transparent credit-card processing rates.
The All-In-One POS System makes managing your inventory easy, helping you reduce waste and preventing you from having too much money tied up in products that are slow to turn over and stagnate with time.
This system has integrated online ordering, which can be essential to your restaurant's bottom line. Online ordering is increasing by 300% over in-house traffic. Restaurants that accept orders online receive 32% more orders compared to eateries that only take orders over the phone. With our POS system, you can add online ordering to your website and Facebook page to give your guests an additional way to order food from your establishment.
2. Guest Management System
If you want to make the reservation process easier for you and your guests while simultaneously improving the way you manage your waitlist and tables, our Guest Management System is for you. This system will allow you to accept reservations online seamlessly, and it will enable guests to get in line digitally before they even arrive at your establishment.
Using our Guest Management System will give you a real-time view of your table status at all times. With this system in place, your employees will be able to view a guest's visit history, which will enable your staff to enhance the visitor's experience with personalized recommendations and anticipatory service.
Schedule a Free Demo Now
If you're ready to launch your restaurant to the next level of success with state-of-the-art reservation management technology, get in touch.
We invite you to schedule a free demo of our platform. With Mad Mobile's platform in place at your eatery, increasing your restaurant's profitability will be as easy as a piece of…well, you know. Schedule your free demo now!