Signs are one of the easiest ways a restaurant can grab a customer's attention. 33% of Generation Z say ads cause them to usually (or always) try new things. Although digital advertisements allow you to promote your business online, never underestimate the potential of a simple sign. Chalkboard signs, both on the street and inside, have become more popular in recent years, enabling bar and restaurant operators to drive foot traffic and communicate menu offerings in creative ways.
Chalkboard signs are a great way to boost business and have fun doing it. Read on to learn more about the benefits of these creative signs and gain a few chalkboard advertising ideas you can use to make your own.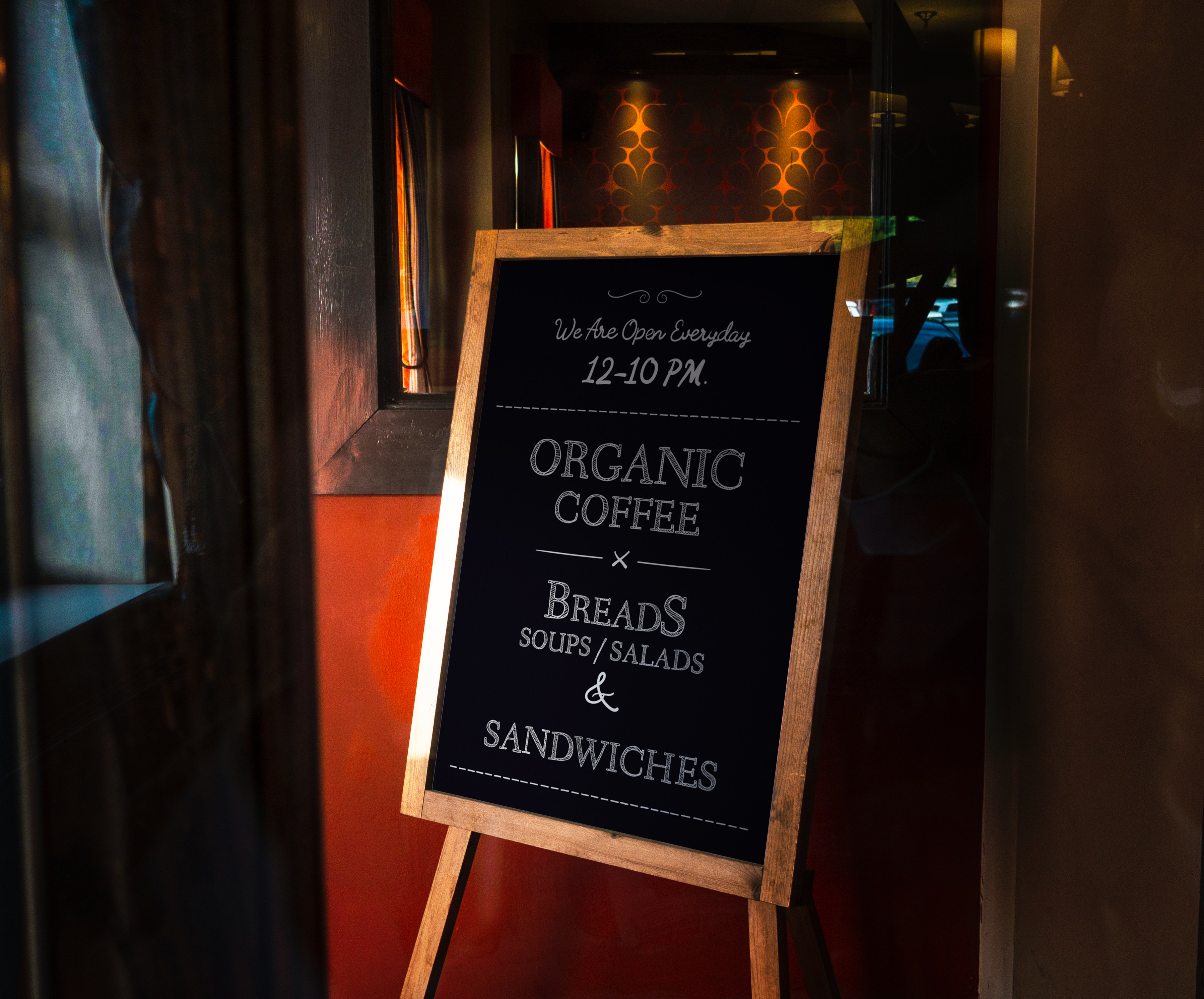 Why Restaurants Use Chalkboard Signs
Restaurant chalkboard signs are effective as well as trendy, which explains why so many bars and restaurants turn to them for affordable advertising to promote their menu and events. Using the simplicity of a chalkboard sign at your restaurant or pub can have great results, especially if you get creative with your restaurant advertising. There are two main kinds of restaurant chalkboard signs: outdoor sidewalk signs and indoor menu signs.
Outdoor vs. Indoor Chalkboard Sign
Outdoor chalkboard signs aim to grab a customer's attention as the individual passes. These sidewalk signs keep it simple, communicating a single idea that entices the customer to come inside. They often use humor, pop culture references, and sales tactics to stand out, and they're ideal for businesses in downtown urban areas where multiple restaurants compete for attention. Outdoor chalkboard signs are a great way to attract drive-by traffic as well as foot traffic by piquing people's interest with a visual element.
Indoor chalkboard signs communicate restaurant menu items in an efficient and aesthetically pleasing way. Unlike traditional signs, chalkboard signs can be erased and redesigned, which is perfect for restaurants with rotating specials and seasonal menu items. These menu boards serve as functional decor, allowing you to express your restaurant's personality while keeping the focus on your food. Creative chalkboard menus, like outdoor sidewalk signs, beg for photographs and often end up on social media, earning your business online advertising and more visitors. Indoor chalkboard signs are also a great way to highlight any seasonal menus or specials which can help your servers with suggestive selling.
How to Make a Chalkboard Sign for Your Restaurant
You want your sign to look neat and professional, with the font reflecting your restaurant's style. A creative staff member might happily take on the task, but if you don't have any artists in-house, here's one trick you can use to make your sign: Design and print out a template.
Once you have created a design you like, turn the paper over and rub graphite across it, and lay that side against the chalkboard. You can then use a pencil to trace over the letters and transfer an outline onto the board, which you can then fill in with a chalkboard marker.
There are several other chalkboard ideas you might want to keep in mind while designing:
For sidewalk signs, keep it simple. Ensure passersby can read your signs quickly and from a distance.
Include symbols and drawings as part of your chalkboard restaurant menu design. These elements will help your menu stand out and allow customers to make faster decisions.
Match your signs to the tone of your business. Use humor and topical references when appropriate, but always aim to make customers feel comfortable.
How to Track Your Chalkboard Signs Success
If your Point of Sale (POS) offers dynamic reporting, you'll be able to analyze sales trends over time to identify your top-selling items and focus your restaurant menu on what guests love best, enjoying your food. You can also see how your indoor chalkboard sign played a role in revenue, did the rotating special get ordered more once it was advertised? Tracking how your new chalkboard sign influences traffic and revenue allows you to make even greater creative marketing decisions in the future. Mad Mobile's All-In-One POS system enables restaurant owners to collect and analyze valuable data in real-time. Learn more about Mad Mobile's POS and start improving your business today.