QR codes have been around since the late 90s but didn't start soaring in popularity until 2020, when the pandemic hit. They became an alternative to the traditional dining experience, catering to consumers' demands for a contactless experience.
The option to use pay was a specific capability within QR codes that became increasingly sought after. According to a report from PYMNTS, 66.5% of consumers preferred to use QR codes as their form of payment.
How Do Restaurant QR Code Payments Work?
When using QR code payments, the checkout processes are reduced from 3 touchpoints to 1. The unpaid receipts contain an interactive QR code that automates onto the guest's mobile device when scanned. This enables the customer to finalize the transaction from their seat, eliminating the time it takes a server to take their card, scan it at the POS terminal, and deliver it back.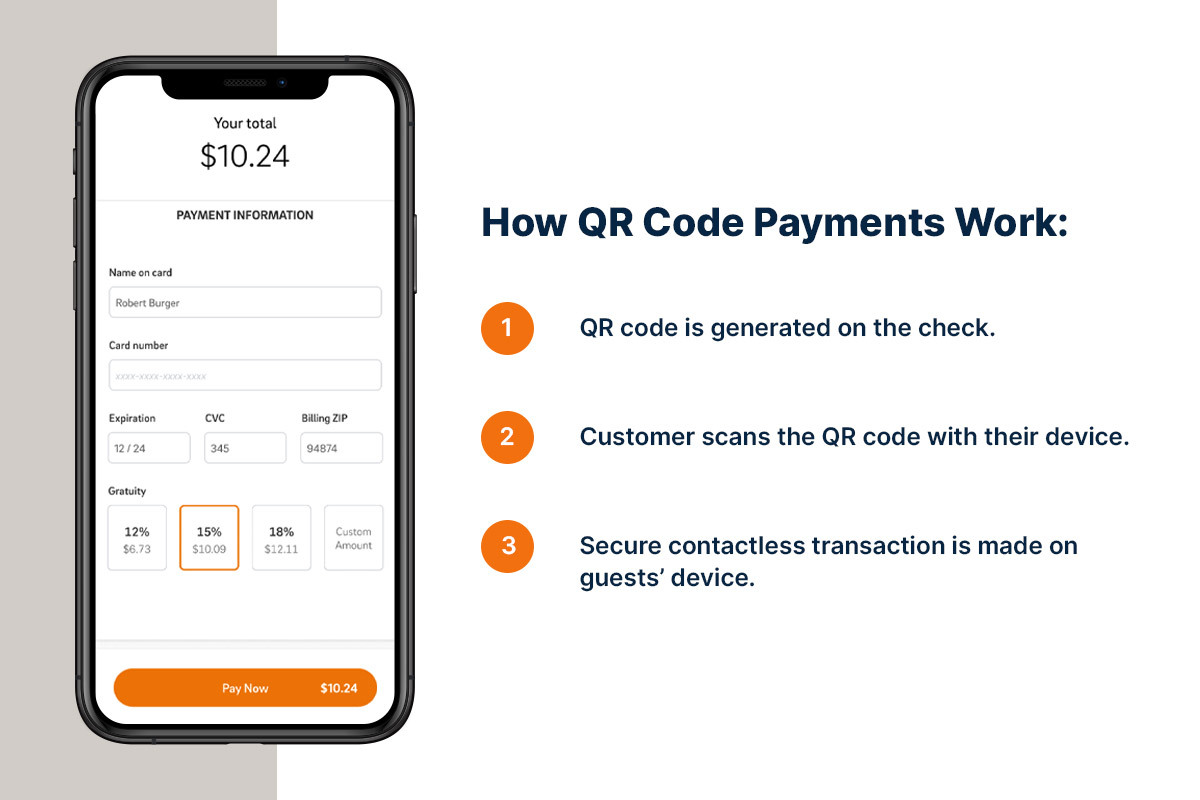 QR code payments have become extremely favored because of their range of advantages. Below we will walk you through the top benefits of QR code payments and why your restaurant should implement them.
5 Benefits of QR Code Payments
1. Increased Speed Of Service
QR code payments eliminate the wait time it takes a server to run to the POS to swipe a customer's card and bring it back. It gives servers the potential to turn at least 1 table faster per hour. That can mean $50 a table, $200 a night, $600 per week, and $31,200 a year in revenue.
Dropping the receipt off at the table is the final transaction the server partakes in. This gives customers the time they need to checkout without feeling rushed. There is no hovering server looking for their card or cash at the end of the table.
With this increased speed of service, your staff can sell more food and make more money; not to mention an increase in customer satisfaction.
QR code payments are expected to skyrocket, with 55% of diners choosing contactless payment as one of the top three factors influencing the choice of restaurant.
2. Enhanced Customer Retention
Your restaurant can also achieve a boost in customer retention with the use of QR code payments. Through this seamless advancement in technology and loyalty programs, your restaurant will begin having regulars on a weekly basis.
Some customers may think removing the traditional payment process will take away the personable connection, but adding a digital experience doesn't mean hospitality can or should disappear. Consumers can get the best of both worlds; a server engages while dropping off the receipt, explains how QR code payment works, and offers additional assistance if needed. This willingness to help is just one of many factors that build customer trust and loyalty.
Consumers are starting to prefer QR codes to pay. According to Dataessential, 58% of consumers overall say they'd like to have the option of using a QR code to pay at a restaurant or grocery store.
Implementing QR code payments prompts customers to engage with loyalty programs. After consumers pay on their devices, they are then prompted to enter their email addresses and join the restaurant's loyalty program.
PYMNTS interviewed Kirk Ruoff, Turning Point Restaurant's founder and CEO, who shared the success they are having with the 'opt-in to loyalty programs' feature, "We're getting about a 10% opt-in rate on that, which, from a marketing standpoint is really nice."
The demand for QR code payments continues to grow the more it is used. Around 37% of respondents were willing to use a QR code as payment in a restaurant or bar.
3. Contactless Dining Experience
The pandemic left a lasting impact on the safety and cleanliness of the restaurant checkout process. The usage of QR code payments enables customers to have a contactless experience.
Nearly 50% of U.S. consumers worry about the cleanliness of signature touchpads, and 72% of U.S. consumers prefer to skip signatures altogether.
This payment method sets you apart from the competition due to the high demand. For U.S. consumers, the ability to make contactless payments is a priority, with 61% of consumers saying they now prefer to make purchases from businesses that accept contactless payments.
An advantage QR code payments provide is that they are inexpensive compared to other alternative options. Many contactless payment solutions require a particular payment terminal, and your customers may not want to invest in costly equipment. Whereas with QR codes, all your restaurant needs is a standard printer.
A vital point that benefits your restaurant is a greater tip percentage when customers use contactless digital forms of payment. This is due to the tipping rates displayed on their device after they pay. The typical QR code user chooses to tip 20% rather than opting to do the math themselves and determine a specific amount, according to PYMNTS.
4. Enhanced Payment Security
As technology becomes more advanced, there's an increased amount of concern from consumers regarding credit card security. About 61% of consumers say secure payments and processing is one of the most critical capabilities a restaurant can have.
Stored card data is the main form digital thieves access when attempting to hack into companies' servers. When customers use QR code payments, their card information never leaves their own device. Therefore there's nothing for the hackers to steal.
Gaining consumers' trust with new payment methods isn't always easy. It is a 'slowly but surely' process; with repeat usage and good experiences, trust builds. Nearly 42.55% of consumers felt most secure using QR code payment at a restaurant, bar, or café.
5. Reduced Overhead Costs
Restaurants are able to operate with less staff due to the vast amount of tables servers can take on at a time. Servers are increasing efficiency while taking on more tables. This minimizes the amount of staff and helps reduce labor costs at your business.
QR codes enable restaurants to save 30-50% on labor costs by eliminating the need for servers to collect payments and take orders. This is a major plus for getting your business through the labor shortage.
QR code payments reduce supply costs as well. Restaurants don't need to buy as much paper as they would if they went with the traditional checkout process. Diminishing paper consumption not only helps your business but the environment too.
The reduced amount of paper needed helps restaurants practice sustainability efforts. QR codes are a link to interact with customers, enable eco-sustainability schemes and novel functions when combined with new tech. Nearly 2 in 3 millennials would pay more for sustainable or eco-friendly products.
Conclusion
As concluded above, there are many benefits to QR code payments for your business and your customers. Stay ahead of the game and start running QR code payments from a top-tier company that guarantees success. With Mad Mobile, restaurants can increase table turnovers, serve more guests, and streamline the checkout process.