There is no doubt: legacy systems are costing your restaurant money. Restaurants are faced with deciding between a legacy system or a cloud-based POS system if they need a restaurant POS, and it can be a daunting choice.  
A point of sale system is the most important technology to 84% of restaurant owners.  Only followed by credit card processors at 78%. It can be a bear to switch systems, but in most circumstances, you will end up saving thousands of dollars.
What is a POS system in a restaurant?
A POS system does much more than accept payment from customers. Restaurant team members utilize POS systems to send orders to a kitchen display system or printer so chefs can prepare food faster without needing to wait for staff to enter the kitchen. A POS system can also record sales data so managers can track inventory and accurately order more ingredients.
Legacy POS vs. cloud-based POS: What's the difference?
Legacy POS systems rely on internal servers connected by an intranet or in-house network. Cloud-based POS systems are always online and store data in the cloud. 
How do cloud-based point-of-sale systems outperform legacy systems?
Restaurant access only / Anywhere with internet access

Have to use the master terminal to make software changes / change or update all terminals at once

Stores all data on internal servers / stores information in the cloud

Pay for server upkeep / don't have to pay for server upkeep

Reliant on terminal's built-in software / access to expanding world of third-party apps

Have to save data / automatic data backups 

Lose data in case of a fire or destruction of equipment / never lose data

Can't use mobile transactions / can use mobile transactions

Have to wait for data / real-time data

Have to be at the terminal to see reports / can see stats anywhere with internet 

No API capabilities / Can build custom apps or attach other software
11 Benefits of Cloud-based POS Systems For Your Restaurant
Modern and innovative POS systems beat out legacy systems head-to-head across the board. Those opportunity costs add up. Here are 11 ways that upgrading your system could improve your restaurant: 
#1 Cut the cost and need for internal servers
Server upkeep can cost thousands of dollars a year for restaurant chains. By utilizing a cloud-based system, you drop the need for physical server devices. This also will end any other equipment fees and repair costs you currently incur. Everything goes wireless, and you won't have to worry about losing data or replacing old servers. 
#2 Take payments from phones or tablets
Accept transactions anytime, anywhere. Offline or online. At the register or by a customer's table. It doesn't matter. Wherever your customers are, you can ring them up there.

#3 Craft an all-in-one solution
All-in-one solutions are the future of restaurant management. You can access restaurant wide insights when you have an interactive POS system. You then can make management decisions based on complete data. With cloud-based systems, you can incorporate many applications such as kitchen display systems for your chefs and contactless QR code payments for guests. Resulting in your dream solution.
#4 Have a system that scales with you
As your restaurant grows, your needs and demands will change. Managing one restaurant is different from managing 12. Cloud-based POS systems scale up with you. Each terminal you add gets plugged into your overarching system. Immediately reporting in real-time the sales and data from that specific location. Do you want to offer delivery at a set number of locations? You could add that functionality in minutes by choosing those specific terminals. You'll never have to go to each individual terminal to make updates again. 
#5 Opens up the world of mobile dining
Imagine having a server drop by a table and ask their guests if they wanted a bit of dessert or some tea after the meal. They would have the ability to add it to their bill right there. Or if customers wanted another drink, the server could ring it up in an instant with a mobile tablet. Depending on the timing, a drink could show up for a customer before the server leaves the table! Mobile dining experiences aren't for every restaurant. But if your style could improve from it, then a cloud-based application would get you there. 
#6 Security is constant
Staying PCI compliant is important in today's world of data breaches and fraud. Cloud-based systems use cloud storage and constant encryption to protect your customers' data.
#7 Get the benefits of the cloud while still retaining offline capabilities 
Because something is only on the cloud doesn't mean you can't accept transactions if the internet goes out. Take transactions as you would and once the connection is back, all that data gets uploaded.
#8 Unlock the world of real-time data & remote restaurant management
As soon as a sale has taken place, it's recorded and you'll see it in your reports. This gives you constant access to the most up-to-date insights possible. If you have internet access, you can make menu changes or add specials from anywhere.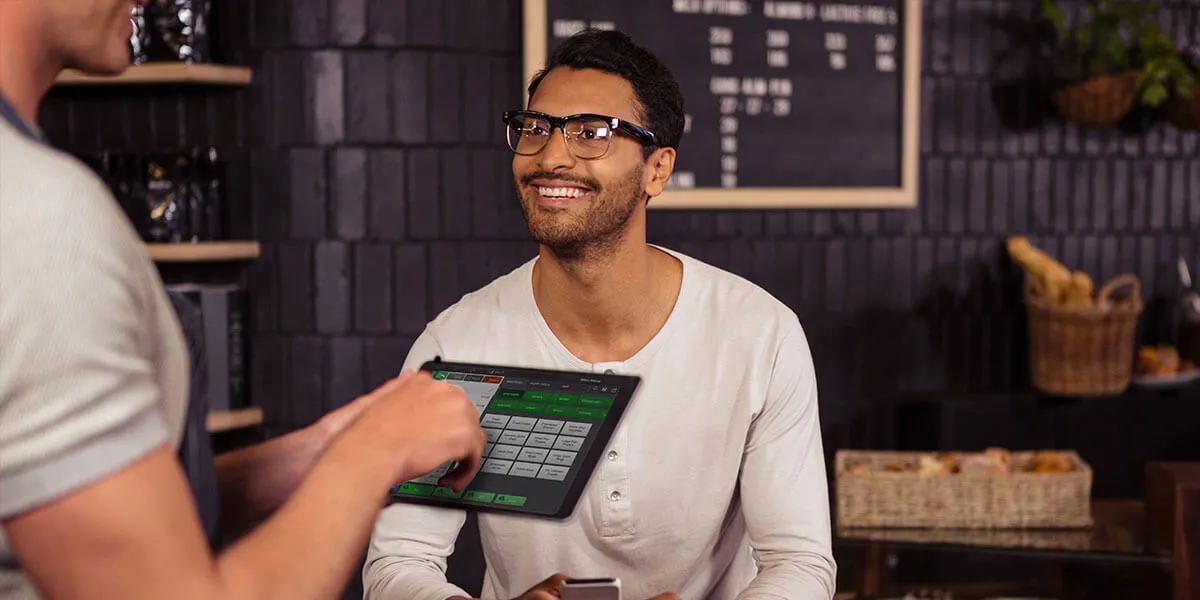 #9 Automatic updates
Cloud-based POS systems can update themselves during off-hours. It will prompt you beforehand to make sure it's a good time to update. Neglecting software updates is a common vulnerability for fraudsters to exploit. Having a cloud-based POS system protects you from that.
#10 Automatic data backups
Losing data or taking the time to export and backup your data won't be a concern. Your data is immediately sent to the cloud one transaction at a time. From the moment you start up your new terminal system, your data will be forever protected. 
#11 Use the third-party marketplace to build your dream restaurant setup 
Unlock the powerful world of third-party apps with easy API integrations. This lets you build your dream solution and tie in any program you'd like. Here are a few that CAKE's restaurant POS supports out of the box:
Orca for order management

7Shifts

ChefTab

Quickbooks

Paypal
How to choose the right POS provider
As awesome as cloud-based systems are, there is still a lot of variability by company. Some older legacy POS companies hacked together a cloud-based system, but it isn't built for the cloud. This results in limited functionality and security.
Other companies have great software but awful customer service. You want to find a company that puts your interests first. 
The best restaurant POS providers offer:
24/7 service. Errors happen, but that doesn't mean you should have to wait for the company to be open to fixing them. 

Consistent updates. You want to work with a company that is growing and updating their software on the regular. The more innovative and active, the better your experience will be. 

No crazy or shady contracts. The company offers a clear monthly rate on both software and hardware. You can calculate the current and future costs associated with their service. If they try to include hefty cancellation fees or 3-5 year contracts, turn the other way. 
What is the best POS system for a small restaurant?
The best POS system for a small restaurant depends on what you feel comfortable with as a business owner and your desired features. When choosing a POS system, you'll need to consider the size of your business, how many employees you have, and whether you want to store data locally or in the cloud.
Consider that today's customers expect fast and friendly service when they go out to eat, and they also expect their favorite businesses to have an online presence to promote any specials they may have. A cloud-based POS can help boost customer satisfaction, which can ultimately help increase your bottom line.
A cloud-based POS can also be the better choice for lower startup costs because you won't need to pay for installation, on-site maintenance, or a back-office server. Instead, a small restaurant can use these savings in other ways, such as hiring the best staff or marketing their new restaurant.
In addition to simplicity and efficiency, a cloud-based POS system eliminates the need for setting up servers and dealing with complex wiring. To learn more about the benefits of upgrading from a cash register to a POS system, check out our case study on the successful transition from our customer SF Japanese Tea Garden.