Did you know that Snapchat is the second most used mobile application worldwide? Snapchat is unique in many ways and can be beneficial to your restaurant. Utilizing it the right way will help you reach today's younger generation of buyers.
Launched in 2011, Snapchat now has more than 249 million daily active users. It is the famous pioneer of storytelling. Just take a look at where we are now. Almost every social media platform has its own version of stories. It's tough to think of a time before they were everywhere. Instagram was the first to mimic this, followed by Facebook, TikTok, and even LinkedIn. 
There is one major advantage Snapchat has that others don't. This is its authenticity. It's meant for raw, spontaneous, and playful content. In this blog post, we'll give you the secret to Snapchat for restaurants. We'll review the benefits and appeal to see if this platform is right for you. We've also included 5 ways to use it for marketing your restaurant.
Unlocking the Potential of Snapchat for Restaurants
Who is your target market? This is the one and the only question to determine whether Snapchat is right for you. If your business caters to young Millennials and Gen Z, which it most likely does, you should use Snapchat.
Snapchat is the most popular social network for teenagers and young adults. It reaches over 90% of 13-24-year-olds and 75% of all 13-34-year-olds in the United States. This group dominates the network and has a direct spending power of 1 trillion dollars. The reach and engagement that Snapchat offers can lead to a direct boost in restaurant sales.
Getting Started
So, where do you begin? Download the app on your mobile device and create your account. Make sure to have your restaurant's name as the username. If the username is taken, try including your city, town, or numbers into it. The username should be restaurant-specific so it's clear to your guests that it's yours.
Your Snapchat can be discovered through its individual QR code. Here are a few ideas where you should include your code or username:
Online Website

Social Media Bios

In-store and Takeout Menu

A sign by your POS station

Stickers to put on your to-go bags
This code should be placed in highly visible places where your customers can see it. This way they can add you as a friend and see your restaurant marketing content.
There are some challenges to acquiring followers on Snapchat. There is no general search, followers must be found through direct username or Snap code. This is why it's important to cross-promote your Snapchat content on other platforms. Encourage your followers on Instagram and Facebook to add you. Promote your Snapchat as exclusive content that can't be found elsewhere. Marketing your restaurant on Snapchat is accessible and easy. Let's go over how to do this.
Here are 5 ways to market your restaurant using Snapchat:
#1) Upload to Local Story
One of Snapchat's unique features is that it grants access to a public local story. As a user, you can upload your story post to Snapchat's "Our Story".
This is different from regular stories because they can appear for a longer duration and to the public. As more nearby users see your local story, you can attract new customers. The local story will also allow you to view customers nearby that you can potentially add.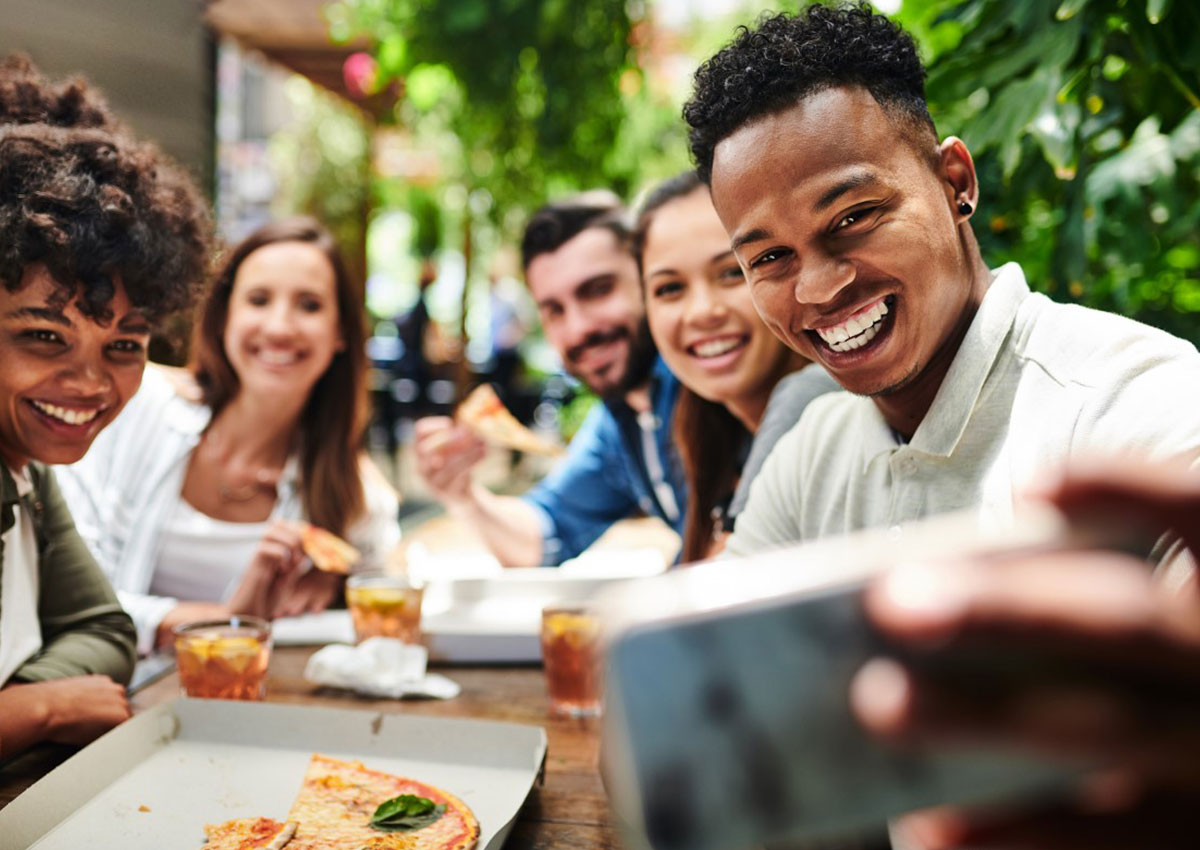 From there, encourage customers to Snapchat their food and experience with a reward. This can be a coupon or small discount based on if the posts generate any new followers.
#2) Geofilters
Another way to market your restaurant on Snapchat is by buying a geofilter. A geofilter is a photo overlay that only appears in a certain location and time frame.
This filter can be created to promote your restaurant and engage with local guests.  Depending on the filter time frame and location, it is a less expensive marketing tactic. If you're artistic, you can always create your own filter featuring your own food and drink images.
When guests see and use the filter, they can snap a photo and add it to the local story. This allows for more exposure, reach, and more free advertising.
#3) Exclusive Promotions
Engage with users by offering coupons and discounts via your story. Ask patrons to take a screenshot of your story to use coupons – everyone loves a good deal. In fact, 60% of Snapchat users are more likely to make impulse purchases on the platform.
Snapchat is special because users upload posts to their stories for only 24 hours. This feature grants you access to posting limited-time offers that are exclusive to this app. It can be giving away free dessert to the next guests who come in or special promotions.
To cross-promote from other platforms, you can post a "sneak peek" of your special offer. Direct this offer back to Snapchat by including your username and a call to action as add us on Snapchat! You can also tease certain meal items or upcoming events through your Snapchat.
#4) Advertise on Snapchat
Local businesses have finally been given their first organic presence on Snap Map. They can find this on Promote Local Place, an advertising goal within Snapchat Ads Manager. It's designed for small businesses and will have all business details.
Here are the 3 quick steps to advertising on Promote Local Place:
Find and review your local business details.

Design your local ad.

Reach nearby customers with location-based targeting.
Find them full in detail here on Snapchat for Business. Your advertising goal can always be different. Change it up from order online to come in for a free drink, it's up to you.
Users can see the Place listing online and order takeout or make a reservation. It includes all the restaurant details so the local community can see.
#5) Capture Behind-the-scenes (BTS) Content
As mentioned earlier, Snapchat is known for its raw content. One way restaurants can feature this is by posting behind-the-scenes content. This can be videos and or photos of the chefs preparing for dinner or BTS recipe crafting.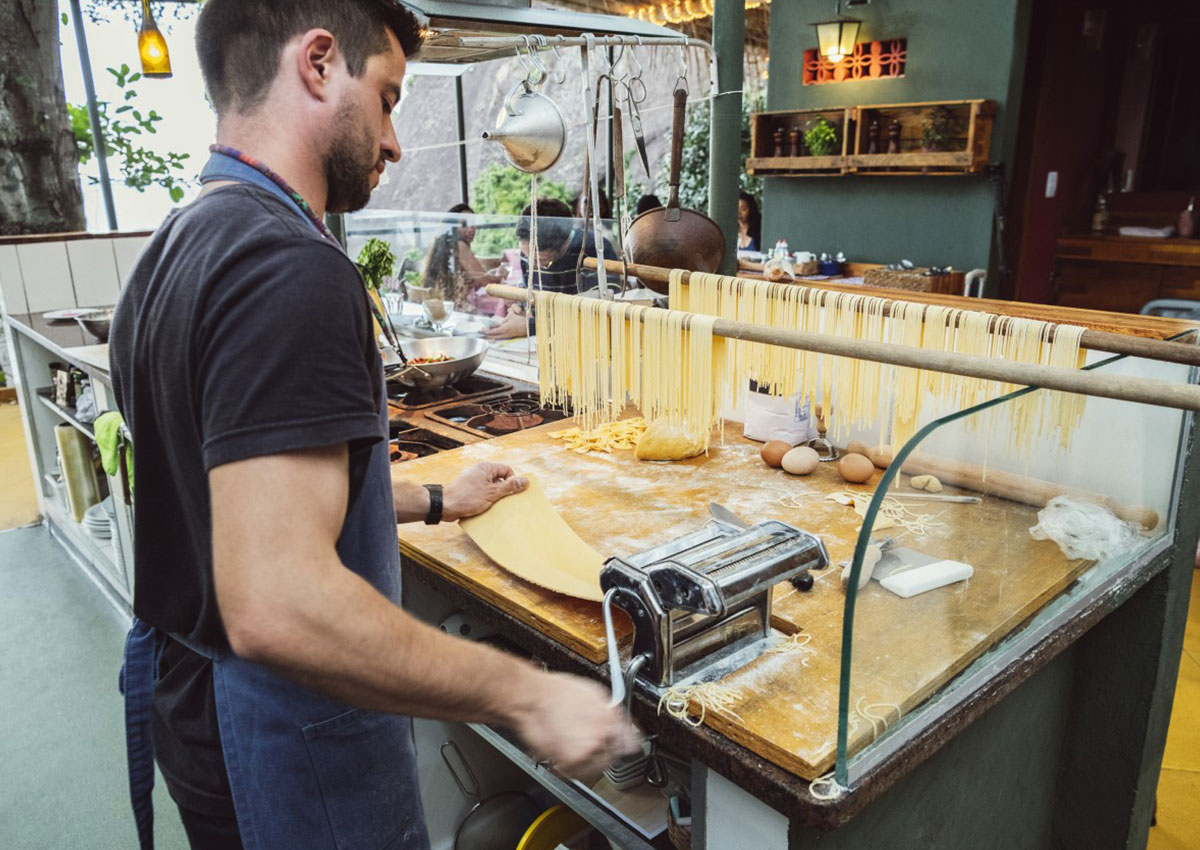 BTS videos make your guests feel more connected with your business. They get to see what's going on in the BOH in which they wouldn't be able to see elsewhere besides Snapchat. BTS footage is also good to cross-promote to attract more users to each social network.
Tell Your Story
Snapchat gives you a unique opportunity to engage with your community. It will drive traffic from Gen Z and Millennials to a boost in your restaurant sales.
Having an engaging community is more valuable than your views and likes on Instagram. Your followers on Snapchat are part of your community and it's important to get to know them. Be equally as involved posting to the local story as viewing it.
Use the Snapchat features in this blog post to enhance your marketing strategy today. Follow us on Instagram and Facebook for more social media marketing tips. Get snapping!