Big data has companies of all industries trying to utilize the wealth of information at their fingertips and The restaurant industry is no exception since information gathered from restaurant all-in-one POS, marketing, accounting, inventory, and scheduling systems can help reduce costs and maximize marketing ROI.
On top of that, restaurant data analytics can improve customer insights, enhance the guest experience, and foster customer loyalty. Restaurant analytics can help generate and guide owners through smarter decisions for their operations.
Restaurant analytics are different from restaurant reporting. Restaurant analytics go more in-depth and offer insightful analysis on components of restaurant operations like performance.
How do restaurants use big data to their advantage? Let's take a look at how to define big data and how restaurants can utilize it:
What Is Big Data?
Big data, as defined by Lisa Arthur, author of the book "Big Data Marketing," is "a collection of data from traditional and digital sources inside and outside your company that represents a source for ongoing discovery and analysis."
A few notable characteristics of big data make it challenging to collect and analyze without the right tools. These characteristics are volume, velocity, variety, and veracity. Essentially, big data is a huge amount of information (volume) that is streaming in at unprecedented speeds (velocity), being delivered in different structures and formats (variety) with uncertainty about its accuracy (veracity).
Big data encompasses both structured and unstructured data from traditional and digital sources, according to Fast Casual:
Structured Data
Structured data comes from internal sources. For restaurants, this includes all data from POS systems and information about suppliers, accounting, and labor.
Examples of structured data include:
Lists of items sold on a given day.
Reservations from a particular night.
Comments or "likes" from social media.
Customer email addresses and phone numbers.
Unstructured Data
Unstructured data comes from external sources, including weather, traffic patterns, and population density.
The difference between structured and unstructured data is structured data looks at what was sold and when, while unstructured data looks at why.
Blending the two can give a restaurant manager or owner some creative ideas to build loyalty.
Here's an example, a cafe in a town sees an increase in sales at lunchtime on the first of each month. The structured data proves that with telling numbers.
With unstructured data, the owner might discover that this is also the day when workers at a nearby factory get their paychecks.
With this knowledge, the owner can create specials that coincide with the first week of the month. The loyal customers will return each month but may generate visits at other times of the month.
Applying Big Data to Restaurant Analytics
Restaurants can take serious advantage of big data to boost profits and marketing ROI. There is a wealth of information from existing restaurant POS systems, including sales transactions, inventory history, employee schedules, and payroll expenses. This can be used to predict future stocking and scheduling needs.
Guest management software is another tool restaurants can use to gather important customer data, including menu and table preferences, allergies, and special requests. This customer information can help to personalize loyalty program offerings.
Other information sources like Facebook, Instagram, Twitter, Yelp, and TripAdvisor can benefit when building out a restaurant's big data program.
Inventory management is a restaurant analytics tool that reduces food waste. Determining the actual vs. theoretical (AvT) food usage can help you adjust your food usage and change the quantity to order.
Lastly, one of a restaurant's most significant expenses is labor cost. Scheduling and planning around peak times are managed easier through restaurant analytics. Restaurant management software can determine the busiest and slowest times of the restaurant broken down by hour, day, and week.
The goal of big data for use in restaurant analytics is to understand the "what" and "why" behind sales patterns and customer behavior, as well as be able to make predictions based on insights.
To be successful, restaurants have to understand the power of what data possesses and how it can help owners stay in control of their business.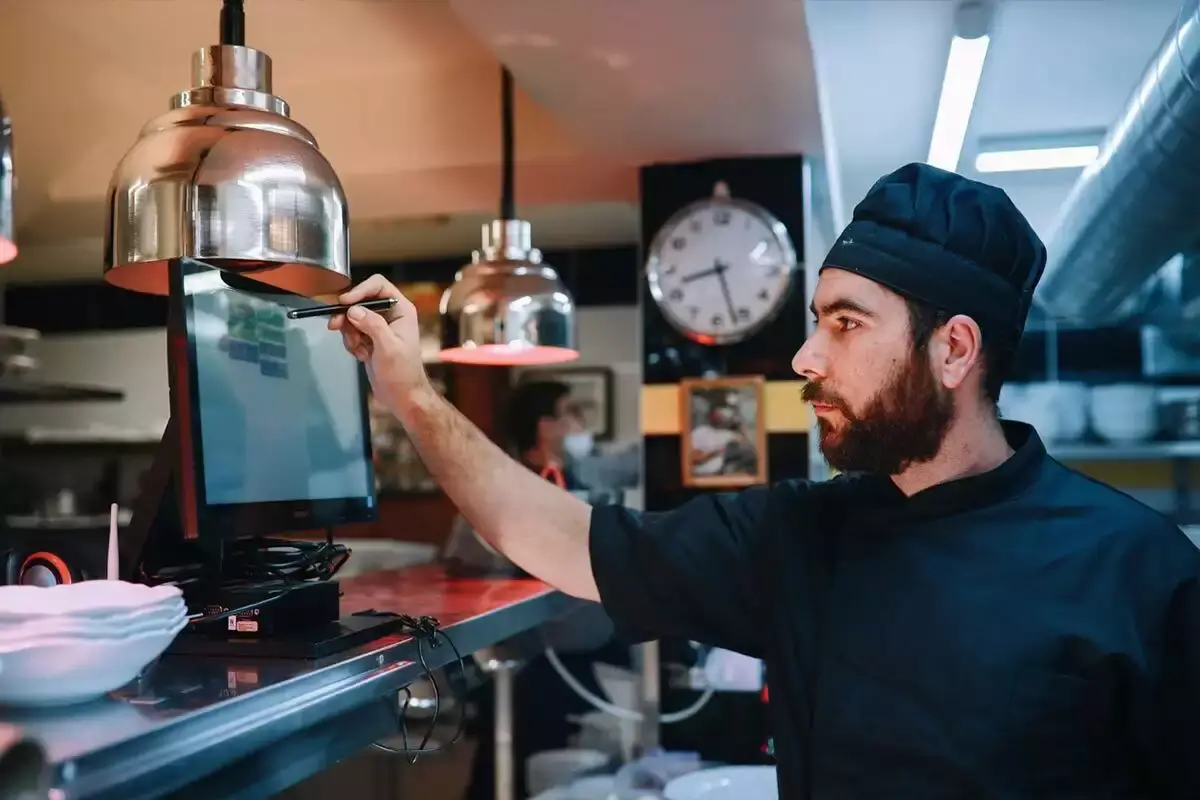 Restaurant Analytics and the Customer Experience
One application of big data in the restaurant industry is using restaurant technology to improve the customer experience.
Restaurant operators need to think about using technology to give the guests the experience they want. As we move into the future, customers will expect or demand personalized experiences from restaurants.
Sales information from a POS system and customer insights from guest manager software can help restaurants create loyalty programs personalized to customers' experiences and preferences.
One New York-based restaurant group, Fig & Olive, used guest management software to track over 500,000 guests and $17.5 million in checks. With this information, they have created targeted email campaigns that keep customers coming back.
A recent "we miss you" campaign offered a complimentary crostini to guests who haven't dined in the restaurant within the last 30 days. As a result, almost 300 customers revisited, contributing to an additional $36,000 in sales.
Email, social listening, and insights from guest management software can also help restaurants get to know their customers better. In learning about target audiences, important points include demographics, age, income levels, food preferences, and favorite dining spots.
Customer experience driven by restaurant analytics comes with high customer expectations. A study by the U.S. Department of Agriculture reported that millennials eat the highest share at fast-casual restaurants or quick-service restaurants.
Millennials prefer fresh, natural, organic, and locally grown menu items. At the same time, almost half of millennials' food budget (40%) goes toward eating takeout meals.
Restaurants are reacting by changing menus with more fresh options. In addition, they are adding more technology with app ordering and curbside pickup choices.
Large chains like Shake Shack and Chipotle catered to millennials by adding these options, and the restaurants thrived.
Find Results With Restaurant Analytics
Restaurant analytics can take advantage of operational insights and customer data to reduce costs and improve marketing ROI.
With real-time reporting, restaurants can make more informed business and marketing decisions to improve the efficiency of operations.
Mad Mobile empowers restaurants to unlock restaurant analytics, giving businesses the ability to create marketing and loyalty opportunities with a powerful integrated suite of solutions.