The retail landscape has undergone massive disruptions, partly due to the vastness of online shopping. As the move to the digital space intensifies, and the competition grows by the day, brands must quickly identify ways to stand out from the crowd.
But how can you achieve a competitive edge in a saturated market?
The modern consumer not only looks for the right product and price when engaging with your brand; they also crave a highly personalized shopping experience.
Businesses that recognize this fact know that the best approach to retaining their valuable clients is superior customer service, which means clienteling.
What Is Clienteling?
Clienteling is all about using data to create personalized customer experiences.
The most widely accepted clienteling definition is a technique used by retail sales associates to establish long-term customer relationships based on data about their purchases, behavior, and preferences.
Clienteling embodies your brand's personality, relatability, and values. It drives sales by creating personal connections with customers that turn into long-term relationships.
While clienteling doesn't encompass every aspect of your business — design, service offerings, space, etc. — it can help you stand out in a competitive market.
Research shows that clienteling increases data collection rate by up to 300% and retention rates by as much as 200%. Moreover, it allows businesses to focus on high-value clients who cost less and buy more. When acquiring a new customer can cost five times more than retaining an existing customer, it's incredibly important.
In a nutshell, clienteling enables your sales team to deliver personalized customer experiences. This, in turn, translates to more sales and increased customer retention.
Clienteling vs. Customer Service: What's the Difference?
Customer service has always played a critical role in improving customer experiences. However, many retailers are now turning their attention to clienteling.
Which begs the question: What's the difference between clienteling and customer service?
While both have a common denominator (the customer), their applications and context differ. They might have the same end goal — to build lasting customer relationships — but they are different in more ways than one.
For instance, customer service leverages the face-value information you have available. On the other hand, Clienteling uses real-time data to identify what your customers want, how they interact with your company, and their attributes — tastes, preferences, etc.
The key difference is that clienteling is proactive while customer service is reactive. Here are some notable differences between clienteling and customer service.
Clienteling
Anticipates customer questions.
Gathers real-time data to personalize experiences.
Fosters long-term, loyalty-based relationships.
Gives customers the VIP treatment they deserve.
Customer Service
Answers customer queries and accommodates problems.
Gathers data to fix purchase issues.
Treats customers generally well.
Fosters short-term, healthy relationships (mainly transactional).
Clienteling gathers data from both online and offline to provide personalized experiences, hence superior at creating meaningful customer relationships.
How Does Clienteling Work?
Clienteling breaks down into two main functions. The first is gathering data about customer interactions, and the second is leveraging this information to create personalized experiences for customers.
For example: Let's say a customer walks into a retail store she has visited before. This store doesn't practice clienteling. She's greeted by associates (who don't recognize her from her past purchase history), browses your offerings, buys a dress, and leaves your store.
That sounds like a flawless shopping experience, right?
Flawless, yes, but not memorable in a way she would recommend the store to her friends.
Now let's suppose the store has a clienteling strategy in place.
The same customer enters, and the associates immediately recognize her and welcome her. They pull out her customer profile, recognize her preferred dress style (based on her purchase history), and then direct her to new arrivals that match her color and style.
According to her records, they also notice that her birthday is in a few days. Not only do they wish her a happy birthday but also extend a 5% discount on the dress as an early birthday gift. As a result, the customer feels appreciated and delighted by the services she received.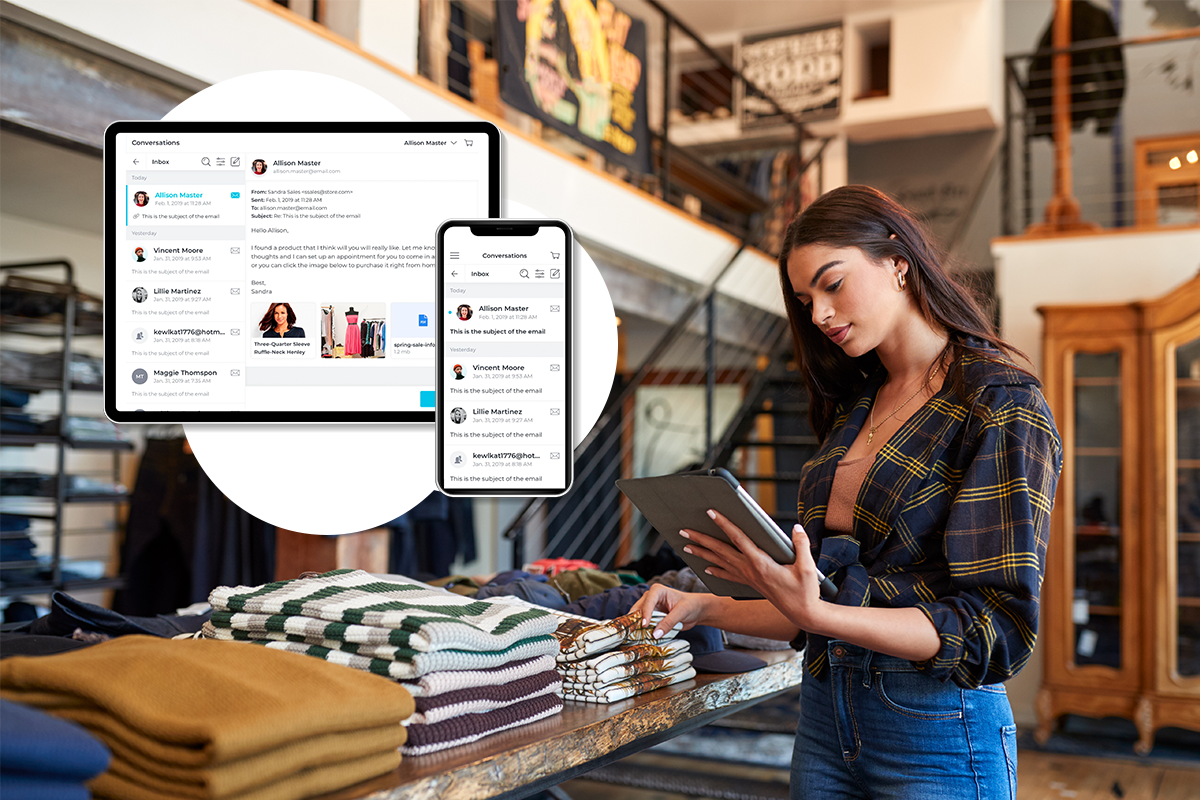 The customer leaves the store happy and vows to tell her friends about the VIP treatment she received at that store.
Notice how the simple act of collecting customer data transformed the customer experience — making her feel loved and appreciated. That's the power of clienteling.
Pillars of Clienteling
Retail clienteling comprises five main components.
Customer profiles
Rich product information
Shopper activity & history
Marketing and sales
Customer service
These pillars benefit the shopper and simplify the store associate's job, simplifying the retail processes and driving more revenue.
Let's go over these pillars in detail.
Customer Profiles
Shoppers don't want to be treated just like a database entry. They want first-class treatment, craving a highly personalized shopping experience.
Enter clienteling, which helps paint a clear picture of a shopper as an individual than just a transaction. A robust customer profile features personal information, specific customer KPIs, personal attributes, etc.
Leading retail stores do a great job capturing accurate customer data to augment their clienteling efforts. This results in customer personalization that drives more sales.
Rich Product Information
Having rich product data is critical for clienteling.
In today's digital landscape, mobile traffic has exceeded desktop traffic.
Studies show that 79% of smartphone users have made a purchase online using a smartphone over the past six months. When rich product information is readily available, shoppers can easily access it online.
Many consumers, however, still ask store associates for product information. Store associates must have access to this data to share it with shoppers when needed.
Shopper Activity
The buyer's journey is far from linear.
Sometimes, it only starts online for the shopper to make the purchase in person. Other times, it can begin in-store, where the shopper visits a store, browses the merchandise then completes the purchase later at home on a phone or desktop.
All these touchpoints require a 360-degree view of the shopper's activity and purchase history, which can be achieved through clienteling.
Whether the purchase was completed online or in-store, each engagement is an opportunity to capture the shopper's data and enrich their profile for clienteling purposes. This allows the associates to serve the customer better when they visit the store.
Marketing and Sales
No one loves receiving promotional emails when they don't sign up for products.
Brands can remove this annoyance by marketing one-to-one using the captured clienteling data. Notify customers when a shirt matching their style or search query is restocked. Address your customers by their preferred name, not the name on their ID.
One of our customers found that a clienteling email had a 65%¹ conversion rate and 51% items sales lift for the company.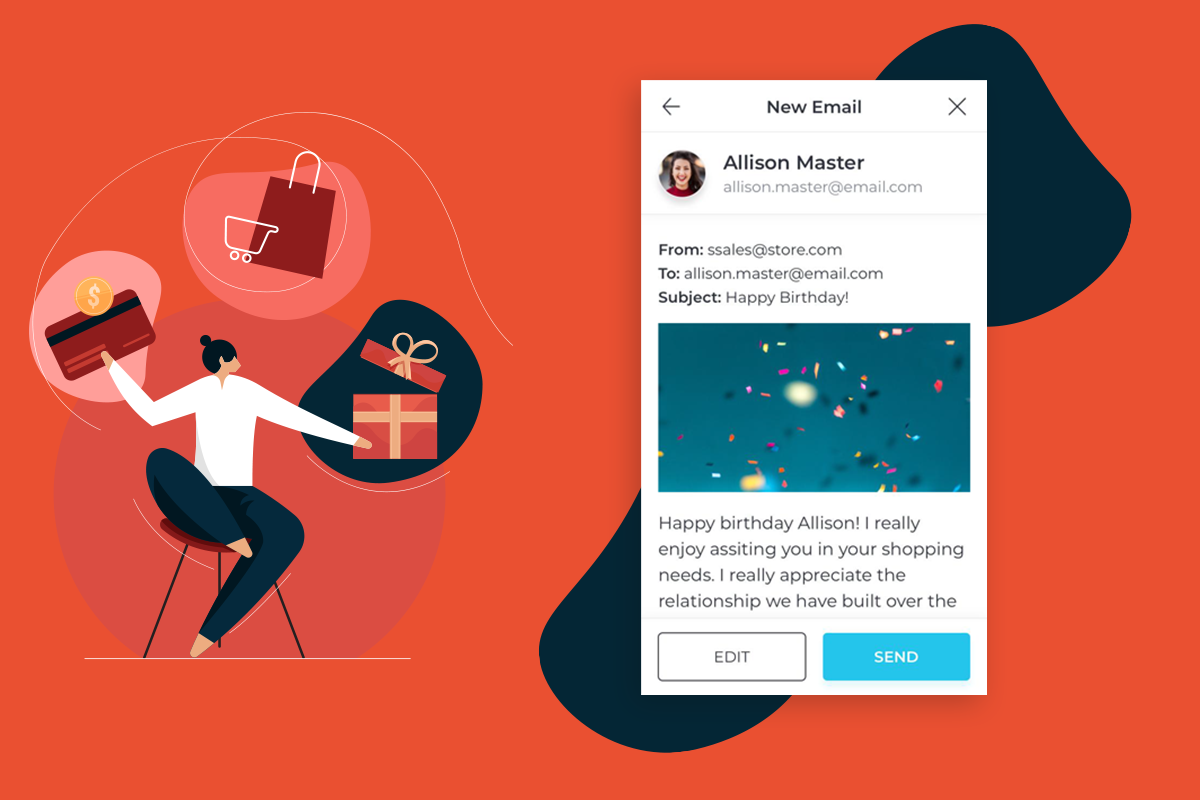 With assisted selling, the art of sales becomes easier and trust-based. Clienteling isn't about spamming your subscribers' emails with promotional materials. It promotes targeted marketing that seeks to identify selling opportunities based on what the customer loves.
Customer Service
Customer service is the bedrock that sustains clienteling.
Keep in mind that clienteling doesn't just happen in stores. Data is everywhere, online and offline. It needs to be collected, analyzed, and shared with all employees so they can use it to provide better customer experiences.
Benefits of Clienteling for Retailers
Clienteling offers an array of benefits to businesses. First and foremost, the idea presents opportunities for retailers to improve customer satisfaction through personalized experiences. This increased customer satisfaction often leads to increased sales, revenue, and profits.
Let's go over the many business benefits of adopting a clienteling strategy.
1. Generate Repeat Business
If you provide your clients with personalized experiences that keep their satisfaction level high, there is no doubt they become loyal customers.
Customers who walk into your store know you'll treat them as friends and give them the best service. They'll repeat purchases repeatedly and even introduce your business to their peers. You're giving them a shopping experience they can't get at any of your competitors.
Better yet, if they need a product you sell, they'll make a call before they can schedule an in-store visit. That's the power of building personal relationships with your clients.
2. Increased Sales
Repeat business will lead to an increase in sales.
Customer experience directly correlates with sales. The more satisfying an experience is, the more likely a customer is to return to the brand and purchase another product.
As customers become increasingly engaged with a brand, they become brand ambassadors, advocating your brand among their peers. This may further lead to an increase in sales.
Better yet, your sales expenses will considerably go down. Research suggests that selling to new customers is up to 5X higher than the cost of selling to existing ones.
3. An Opportunity for You to Upsell
As much as clienteling is all about collecting data and providing personalized experiences, it doesn't have only to benefit shoppers. It can also help your store by leveraging the data to make informed marketing decisions.
In other words, it allows you to upsell.
For example, in collecting data on your customer's behavior, taste, and preferences, you're presented with an opportunity to upsell them, which can help to increase your sales and profits.
Let's demonstrate this with an example.
Emma is a loyal customer who buys from your store regularly. Since she has purchased from your store multiple times, you've collected enough data to know that she usually buys a particular spread of products whenever she visits.
Using this information, you can try cross-merchandising complementary products by putting them next to her favorite products to get her to purchase more.
4. Foster Seamless Checkout Experience
Studies show that 18% of shoppers abandon their carts due to long and complicated checkout processes. In retail stores, this can come in the form of long waiting queues at the checkout counter.
Retailers can avoid this problem by providing their sales associates with digital checkout options technology. Studies show that consumers prefer using digital payment methods such as PayPal, Android Pay, Apple Pay, etc.
Empowering retailers with POS with built-in clienteling features can help complete transactions quickly, reducing the checkout time and potentially increasing revenue.
5. Stronger, More loyal Relationships
The primary goal of clienteling is to build strong, long-lasting relationships between customers and their favorite brands.
By going the extra mile to improve customer experiences, companies can grasp every opportunity to strengthen those relationships.
Building strong relationships is critical because it determines how consumers feel about the brands they shop with and the products they buy. Most importantly, building strong relationships helps reduce churn rates and increase sales over a long period.
Moreover, brands can improve their reputation by focusing on building fruitful relationships. These relationships also enable companies to turn loyal customers into brand advocates who help spread positive vibes about the company and its products.
Wrapping Up
Clienteling is a technique used by retailers to establish long-term relationships with customers based on data about their purchases, behavior, and preferences. Its goal is to provide personalized experiences to customers.
Learn how Mad Mobile's clienteling solution can help your store sell outside the four walls and provide customers with individualized attention and first-class service.