The days of hungry people driving down the street looking for a restaurant to try are gone. Now, people turn to the internet; specifically, Google, to help them find the perfect place to eat. 
Google has become the go-to source for people discovering new restaurants. This is because an increase of 46% of Google searches are now locally focused. These searches often consist of adding terms like "near me" or "in [City Name]" onto the end of the search phrase to limit results to local businesses.
In this post, we're going to focus on a tool every restaurant should be fully capitalizing on to successfully market their business online and increase their profitability — Google My Business.
What is Google My Business?
Google My Business (GMB) is a free and easy-to-use tool that allows you to promote your business online through Google. With GMB, you create a Business Profile for your restaurant, and it helps connect you with customers on Google Search and Maps. 
Why Is It Important?
Local search SEO (search engine optimization) on Google is one of the most powerful tools to increase your restaurant's online visibility and attract new customers. 
When people are in a hurry to find answers, they rely on the top of the search engine results that Google gives them. So, no matter how great your restaurant's website is, you may still fail to capture curious consumers if they see outdated information in your GMB listing.
Creating and maintaining your Google My Business profile is well worth the effort since it comes with a whole host of benefits, including increasing your business's visibility and making a more positive, powerful first impression.
Ready to get your restaurant listed? Find the steps here.
How to Make a Google My Business Profile
Visit Google's business profile page and claim an existing listing for your business or sign up from the beginning.
Add your business information such as hours, photos, special events, etc.
Personalize your profile- this is an opportunity to add logo's, share your voice, and your mission.
The Top 8 Google My Business Features for Restaurants
Hopefully, you've already claimed your GMB listing and added your necessary business information. Your Business Profile should have your restaurant's name, address, phone number, and hours. 
This is a great place to start, but there are plenty of other opportunities to enhance your GMB listing.
Let's go over GMB features you should take advantage of. These will help increase your online exposure, search ranking, and customer base.
1. Description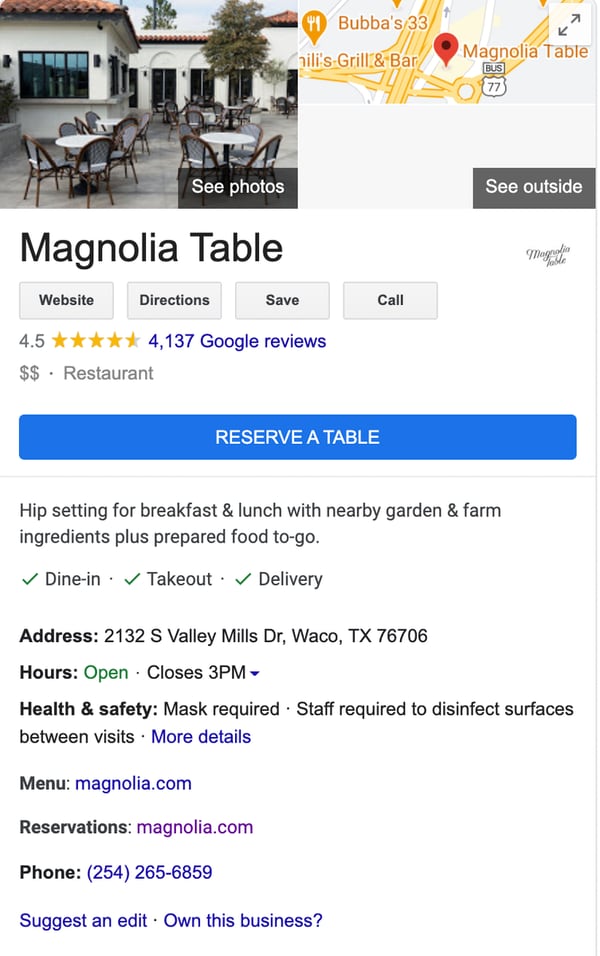 The first feature that will enhance your listing is adding a business description. This section is your opportunity to tell people what makes your restaurant unique. Here are a few talking points you should consider including in your description:
Cuisine: First, make sure you tell customers what kind of food you serve. Does your restaurant serve a regional cuisine like Chinese or Indian? Or a fusion cuisine like Tex-Mex? Also, make sure to include a specialized cuisine like vegan or gluten-free if it applies to you. Here is where you want to let diners know what kind of food they can expect to find on your menu. Stating your cuisine plays a significant role in people's results for 'near me' searches. 
Atmosphere: What's the atmosphere or vibe in your restaurant? Are you a fast-casual joint, a quaint cafe, or an upscale restaurant? The atmosphere of a restaurant is just as important to many people as the food they serve. 
The maximum length is 750 characters, but it will be shortened if you write a longer description. Be sure to frontload the most crucial information, but try to keep it brief and to-the-point. 
Here's a screenshot of what Magnolia Table's GMB listing looks like for reference to the right. Their description showcases their garden-to-table cuisine, hip vibe and is straightforward. 
2. Reservations & Ordering
Another great way to optimize your GMB listing is using the reservation feature. The reservation feature allows you to include a booking link in your profile.
Adding a booking button to your GMB listing is an excellent way to streamline your guests' reservation process. You want to have an online reservation system that integrates with Google, such as CAKE's Restaurant Guest Management System. 
Take a look below and notice that the booking times shown are from the restaurant's reservations system through the Guest Management System.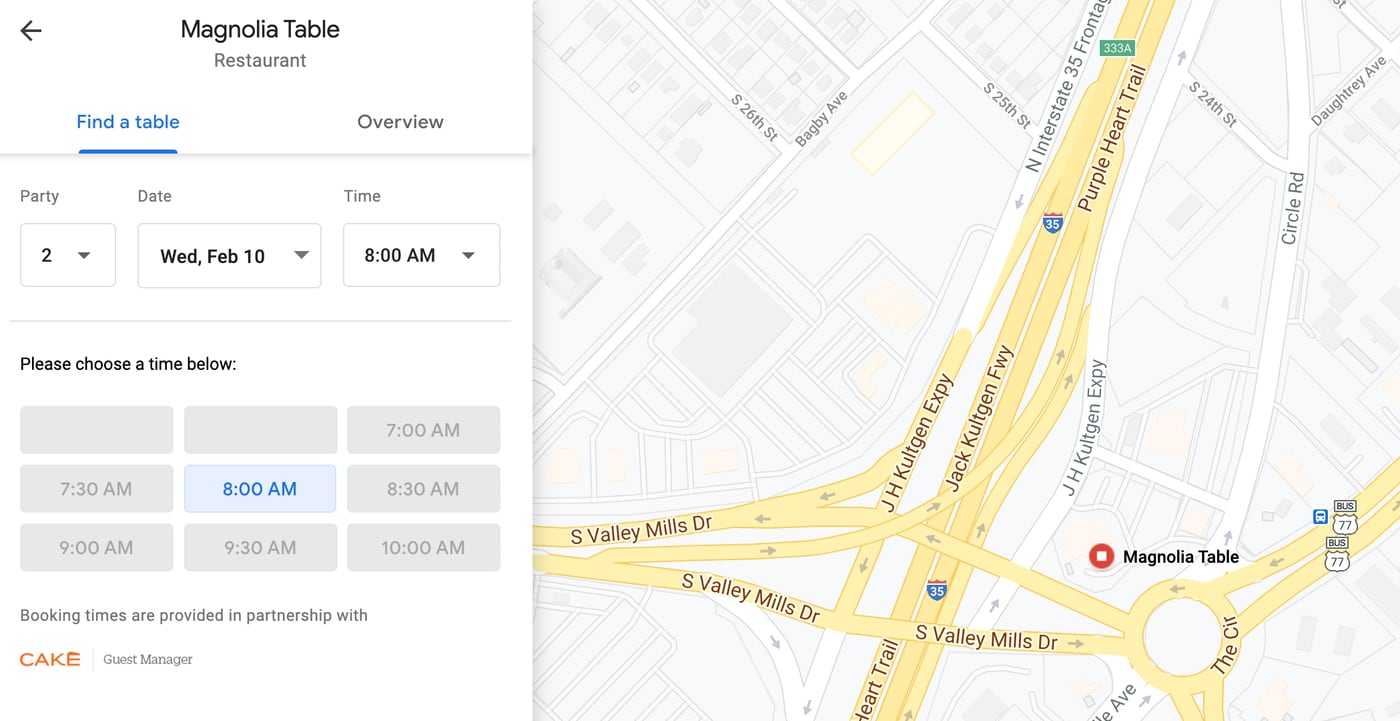 Similarly, GMB listings have also become a place where guests can order food online. Your restaurant's online ordering system link can also be on your GMB profile. With this, GMB becomes a customer's one-stop-shop for whatever they need to do to enjoy your restaurant's food.
3. Menu
Did you know 93% of people look at online menus? Because of this, your restaurant needs to be using the menu feature on GMB. There are two different ways you can use this feature. 
The first method is to insert a direct link to your menu page on your website, as Magnolia Table does above. 
Another method is adding a menu button that will list out your food and drink items. The menu editor lets you add, edit names, descriptions, and prices. It even enables you to break up your menus by categories, such as cocktails, appetizers, and entrees. 
In this area, customers can also add menu photos that will appear above the listed menu. We will show an example in the next section!
4. Photos and Videos
If you want to get people's attention, you should add some visual interest to your listing in the form of photos and videos.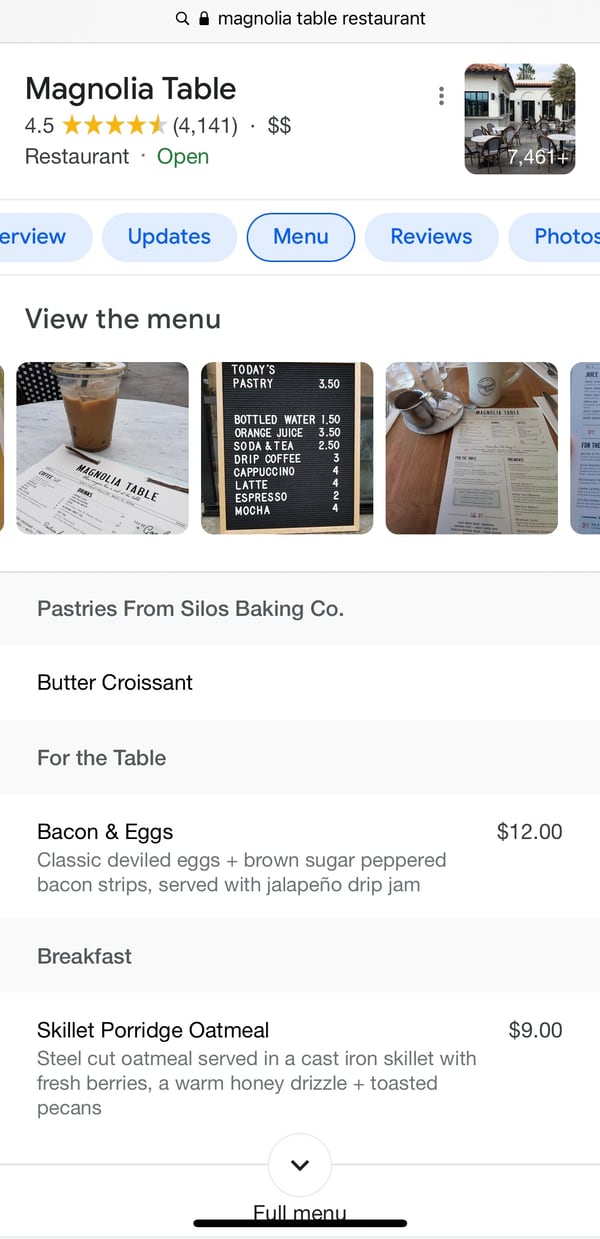 These visuals don't have to be of the food itself, though pictures of your most visually appealing dishes are certainly a great thing to feature. People also like seeing pictures of your restaurant's exterior and interior so they can get an idea of what the seating and atmosphere are.
When you add pictures or videos to your GMB listing, Google will ask you to categorize the photo. For example, you could identify a picture of your restaurant's front as an exterior photo of the business. 
Here are Magnolia's featured menu photos on top of their listed menu. As you can see, a lot of these features complement each other and work together to showcase your restaurant's best offerings. 
This allows people to click on categories of images and videos. It is helpful when there are many visuals associated with your restaurant listing, and they're looking for something in particular.
Anyone can add pictures and videos of your business online, which will show up in your Google My Business listing. But don't worry — you can control the visuals people see first when they Google your restaurant. You can also flag a photo for removal if it was actually taken at a different restaurant or is somehow inappropriate.
5. Posts
An underutilized feature of Google My Business that you don't want to miss out on is Google posts. This feature allows you to create and share announcements. 
Think of these posts as social media status updates. Google Posts can include text, images, and even call-to-action buttons. 
Not sure what to post about on GMB? Here are some ideas:
Events: You can post about upcoming events like virtual cooking classes or live music. 
General updates: Update your customers on the latest COVID restrictions and safety precautions. Open for dine-in or only take-out? Whatever the update, let customers know.
Promotions: Let people know about any special promotions or discounts you have going on in Google Posts. Feature your seasonal menu items and limited-time offers.
6. Q&A Section
The Q&A section on your Google My Business listing is where any user can post a question about your restaurant. With this feature, anyone can also post answers in response. So, it would be best if you closely watched this section to provide fast and accurate responses. You can do this most effectively through the GMB app.
Q&A's will stay on your listing, so you want to provide thorough answers that future users will find helpful. Also, it's important to pay attention to the questions people ask. It can give you insight into details you may want to add to your website or social media profiles. For example, if you're an ice cream parlor and someone asks whether you offer any dairy-free options, you may want to identify dairy-free items on your online menu.
7. Reviews
GMB lets customers review your business through your listing and enables you to respond to them. It is imperative to respond to both good and bad reviews as much as you can. 
Why is this important? 93% of consumers say online reviews influence their purchase decisions. 
Reviews help build your credibility, and customers tend to prefer businesses that engage with them.
8. Insights
Last but certainly not least, is the insights feature. Once you have your listing created, you'll get a dashboard with invaluable data on your customer's activity.  
Suppose you're curious about how many people are booking tables through GMB. In that case, you can look at your booking history through your scheduling provider, which should let you know what percentage of reservations were made directly through your GMB listing.
Google Insights gives you several different ways to understand how customers interact with your listing. Here's a list from Google:
GMB provides answers to all these actions and requests. This insight can help you see what strategies are working and which need some attention. 
Google My Business Updates for COVID
The COVID-19 pandemic has caused many businesses to deal with shutdowns, limited opening, and operations have changed indefinitely. Luckily, with GMB, you can communicate these changes with your customers ahead of time. 
The newest addition to GMB is the healthy & safety attribute in your listing. In this section, businesses can let their customers know about the safety measures they are enforcing, such as: 
Masks required for customers or staff

Temperature checks required for customers or staff

Appointments or reservations required
Another update within your listing you can use is the COVID-19 Post. With so many changes due to lockdowns, this post type will let you update your customers, and Google labels it as "COVID-19 related information."
If you have a temporarily closed restaurant location, you should make this update in GMB as well. 
Takeaway
Adding the necessary information like your address and hours to GMB is only scratching the surface of what it can do to help you market your restaurant effectively and pull in new customers. 
Utilize GMB to its fullest potential by adding the features above to your Business Profile. Hungry diners will have all the information they need to go straight from their phone to your restaurant.