All-in-One Restaurant POS System
Manage your whole restaurant in one place with integrated online ordering, curbside management, reservations, and more.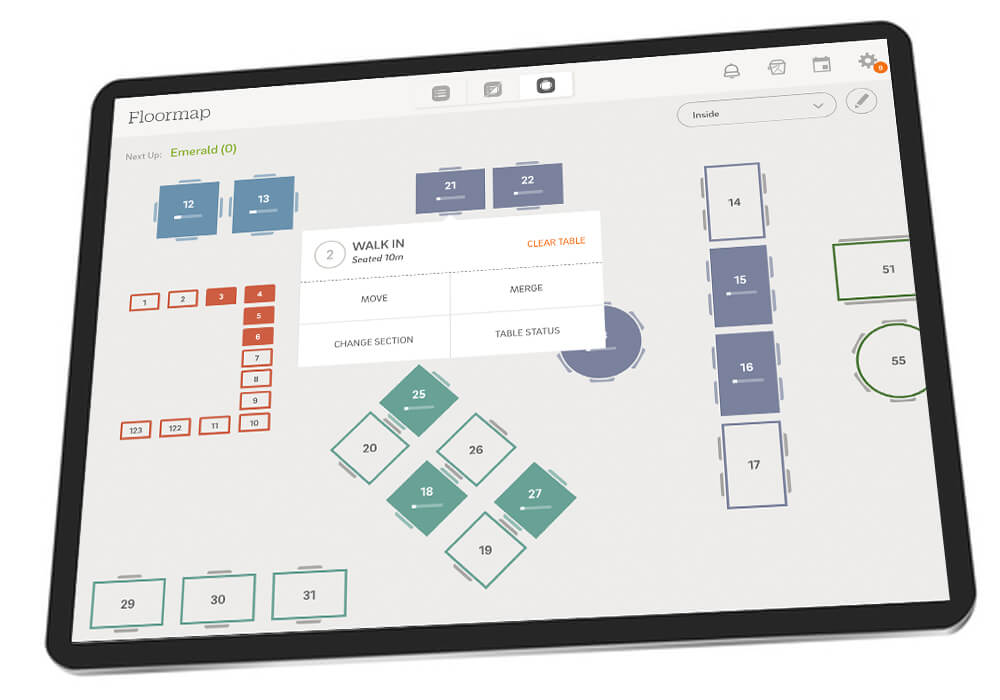 Maximize Your Restaurant Operations
From mobile marketing and wishlist management, to point of sale and payment processing, Mad Mobile's All-In-One POS offers solutions for the entire dining experience.
All of our popular enterprise features in a lightweight easy-to-use solution:
Curbside Management
Table & Waitlist Management
Tableside Ordering
Online Ordering
Contactless Payments
Order Online & Pickup Curbside
Give your guests more ways to order food with an online point-of-sale software that offers direct online ordering complete with contactless curbside pickup and delivery. Our curbside solution gives your restaurant the ability to manage orders, improve operations, and tame the chaos of curbside pickup.
Eliminate pricey commission fees from other providers.
Online orders directly integrate into your all-in-one POS to increase order accuracy.
Message your customers directly with customized, two-way texts.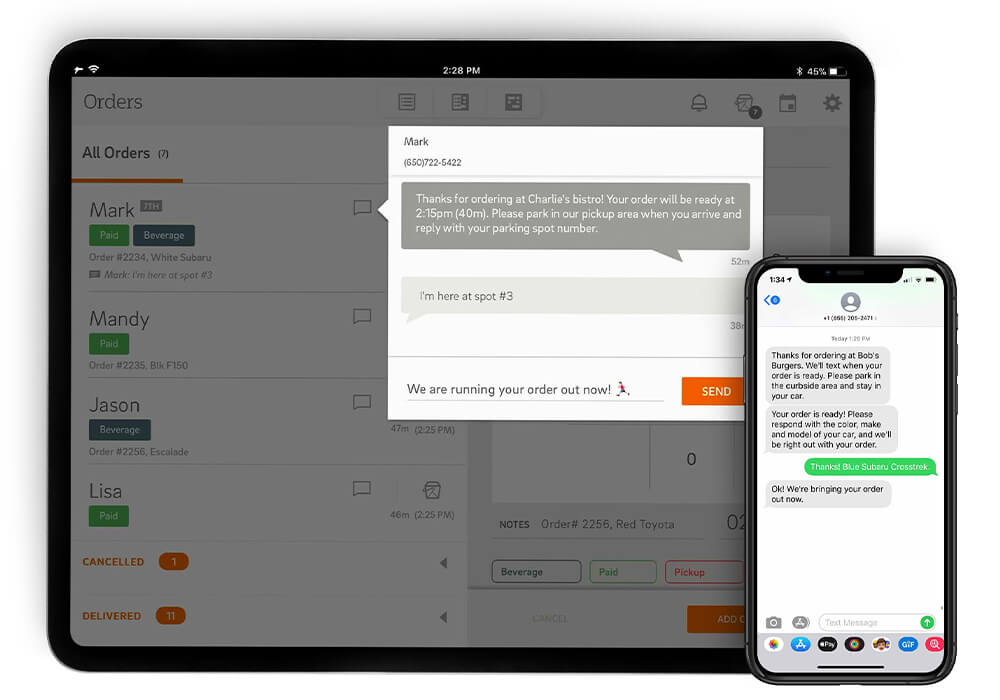 Optimize Your Guest Management
Turn more tables and drive more revenue with our guest management solution. Our guest waitlist management enhances your table management while optimizing your restaurant's reservation and waitlist process.
Accept online reservations and allow guests to "get in line" virtually.
Reduce walkaways and no-shows through automatic calling and texting once the table is ready.
First-of-its-kind integration with All-In-One POS to get real-time table statuses.
Touch. Swipe. Master in Minutes.
Enter orders faster and more accurately with fewer edits. Our restaurant point-of-sale system accelerates your order process with customized workflows as well as on-the-fly menu and table adjustments.
Beautiful,
Rugged & Built Tough
Restaurant proof durability gives you peace of mind.
Our 15-inch splash-resistant touchscreen gives you peace of mind, with the option to add a customer-facing display for easy checkout, convenient tipping, sign by finger, and e-receipts.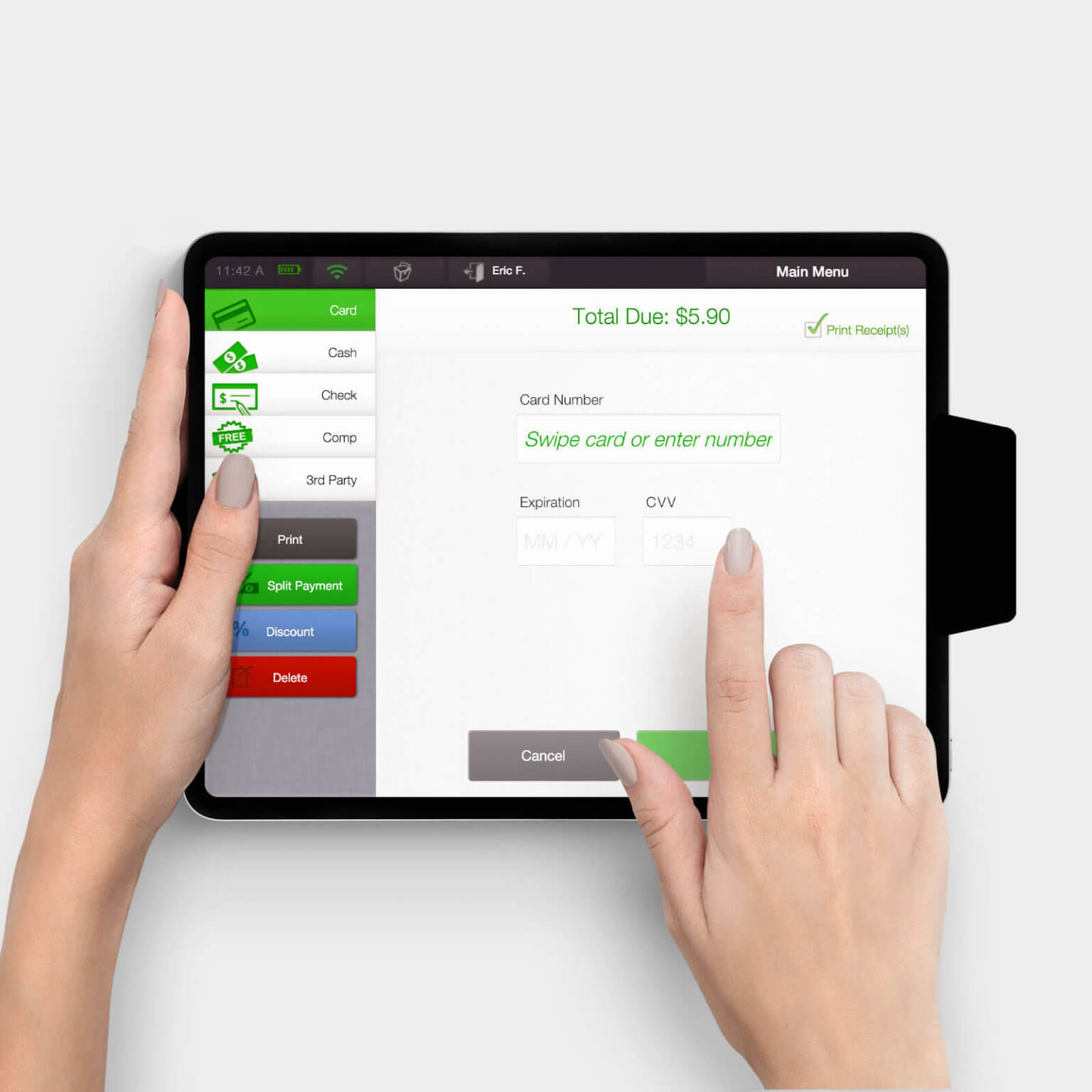 Bring tableside ordering or line-busting to your restaurant.
The convenience of a tablet with the security of a full restaurant point-of-sale system. Take orders, send them to the kitchen, and accept payment on our mobile ordering solution.
Hear What Our Customers Say
Teri Hope

Owner, Los Gatos Roasting Company

"Since we've implemented (Mad Mobile), we've increased our sales by as much as 10%. Part of it was like, why didn't I embrace this earlier? Thank god I did it, and did it now."
Guillaume Beinaime

Owner, Zola Cafe

"For me, the greatest benefits of (Mad Mobile) are ease of use, price, and the ability to access it from anywhere in the world."
Cliff Barsi

Senior Director of Food Services, Inside the Box Cafe

"The (mobile server) really changed how we do business here... it definitely made a huge difference in our success."
Ed Ferencik

Co-Owner, Butcher's Char-B-Que

"Once I decided (Mad Mobile) was the way I wanted to go, it couldn't have been easier - the customer support was phenomenal!"
Dynamic reports in the cloud, accessed from any device, put you better in control of your restaurant. Track everything in real time, including weekly category sales, wages, employee hours, and more.
Simplifying Payments
We make it easy to focus on running your business.
Transparent Pricing
Industry-low rates per swipe.
No Complicated Paperwork
Start accepting payments in minutes.
No Fixed Costs or Monthly Fees
Only pay when you use it.
Smart Chargeback Assistance
We help you fight back against fraud.
Integrations to Supercharge Your Business
Restaurant 365
Restaurant-specific accounting and operations platform.

Paytronix
All-in-one customer loyalty platform.
ItsaCheckMate
Leading integrator for third-party delivery platforms.
7Shifts
Employee scheduling software made for restaurants.
Orca
Restaurant & bar inventory software.
Shogo for Quickbooks
Online accounting software for small businesses
All-in-One Restaurant POS System
OrderPad
Bring the POS with you with our tablet-based OrderPad.
Guest Manager
Optimize your restaurant's reservation and waitlist process.
Online Ordering
Provide online ordering to your customers and boost sales.
Curbside Pickup
Customers order and pickup without leaving their car.
24/7 Support
Get the help you need, when you need it.
Cloud Based
All information is securely stored in the cloud.
Reports
View your reports from anywhere, anytime.
Offline Mode
Take orders and payments even if your internet is down.
Request a demo from a product expert who can show you how top restaurants have achieved mobility with their existing systems.
The platform that enables mobile experiences