The floor plan of your restaurant is much more than just deciding where you want your tables and chairs to be. Many customers probably don't give a second thought about the layout of your restaurant, but the configuration of where your bar, kitchen, and seating makes a massive impact on the overall guest experience and your bottom line.
Creating a restaurant floor plan is one of the first steps in opening a restaurant and is essential to include in your business plan. This article will discuss the importance of having a restaurant floor plan, how it affects your workflow, and give you layout ideas to help with your planning.
What is a Restaurant Floor Plan?
A restaurant floor plan is a blueprint that outlines your restaurant's entire layout. It shows the distance and relationships between tables, restrooms, waiting areas, and more. Your floor plan also identifies where your fixtures are, such as kitchen appliances, water heaters, doors, lighting, and furnaces.
Why Do You Need a Restaurant Floor Plan?
Many states will require you to submit a floor plan to receive permits before the construction of your restaurant. This is to ensure your layout is compliant with local, state, and federal guidelines. In addition, there are specific requirements such as emergency exits, fire codes, and specifications in the Americans with Disability Act (ADA).
Before opening your restaurant, you will need to pass a final building inspection. Your local building or zoning department will issue a certificate of occupancy to certify that the building has been properly constructed.
Restaurant Floor Plan Must-Haves
As you prepare to design the layout of your restaurant, make sure that it includes a visual representation of the following areas:
The kitchen
Kitchen components like stoves, refrigerators, dish pit, and other larger appliances
The entrance & waiting area
Host stand
The restrooms
The waiting area
The bar area
Tables & chairs
Outdoor patio tables & chairs
Your POS systems
Windows & doors
Emergency exits
Square footage
Offices & staff break room
There's no one-size-fits-all for creating a restaurant floor plan, and that's why many owners hire professional architects and interior designs. Professional designers have the creativity and experience to maximize space and efficiency while also creating an appealing interior concept.
If you opt to create your restaurant floor plan yourself, here are some software options you can use:
Restaurant Layout Ideas
The first thing to do when deciding the layout of your restaurant is to ensure that the design and layout are in sync with your concept. For example, quick-service restaurants are designed for fast table turnover, while fine-dining concepts aim to seat guests for a more extended period. The layout and design impact the restaurant experience, so you always want to see it from the customer's perspective.
How does it feel to walk through? Is it easy to get across the restaurant?
Can guests navigate themselves to the restroom? What does the restaurant look like when they're waiting at the host stand?
Now, we'll walk through some layout ideas for the most critical parts of your restaurant and go over how they factor into your floor plan.
1. Kitchen Floor Plan
Back-of-the-house floor plans are just as important as the rest of your restaurant, maybe even more important. Your kitchen is the engine that drives your concept and is essential to your restaurant's success.
Kitchen layouts will vary depending on the type of food you serve and the volume of business. A well-laid-out kitchen is critical for your staff to increase efficiency, have flexibility, and reduce accidents. An important factor to consider is where your kitchen staff receives orders to the kitchen display system (KDS) or printer to add tickets to the expediting window.
The components of a commercial kitchen are:
Cleaning/washing
Storage
Food preparation
Meal cooking
Service
Below is an example from CadPro of what a kitchen floor plan should resemble. It includes a space for dry storage, food prep, cooks, and accommodates sinks and walk-in freezers.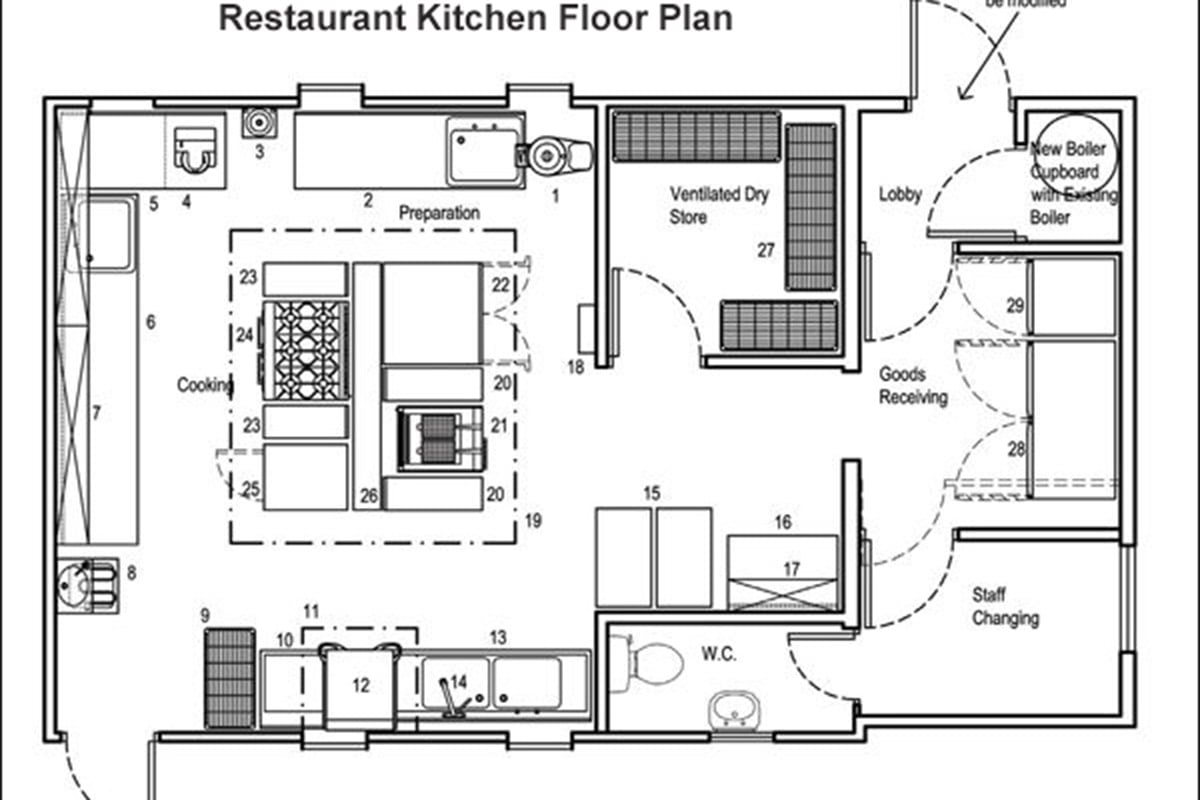 Photo Credit – CadPro
2. Dining Area
The front-of-house area in your restaurant includes the dining area, bar, restrooms, and waiting area should take up about 60% of your total square footage. The remaining 40% is for the kitchen.
The dining room should be inviting and spacious for your guests to enjoy their meal and time with you. Based on your maximum occupancy, you'll need to determine how much space you want to allocate for each guest.
Here are some general seating guidelines for each concept:
Fine Dining: 18-20 Square Feet
Full Service: 12-15 Square Feet
Counter Service: 18-20 Square Feet
Fast Food: 11-14 Square Feet
Banquet, Minimum: 10-11 Square Feet
Table Service for Hotel/Bars: 15-18 Square Feet
Restaurants often offer many different seating styles such as booths, high-tops, benches, and small tables. Offering various seating will help you host parties of all sizes and allow guests to choose their preferred seating for a better dining experience.
It's crucial to give your guests enough space where they aren't being disturbed by surrounding tables. There should be enough room in between tables and chairs so guests can easily leave the table and staff can maneuver around during service.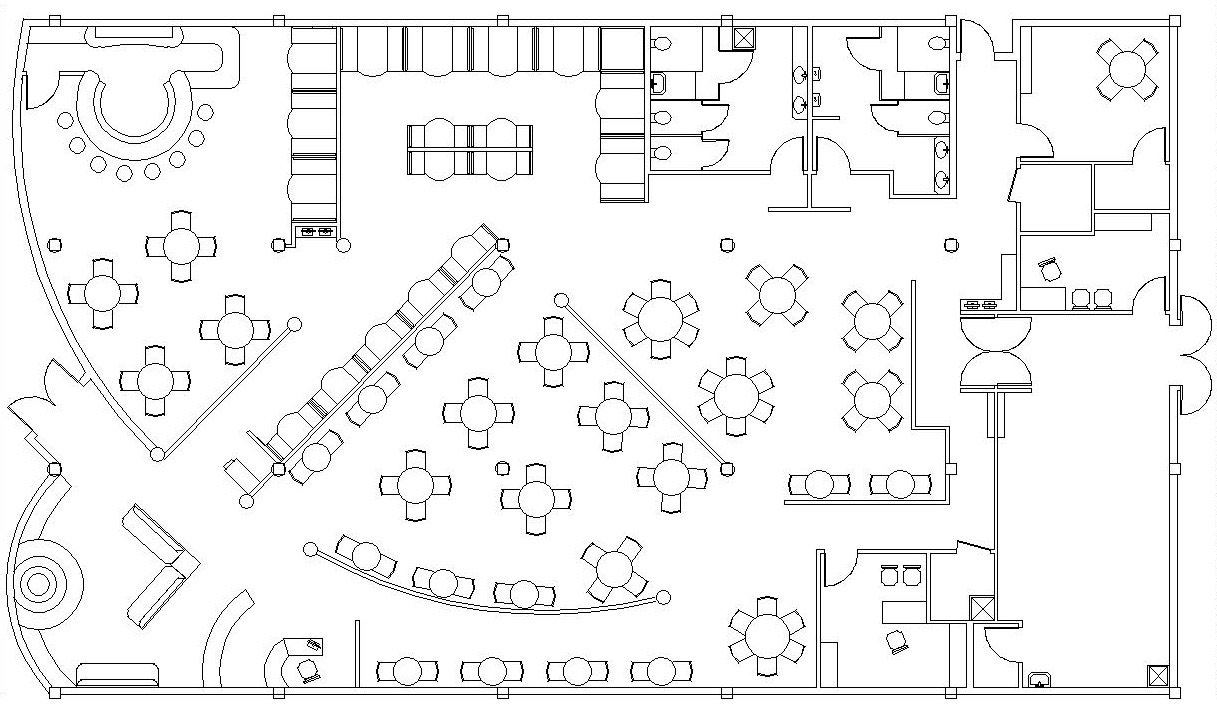 Photo Credit – AutoCAD drawings by Christian Menendez at Coroflot
3. The Entrance & Waiting Area
The entrance of your restaurant is your first opportunity to make a good impression with your guests. Depending on your concept, this may be where the host stand is and where guests are directed to the waiting area.
Not all restaurants have the space to designate a waiting area, but having one is an excellent opportunity to show your guests your hospitality. Often the waiting area is composed of benches or chairs to allow guests to wait comfortably and may be placed near the bar so they can grab a cocktail while they wait.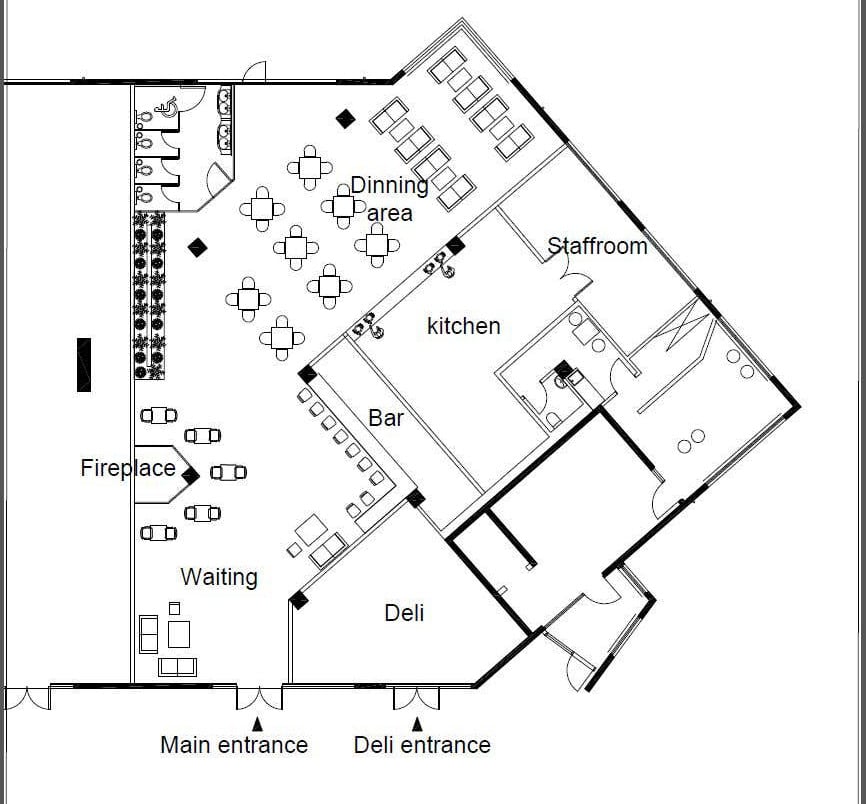 Photo Credit – Entry 4 by Hadjercher
4. The Bar
If you choose to have a bar in your restaurant, it is often the main attraction and focal point for customers. Bars help restaurants create a sense of direction for guests and are often open to show bartenders making drinks and so they can also interact with guests.
Check out YOLA cocina mexicana's bar, for example. Their lighting fixtures are intimate, beautiful and create a focal point to showcase their bar.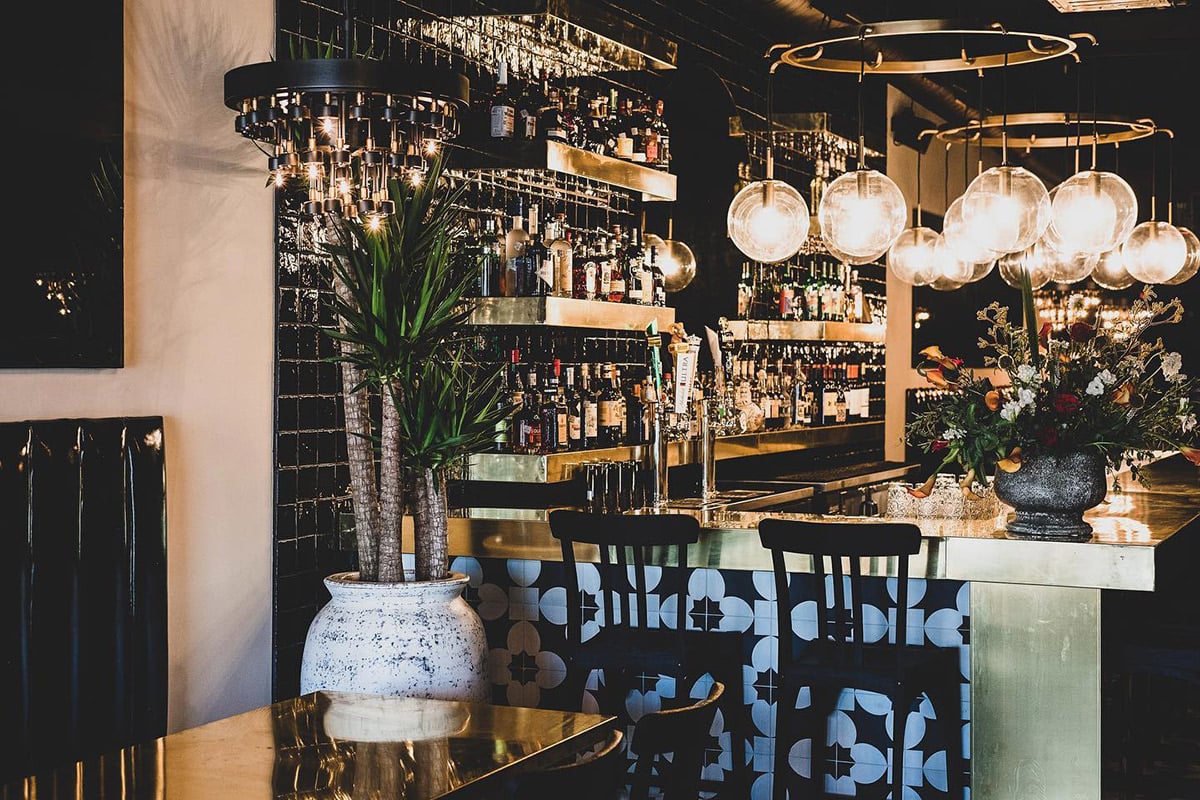 5. Restrooms
Restrooms are a necessary part of your restaurant floor plan, but where they are placed is important. Ideally, they should be tucked away where they don't interrupt service but also easy to find.
Nobody wants to be placed next to a table where the restrooms are right behind them and there's lots of traffic disturbing them. It also takes valuable time away from your staff if they have to navigate guests to the restrooms in the middle of entering an order or running food.
Placing signs with an arrow is a good way of showing guests where they're placed.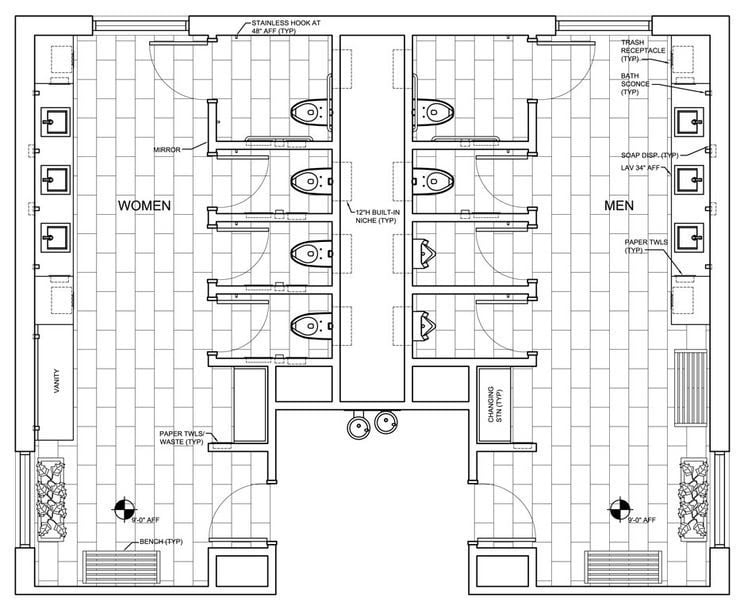 Photo Credit – Sling
6. Outdoor Dining
A major addition to many restaurants during COVID was a patio or deck for outdoor dining. Patios are a great way to drive up to 30% more revenue when set up correctly.
For restaurants adding a patio during COVID, frequently, it is the farthest away from the kitchen because it wasn't in the original floor plan. But, it's still crucial that your tables and seating have functionality and are appealing for your guests. Patios can be the first thing your guests see before entering your restaurant.
It would be best if you had a clear path for staff to walk to and from the kitchen and patio without any obstruction of tables in the way.
Photo Credit – CadPro
7. Emergency Exits
Every restaurant floor plan needs to be created with emergencies in mind. Restaurants are a hustling and bustling environment, and in the event of an emergency, guests need to be able to evacuate quickly. As mentioned above, that's why it's crucial that guests have enough room to leave tables and orderly rush out of the restaurant easily.
The arrows in the image below show the routes of exit for your restaurant emergency floor plan.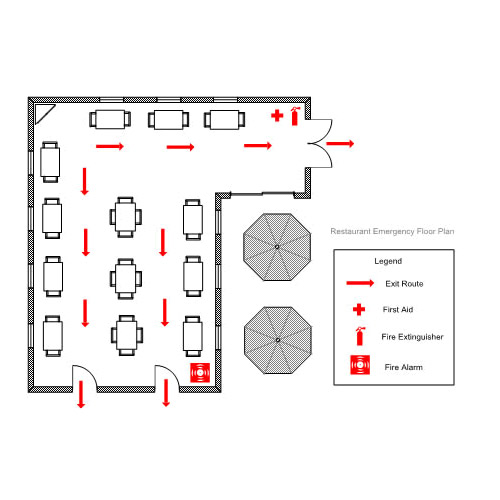 Photo credit – EX Blue Print
Conclusion
When you plan to take the first steps to open up a restaurant, remember that a floor plan is essential to your long-term success. Your goal is to create a space that helps your kitchen staff work effectively, your team provides top-notch service, and for your guests to get an experience that keeps them coming back.
CAKE's Guest Management enhances your table management and lets you build your floor map right on an iPad to mimic your restaurant's floor plan. Once you've passed inspection and you're ready to open, use Guest Manager to efficiently increase table turns and streamline communication throughout your entire restaurant.