Restaurants are in a time where on-premise outdoor dining is key. Patios are the future of dining. The pivot to al fresco dining has enabled restaurants to stay open amid the pandemic. At this time, there are 74% of full-service and 60% of limited-service operators with outdoor dining, according to the National Restaurant Association. 
At certain times, outdoor patios were the only dine-in option for customers. It's been an attractive way to keep business going and keep customers safe in open-air. But, the temperatures are beginning to cool down. What does the changing season mean for your restaurant's patio? You must find a way to extend the life of your patio and keep it appealing.
In this blog post, we're going to cover why it's important to keep your patio open and how to prepare you to do so. You'll have the tools to maximize your restaurant profits, whatever the weather may be.
Why keep your patio open?
Patios draw in guests because they physically can see the vibe your restaurant has to offer. Outdoor dining is also a part of this 'new normal' we are adapting to. Due to COVID, having an outdoor patio now is critical to keep doors open.
Keeping your patio open is all about adjusting around the weather. If your restaurant is in a city with dramatic seasonal changes, be sure to keep an eye on daily weather reports. Every once in awhile in extreme fall or winter weather, it may be necessary to close for a day or two. Make sure your patio follows the Americans with Disabilities Act (ADA) and local rules.
So, how do you prepare your patio for this cold weather? First, begin by putting in place a strong plan for dealing with inclement weather. Let's go over some of the measures you should take to make sure your patio is equipped to handle the cold weather.
Winterize Your Outdoor Space
There are many luxurious ways to prepare your patio for fall.  Many of these routes are investments. A couple of examples are buying heating equipment, shade structures, and building additions. These purchases will pay off in both profit and customer loyalty. They would extend the lives of patios and keep your patrons coming back year-round.
Patio Heaters
Commercial patio heaters are one versatile option for heating outdoor areas. These standing heaters can be placed around all your customer's tables. Outdoor propane heaters have passive safety controls and stay cool to the touch. Your customers and servers can move past them with ease.
It's important to have enough heaters for every table to be warm. You don't want your staff arguing over heaters and your customers asking to be by one. Be sure to have them evenly distributed throughout your patio to radiate even heat.
Tents & Shade Structures
Another way to keep the heat that's generating is to enclosure your patio with a shade structure or tent. A shade structure is a solution that gives your patio more usable restaurant space. It will also protect your customers on your rainy days. A tent or shade structure would allow you to stay open and serve more guests if you're able to sit inside and out.
It's less expensive than restaurant redesign and it can help add a little privacy to diners. With outdoor seating taking place in parking lots and roads, a tent would be beneficial.
Outdoor Fireplace
Nothing is nicer than enjoying a warm cocktail by a fire on a cold winter night. As restaurants continue to monetize patios, outdoor fireplaces can be extremely beneficial. Fire is dramatic and bold, and it dazzles people passing by with light and warmth. Portable fire pits, fire bowls, and outdoor fireplaces are all surging in popularity.
If you can't spare the staff to tend a fireplace, you might consider an infrared heater. Infrared heaters warm nearby objects such as furniture and chairs instead of the air. They can be used safely in sheltered areas, so you won't have to worry about releasing smoke into the air.
Provide Blankets
On top of other heating methods, providing blankets for your guests can help keep them warm. Right now with COVID, stay away from loaning blankets to your guests unless it's a one time use situation. If your restaurant can afford to, get coordinated with a laundry service. This way you can have clean and sanitized blankets always on hand to keep your guests warm and safe. Another way you can do this is by offering guests pre-wrapped blankets for a small fee.
Blankets are the newest addition to a BYOB policy. But this version means to bring your own blanket! Paying a small fee for a blanket may not be appealing to some guests, so let them bring their own. Once they've left, you're able to sanitize the chairs and have the table ready for your next guest.
Menu Remodel
Updating your restaurant's menu for the colder months is a great way to capitalize on customer preferences during the season and provide your patrons with delicious new options. Adding warm, comforting dishes and wintertime favorites will give customers something special to look forward to when they come in and make sure that you're serving what people want when it's cold outside.
Cooler Weather Patio Tips
In the transition from summer to winter, your patio should undergo some improvements. Here are some more tips for upgrading your patio:
Replace metal outdoor furniture with chairs and tables that are warmer to the touch. Cushioned chairs are comfortable and will help provide more warmth.

Store your furniture inside during closed hours. You want to preserve your outdoor furniture from looking weathered and unappealing. Keep your investment in good condition.

Create server stations outside to help keep staff efficient even outside.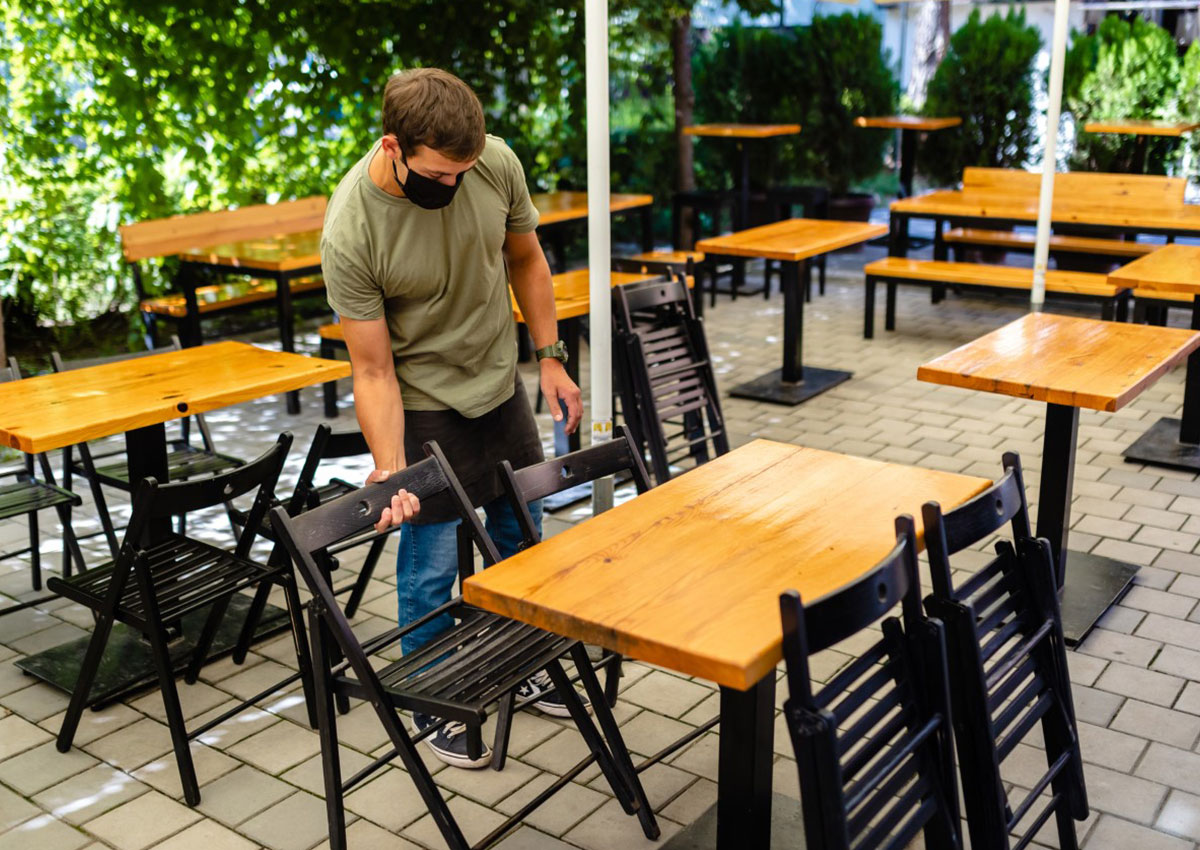 Keep these tips in mind as you winterize your outdoor patio. They will help you prepare and protect your extended restaurant space.
Outdoor is the new indoor
With a cozy patio and some attention to detail, it's easy to keep your guests engaged. If you live in a place that suffers from cold or wet winters, use the suggested methods above to keep your patio warm.
Your outdoor space should provide a new experience that your customers want. When it's warm and inviting, guests outside in cold weather will come right in! Outdoor dining this fall will be another battle restaurants will triumph.