Did you know that 64% of people find customer experience more important than price? Restaurants are a place where people go to have a good time and create shareable memories. We are in the industry of delivering service and taking care of our customers.
How often do you think about how you can improve your customer service? Hopefully, the answer is every day. Each day you have the opportunity to strengthen the service you deliver. This goes for the effort you put into your staff and customers. In this blog post, we highlight how communication is key for retention and how to make things right when things go wrong. Done the right way, your customers will show great appreciation to boost your bottom line.
Use these 4 tips to optimize your restaurant's customer service:
Keep Up With Communication
Your ability to communicate effectively is key to customer service. This goes across the whole restaurant. You need FOH to BOH, FOH to customers, managers to customers, and everything between. The essence of great customer service is forming relationships through conversation.
Research shows that 80% of patrons are more likely to do business with a company that offers personalized experiences. Do you know your regulars by name? Addressing customers by name is the key to customer service personal touch. It's the smallest touch but also the most efficient in creating a relationship. Besides visitors, your customers are your community. Get to know them by name and start viewing your "customers" as people. People that are there to support your business and get a personalized experience. That's what the industry is all about.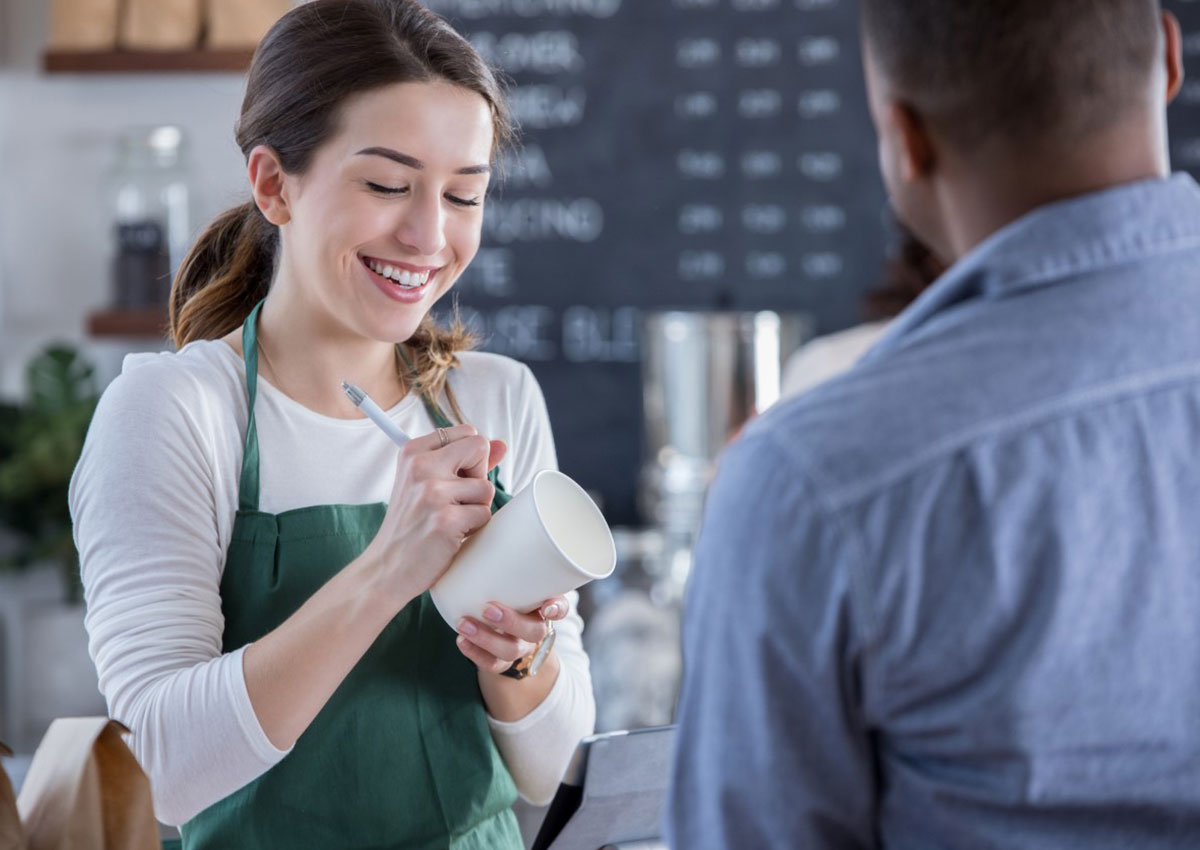 Table Touches
Something that you can add to your staff training is going over how and when to do a table touch. What is a table touch? It's a quick stop at a table to check up and make sure everything is going well. One may ask the following questions, "Is everybody doing great over here? How is everything so far?" and "May I get anybody anything else at the moment?" Table touches show attentiveness and help provide your guest with a good experience.
In this training, teach your staff how to read a table. From afar, one should be able to distinguish if the table needs anything. It can be anything from pre-bussing, another cocktail, or if they're ready to order. Every table and guest is different. You are going to get tables who don't want to be disturbed versus those who need more attention. You can still provide great service in silence. Being able to identify between the two will help your staff provide the best unique service.
Problem Response and Recovery
Customer complaints are something restaurants deal with frequently, but they are important. Complaints need to be looked at as an opportunity for growth. Fixed the right way and they can lead to loyal customers.  That is why when problems arise there needs to be a plan in place to address them.
To make things right when things go wrong, follow these steps:
Listen to the customer with your full attention.

Apologize to the guest according to the issue.

Let them know right away you're going to work on the situation. 

Resolve the problem.

Keep in touch.
There are many situations when customers get frustrated. We've all encountered long lines, 86'd menu items, and dishes that weren't up to the guests' standards. Every case is going to be different and should be treated as such. Remember that customer who was upset about their overcooked steak? Offer an apology as such: "I apologize that this was not cooked properly. I will have a new one out for you as soon as possible. Thank you for your patience and understanding. May I get you another drink in the meantime? It's on the house."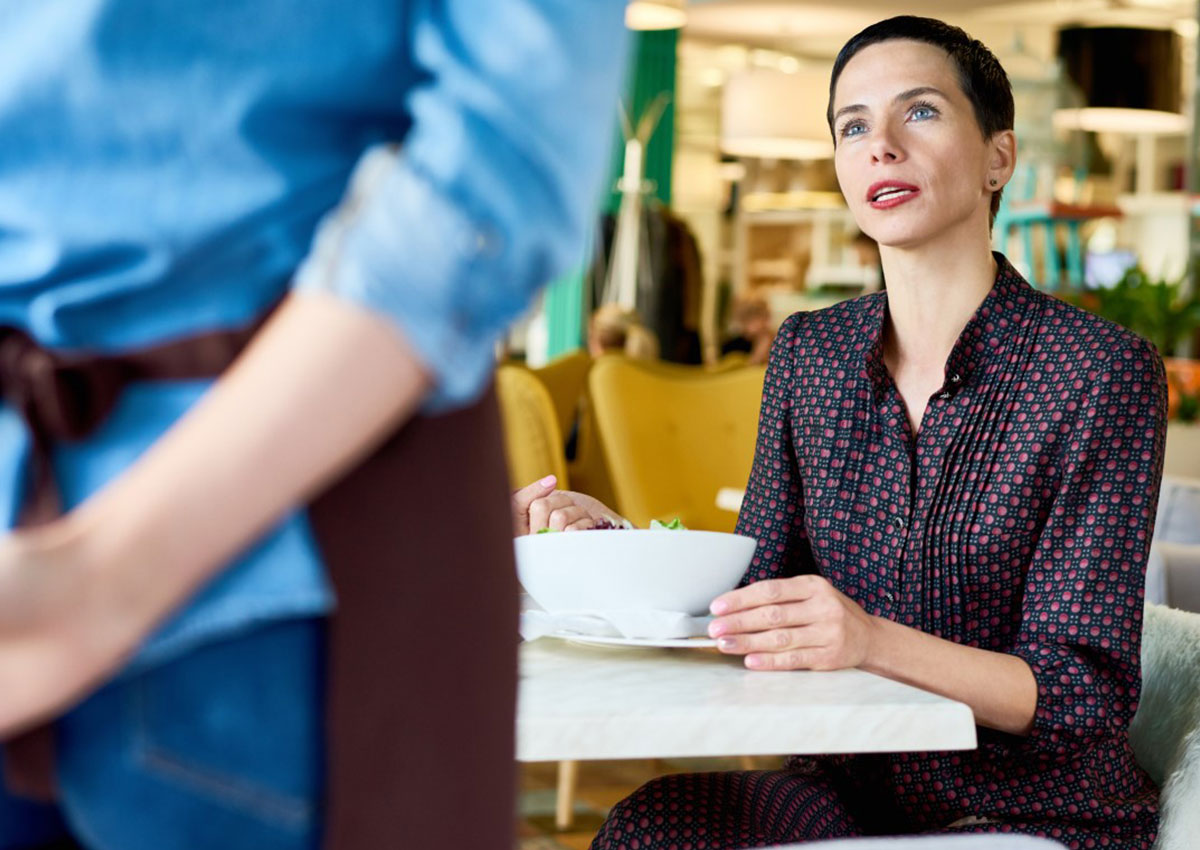 This shows you understand their frustration, apologized, and are working on the problem. Once the new steak is fired and on the table, check back and make sure they're happy. A solution such as a free drink doesn't cost you as much money as losing a customer. It's in your best interest to do what you need to do to create a loyal customer. Listen, be understanding, and make some money.
Front of House Efficiency & Traits
From the moment a guest enters your restaurant, the experience begins. The first encounter is often with the host/hostess getting a table. Your front-of-the-house staff needs to be friendly and well-trained. Right off the bat, the way your host greets and seat tables plays a role in service. Long wait times and hangry people need to be properly treated to be kept happy. It's critical for hosts to be trained properly on seating for many reasons. One, seating too many tables at once backs up the kitchen. This leads to food taking longer than it needs to be. Two, improper rotation of servers can lead to poor service. When overwhelmed with too many tables, servers begin to make more mistakes as they are in a rush to get to everyone.
See how our restaurant guest management system can help prevent this.
Once at the table, it's the server's time to shine. Regular training and proper menu knowledge won't go unnoticed by your guests. But, there are also features you can put in place to improve service.
Here are a few that both your staff and guests can benefit from:
Server Stations
Where does your staff get the things they need for their table from? Items such as plates, silverware, and condiments should be close by for quick access. Having one or two server stations in central areas on the floor will help your staff be more efficient. This saves the time of going all the way to the kitchen throughout the day.
Mobile POS
The flexibility that a mobile POS offers can handle all your operational needs. Our mobile POS is the perfect solution for table-side orders and peak rushes. It helps reduce order errors because you have the most up-to-date menu in your hands. Your staff would know right away what's available as opposed to what's 86'd. This prevents customer frustration of unavailable menu items that the staff wasn't aware of.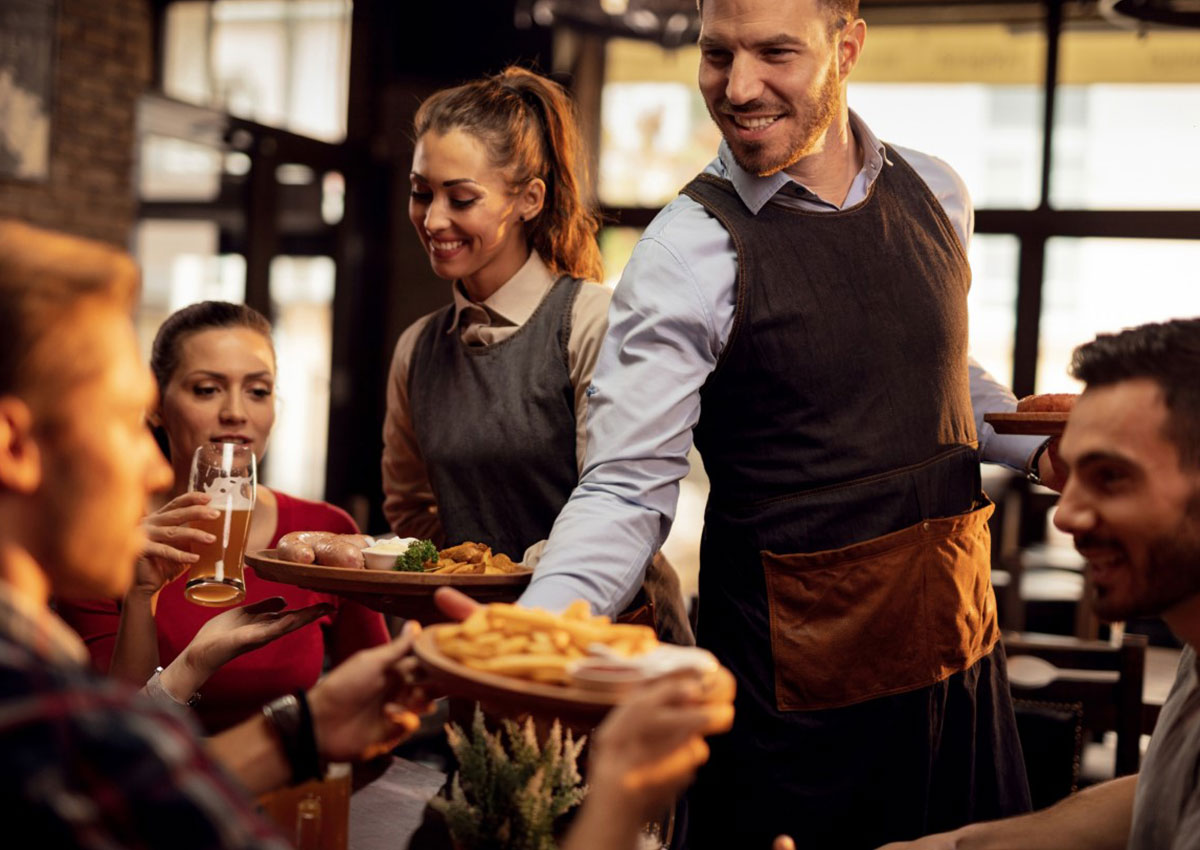 For fast-casual restaurants, this can be used to reduce wait times and walkaways. Staff can take orders directly from your line and send them straight to the kitchen. A mobile POS allows you to efficiently serve more customers. It's a win-win for all.
Addressing The Chef
A tip that can help ensure smooth service is having an approach that everybody uses to address the chef. To clarify, when staff members have a question or an issue to bring to the chef's attention they all do so in the same way. It's important to wait behind the line and address the chef as such, "Chef, whenever you have a second, I have a question."
This allows your chef to acknowledge you but also finish his work. In a busy service, servers tend to quickly tell food runners something that needs to be told to the chef. In reality, it's easy to forget things in a fast-based environment so servers need to go directly to the chef. Undivided attention will help solve the problem faster and prevent miscommunication.
Capture Feedback
The best route one can go to improve customer service is to know where they went wrong. A recent study shows that 90% of consumers find it important to receive an immediate response to customer service questions. Consumer patience is low! That's why it's critical to always answer your restaurant phone calls. Guests calling in to ask questions or make a reservation want to be listened to right away. Consumers note that the most frustrating thing about phone calls is being put on hold and repeating themselves. Make sure a knowledgeable staff member is always ready to answer.
Customer service doesn't stop when guests leave your establishment. Be reachable on social media and review sites. Management needs to respond to both good and bad reviews. Consumers are more likely to support a business that addresses customer issues. Responding to reviews will lead to positive word of mouth.
If guests are not comfortable verbalizing their issues, customer cards can help. Your staff can offer a comment card at the end of service and then make improvements based on feedback.
Go beyond expectations
The goal is to deliver service that keeps your customers coming back for more. The way that you communicate, respond to problems, train, and improve off of feedback is key to customer service.
It's important to appreciate your customers' business as it equals the success of your own. Support your customers with a system that's customized to you. CAKE's Restaurant POS system simplifies operations so you can spend more time focusing on your guests. Show your guest you have a clear commitment to delivering great customer service.