It's lunchtime and your daily rush is pouring in. Your hosts are trying to organize everyone accordingly, but diners just keep coming. Eventually, a line forms and curves all the way out the front door, or worse, tangles around inside your restaurant. You have hungry customers standing around, impatiently waiting for a table to eat.
Sound familiar?
During peak hours, restaurants often face this issue and see the customer experience levels dip below average. That being said, there are a few ways you can keep your customers entertained as they wait.
Let's look at a few tried-and-true wait management tactics to entertain a crowd:
1. Create a Comfortable Waiting Area
A cozy, comfortable waiting area might be all you need to ensure your crowd is content, even if there's a wait.
Try upgrading the seating in your entryway or building an outside lounge with comfortable couches and chairs. In addition, you might consider offering free samples to your guests to pique their interest in what your restaurant has to offer.
Also, always make sure extra menus are on hand for customers to review until their tables are ready. This will help to entertain them, and also help speed up table turns, since these guests may order more quickly once they're seated.
2. Provide Entertainment
Entertainment can come in many forms, including live music, televisions, or access to public Wi-Fi. In turn, this will give guests an activity to take their minds off the wait.
Keep accessibility in mind if you decide to use some of these tactics.
For instance, it should be quick and easy for customers to log into your Wi-Fi network. If you hire a band to play music, be conscious of noise levels – you should still be able to communicate with customers easily.
3. Keep the Kids in Mind
Parents are more inclined to walk away if they have to keep their children entertained during long waits.
Restaurants can help by ensuring that the Wi-Fi connection supports streaming videos and games so children can watch and play without interruptions.
Toys are another easy solution to occupy your young guests. Crayons and coloring books are inexpensive, but provide hours of fun with relatively little clean-up on your end.
4. Let Your Patrons Roam
Consider investing in a waitlist management system that enables you to communicate with your patrons on the fly.
Some diners prefer to seek entertainment elsewhere if they have to wait. This type of solution will encourage them to put their names down and return once a table is available.
For example, a platform that gives your customers the option to check on wait times on their smartphones will allow them to leave the waiting area. Some also allow you to text customers wait times and whenever they are ready to be seated.
Not only does this tactic give your patrons more flexibility in where they choose to wait, but also clears the waiting area to make more room for incoming guests.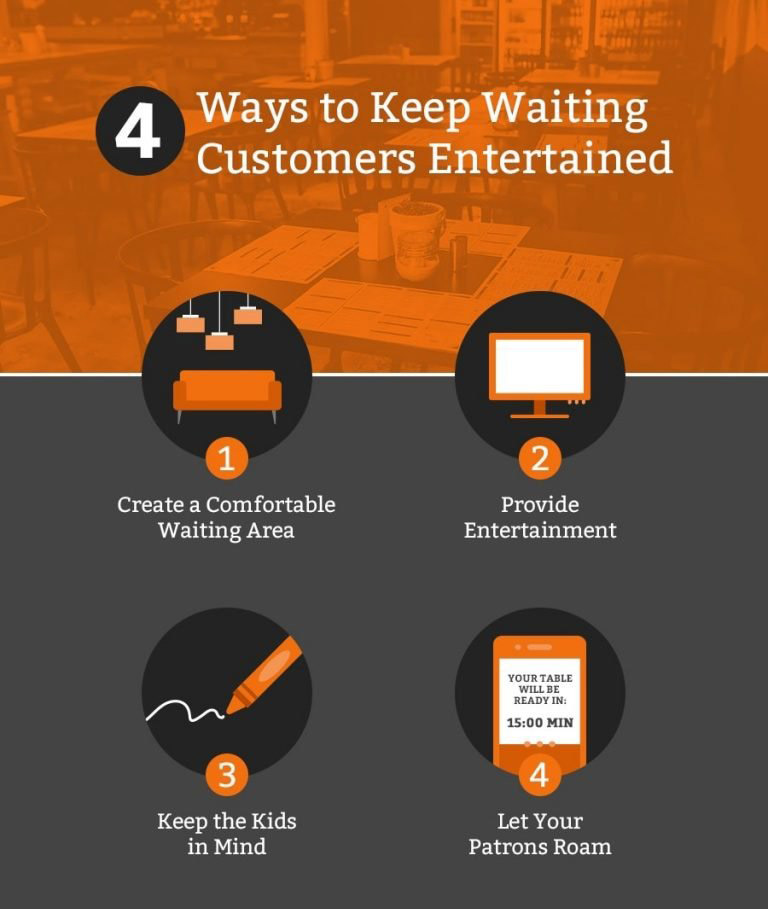 Final Thoughts
There are several wait management tactics to consider, and deploying a variety of them can help you cater to different types of restaurant patrons. See how many of these solutions you can implement at your eatery to prevent customers from walking away during peak hours.
How does your restaurant keep waiting guests entertained?