The summer is heating up, and restaurants are looking for new ways to bring in all the vibes, flavors, and cocktails of the season. The revival of outdoor and indoor dining is back, and your guests are looking for drinks to wind down and keep cool.
Recent data has found that 71% of Americans feel comfortable dining out at restaurants once again, and that's something to celebrate with some summer cocktails. Of course, guests are eager to get back to their favorite bars and restaurants, but after a long year of staying home, the world of drinks has been significantly transformed in the past year. 
In this article, gain insight on the most popular spirit of the summer, twists on classic cocktails, and how consumers' drinking habits have evolved in this new season.
Here's our pick of this year's summer cocktail trends:
#1. More Low and Non-Alcoholic Offerings
Over the past few years, consumers' changing alcohol consumption habits are causing many bartenders to wonder, "What's next?"
Alcohol consumption has declined among younger generations as they show greater interest in their health and well-being. In addition, consumers practicing mindful drinking and "sober curious" are gaining popularity. This is causing low and non-alcoholic beverages sales to skyrocket. 
The Bacardi 2021 Trends Report curated a list of the most popular cocktails globally, and low ABV cocktails top the list at 47%. Not too far down at number five are non-alcoholic cocktails at 31%. 
Additionally, a recent report found that from 2018–2023, zero-alcohol cocktails are expected to grow by 8.6%, no-alcohol beer by 8.8%, and no-alcohol still wine by 13.5%. 
This summer, your guests will be making a toast to good health. Consider adding some zero-proof cocktails and non-alcoholic beer to your menu to appeal to more patrons.
Learn more: Top 12 Non-Alcoholic Spirits for Building a Sober Bar
#2. Tequila is Trending
According to Bacardi's report, tequila's interest in the U.S. is the highest in the world and is growing by 28%. The interest in this spirit is driven by the resurgence in margaritas and other tequila-based cocktails. 
One type of tequila-based drink trending all over the social media platform TikTok is Ranch Water. Many beverage publications are calling Ranch Water the drink of the summer. 
Ranch Water originated in Texas and while its composition is simple — just tequila, lime, and Topo Chico mineral water — by no means is this cocktail lacking in complexity. All you have to do is open a bottle of Topo Chico, pour a little out, and replace those ounces with tequila and lime. We've seen bars even offer to add different flavors such as mango or passionfruit and rim the glass bottle with tajin or salt.
#3. Batched Cocktails
One of the favorite trends that came out of COVID was batched drinks. Batched cocktails come with the benefits of streamlined labor, safer service, and expanded to-go possibilities. 
For some restaurants, 2020 was a batching crash course with bartenders filling mason jars, juice bottles, and quart containers with pre-made cocktails. However, at least 14 states have approved measures allowing restaurants to sell to-go cocktails permanently. This goes to show that to-go cocktails aren't just a pandemic fad. 
If your restaurant hasn't tried batching cocktails yet, this summer is the perfect time to start. Here are some of the benefits:
Saves time
Prepping behind the scenes can help your bartenders create cocktails faster and spend more time focusing on the guests.
Adds a new revenue stream
Guests can order to-go cocktails to enjoy at home, freeing up space in your restaurant.
Creates drink consistency
When working against time, the first thing to go is consistency and quality of cocktails. 
Reduces your overall liquor waste
Batching cocktails can help save money and minimize profit losses from liquor spills and overpouring. 
Providing repeatability and consistency with batched cocktails will make for happy customers and staff.  
#4. A Twist on Traditional Cocktails
After consumers have spent many months at home making their own cocktails, they expect a new twist on traditional cocktails when they return to restaurants. These can be reintroduced with new and creative ingredients to add a fresh perspective on classic drinks. 
Incorporating your own spin on a classic cocktail is how you can put your restaurant's individual stamp on a well-known drink. This trend allows you to upsell premium spirits and for guests to try new flavor combinations.
Here are a few examples for you to try:
The Man About Town: Take a Negroni and substitute gin for rum.
Martini Italiano: The original Martini cocktail with added liqueur and Grapefruit Cordial.
Spicy Maracuya: Margarita cocktail replacing the liqueur with Thai chili and adding passionfruit.
Find the full recipes from Diageo Bar Academy here.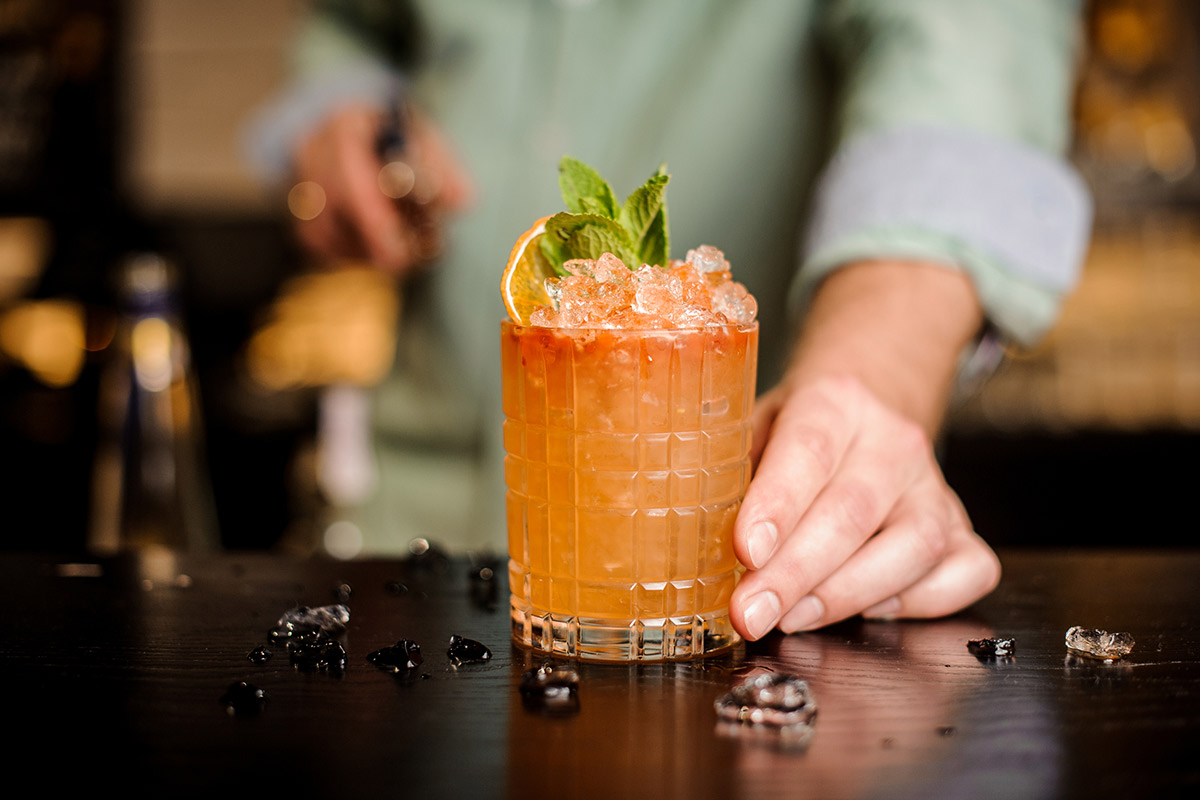 #5. Ready-to-Drink (RTD) Canned Cocktails
Another trend to accelerate during COVID was pre-made canned cocktails. Making craft cocktails at home can be more complex than it looks, but spirit brands solved that problem by creating high-quality RTD canned cocktails. 
Canned cocktails have been around for a while, but recently, they have become more appealing since they are addressing the desire for:
Low sugar

Natural ingredients 

Clean labels

Sophisticated flavors
Falling into the category of RTD cocktails are hard seltzers, kombuchas, and even hard iced teas. Beverage Industry Magazine shares that RTD cocktails have grown 43% in global consumption, with no signs of slowing down. The RTD trend is expected to grow by 21.8% by 2024. 
Restaurants without a full bar can take advantage of this opportunity by selling RTD cocktails if they have a liquor license. One advantage of RTD cans is their easy transport if you're having an event outside and can help speed up service. 
BevAlc Insights by Drizly shares the top 5 RTD cocktail flavors:
Vodka-Soda/Vodka-Based

Margarita

Mai Tai

Gin & Tonic/Gin-Based

Old-Fashioned