The advancement of digital technology in the restaurant industry has jumped in the last five years. However, it was a slow developing process until 2020.
Setting COVID aside, technology like ordering on your phone is not recent. It was available for customers, but it's just that many restaurants didn't really apply that kind of emerging technology.
Perhaps owners were fearful something would go wrong, or they just didn't find it suitable for their needs.
Then the pandemic hit and restaurants opted in with makeshift, sometimes frantic, curbside pickup and delivery options. It worked for many, but perhaps not as smooth as they would like.
As we came out of 2020 and into 2021, restaurant owners and companies began to realize that curbside pickup and other takeout methods helped keep their restaurants afloat and found that customers started to prefer that method of dining.
So as we near the start of 2022, the emerging technology in the restaurant industry will look at refining and perfecting curbside pickup.
Certainly, curbside pickup and delivery won't be the only advancement in technology. In-person dining is reopening, which will still be the primary driver of revenue for restaurants and indeed, technology plays a significant role.
What will be the emerging technology trends ahead of 2022?
We look at eight areas of the restaurant industry where emerging technology will shine.
Curbside Pickup
Perfecting curbside pickup will continue to be the most prominent emerging technology trend after some eye-popping numbers last year.
In the dining categories of family, casual, and fine restaurants, more than 70% added curbside pickup where they didn't have it before. Even coffee shops and fast-casual restaurants had significant increases of more than 60%.
The reason is despite many working from home, diners are just as busy as ever. They may only have minutes to grab lunch or dinner on the way home, so efficient curbside pickup is just what customers want.
Now restaurant owners should try to hone their curbside pickup methods with an online ordering system upgrade. Customers can schedule an order for pickup through the restaurant's app integrated with the point-of-sale system.
By adding an online ordering integration, your restaurant will benefit from not having to go through third-party systems, which will save on service charges. Not only that, but the most significant reducing factors will be wait times and inaccurate orders.
Contactless Ordering
The rise, fall, and now the renaissance of the QR code is leading to rapidly increased usage, especially in restaurants.
Taco Bell was one of the first restaurant chains to utilize QR codes for smartphones in 2011. The chain gave a customer a QR code on the Bowl Championship Series Box, which, when scanned, the guest received exclusive ESPN content access.
It was that kind of minimal functionality that led to the QR code's downfall. Plain and simple, QR codes weren't used in the right way.
Now, the revival of the QR code seems to be used perfectly with contactless ordering. Instead of getting trivial sports information through a promotion, the code is used to download menus onto your device.
The future of contactless ordering will connect not only to downloading the restaurant's menu but also to the ability to go from there and order through mobile devices right to the kitchen. The server is notified of the order and, when ready, delivers the meal to the customer.
Contactless Payment
In 2020 using contactless payment rose by 29%, with 92.3 million consumers over the age of 14 paying over their device at least once. And by 2025, it's expected more than half of users will be paying using mobile technology.
A Datassential survey has stated that 87% of diners want some sort of contactless pay system, and of those surveyed, 44% now expect to only pay without contact.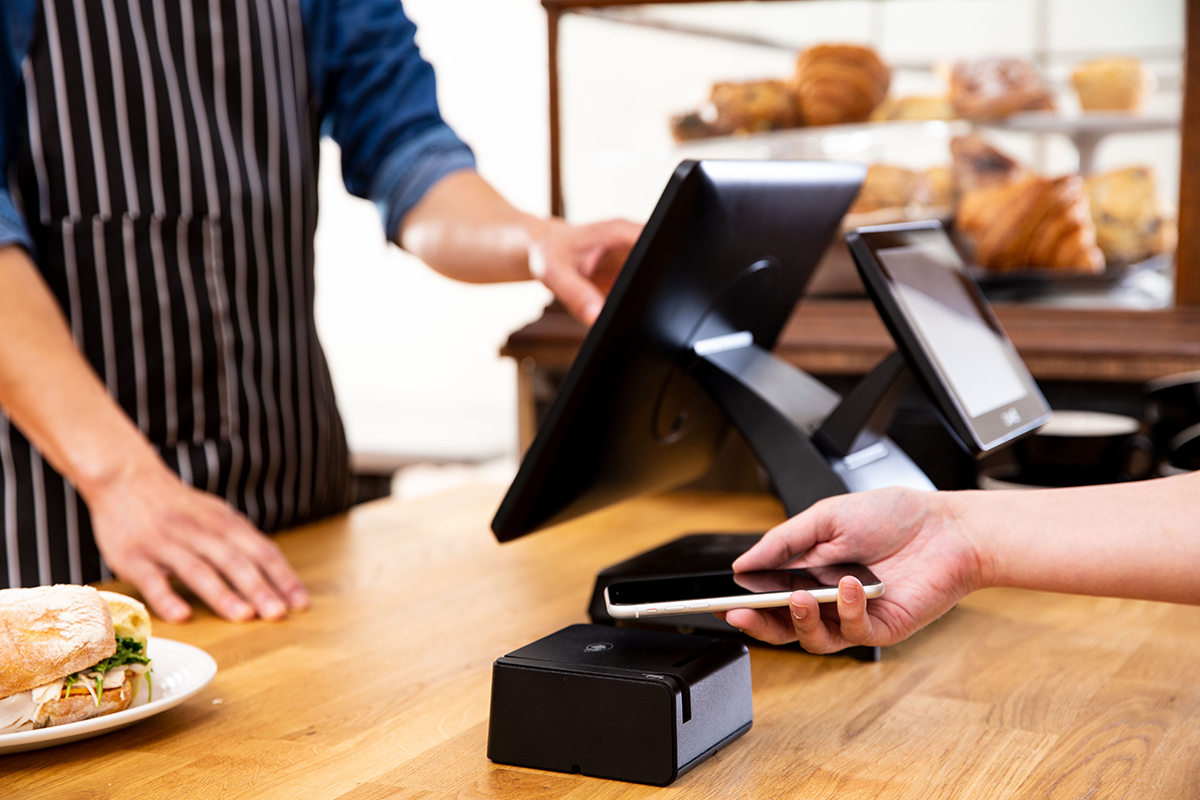 Contactless pay will continue to rise to be almost commonplace in restaurants. And for a restaurant to move toward adding contactless pay will benefit the owners and the customers.
Consumers will love contactless pay because:
Security: A guest's credit card never leaves their possession.
Speed: Customers won't have to wait on the back-and-forth running of the server to process a payment at the POS terminal.
Splitting Checks: Contactless pay makes it easier to split checks without handing over multiple cards to the server.
Customer Service: Consumers want it and offering contactless pay opens the door for better retention and loyalty.
Owners should add contactless pay because:
Increased Turning Tables: Restaurants can speed up the process, which means more guests will be able to dine and, of course, that means increased revenue.
Optimized Server Time: Without running back and forth, servers have more freedom for other tasks or customer engagement, leading to bigger tips.
Build Loyalty: Since customers prefer contactless pay, they will keep coming back to your restaurant. And even a 5% increase in retention can lead to an increase in profits.
Delivery
Third-party delivery companies are helping restaurants survive during the pandemic, but it does come at a cost.
If a small business restaurant uses a third-party delivery service, they traditionally fork over between 15-30% in commission to their delivery service. If a restaurant has an average profit margin of 7-22%, delivery could cost and make it unsustainable for the restaurant.
Not to mention, having somebody not associated directly with your restaurant weakens the customer experience.
What a restaurant owner should consider is taking a staff member and putting them on delivery during their busiest hours, that way you can regain your profit margin and increase the customer experience.
Technology can help your restaurant take back your revenue and even help replace the void left behind by pulling the staff member off their duties.
An all-in-one POS solution with streamlined online ordering through a restaurant's website can yield a more organized management system. In a recent survey, 67% of respondents stated that they prefer using a restaurant's own website for food delivery.
Text Messaging
Text messaging adds another channel of communication for ordering or staying in contact with a customer who placed an online order.
Using text messages is nothing new in communication with consumers. It was just never used all that often.
But now it is an emerging technology and there is a demand for it. According to smscomparision.com, 48% of consumers prefer direct communication from brands via text messaging.
Text messaging is an opportunity for your restaurant to capitalize. Using text messaging is a great way to keep your customers updated on their orders and can be done through the POS system.
This is also another method of recording data to gain insight into customer preferences.
Loyalty Programs
When you have a data catalog, you can start crafting loyalty programs to increase sales and revenue.
According to a PYMNTS.com survey, a staggering 92% of all top-performing restaurants offered mobile order-ahead and loyalty rewards programs or a combination of both.
Creating a restaurant loyalty app is part of the emerging technology that makes it easy for the restaurant owner and the customers. Millennials are among the leaders in having a digital option for loyalty, as 59% believe it's important for a restaurant to have a loyalty program.
Through the reporting data, you should have an easy understanding of your customer base. Create loyalty campaigns surrounding what they seem to order or prefer the most on your menu. If your restaurant does awesome burgers, offer discounts for those who sign up.
This is a perfect way for your regular customers to keep ordering through your app and keep a consistent stream of profits rolling in.
Self-Service Kiosks
Among the emerging technology trends popping up at many quick-service and fast-casual restaurants are self-service kiosks.
These touch-screen machines speed up the process of ordering in-store without having to wait in lines. It also creates a better opportunity for customers to order their food exactly how they want it.
And the average order will be higher when customers use a self-service kiosk. According to an e-book by Stratix, the average check from a guest using a self-service kiosk is 15-30% higher than an order placed at the counter.
Installing a self-service kiosk can boost sales by 5-6% during the first year of its outset. And the prediction is the global kiosk market will reach $30.8 billion by 2024.
Non-Tech That Needs Tech
In 2020, some emerging technology will become more emergency technology. With the pandemic in full force, restaurants were forced to scramble with new ideas and needed to use their POS system as a way to bail out of continued financial distress.
Takeout, delivery, and getting creative with the use of the great outdoors helped restaurants stay afloat. Though the actual methods of options were not technological, the matter of how the restaurant functioned relied on technology.
For example:
Outdoor Dining: Many restaurants, especially those in urban areas, didn't have outdoor spaces. When restaurants reopened with limited indoor seating, many owners needed to find alternative methods.
Cities began adding temporary outdoor seating called parklets, which gave some extra space for restaurants to survive. With the new seating, owners needed to rely on their POS system to reconfigure their table layout.
To-Go Cocktails: Some cities relaxed liquor laws to allow for takeout drinks. Adding specialty drinks that were allowed to go created a new source of revenue, but owners had to have a menu management system in the POS.
Meal Kits from Restaurants: These became popular last year when restaurants shut down. Many regular customers longed for their favorite dishes, like their favorite pizza. So the restaurants would respond to orders to have the kit delivered to the guests' homes.
Even with reopening, restaurants have found a niche for meal kits, and seamless mobile ordering and prompt delivery are needed.
The emerging technology in the restaurant industry is not anything new but will show streamlined improvements to make running your restaurant easier.