Dine-in mobile ordering with Salesforce
Quickly launch the complete digital end-to-end experience in just weeks.
Get a demo
Increase staff efficiency and enhance the
guest experience with mobile ordering
Guests can control their dining experience without needing to wait for a server.
Grow your average order value
Self-ordering allows guests to order more, increasing ticket values.
Increase your speed of service
Turn tables faster when guests can pay and checkout on their phone.
Staff is enabled to serve more guests at a time.
The demand for contactless solutions
The pandemic has accelerated the move to mobile ordering and contactless payments.
of guests like the idea of contactless payment options
of guests require contactless payment options
of guests will forego physical menus as a new rule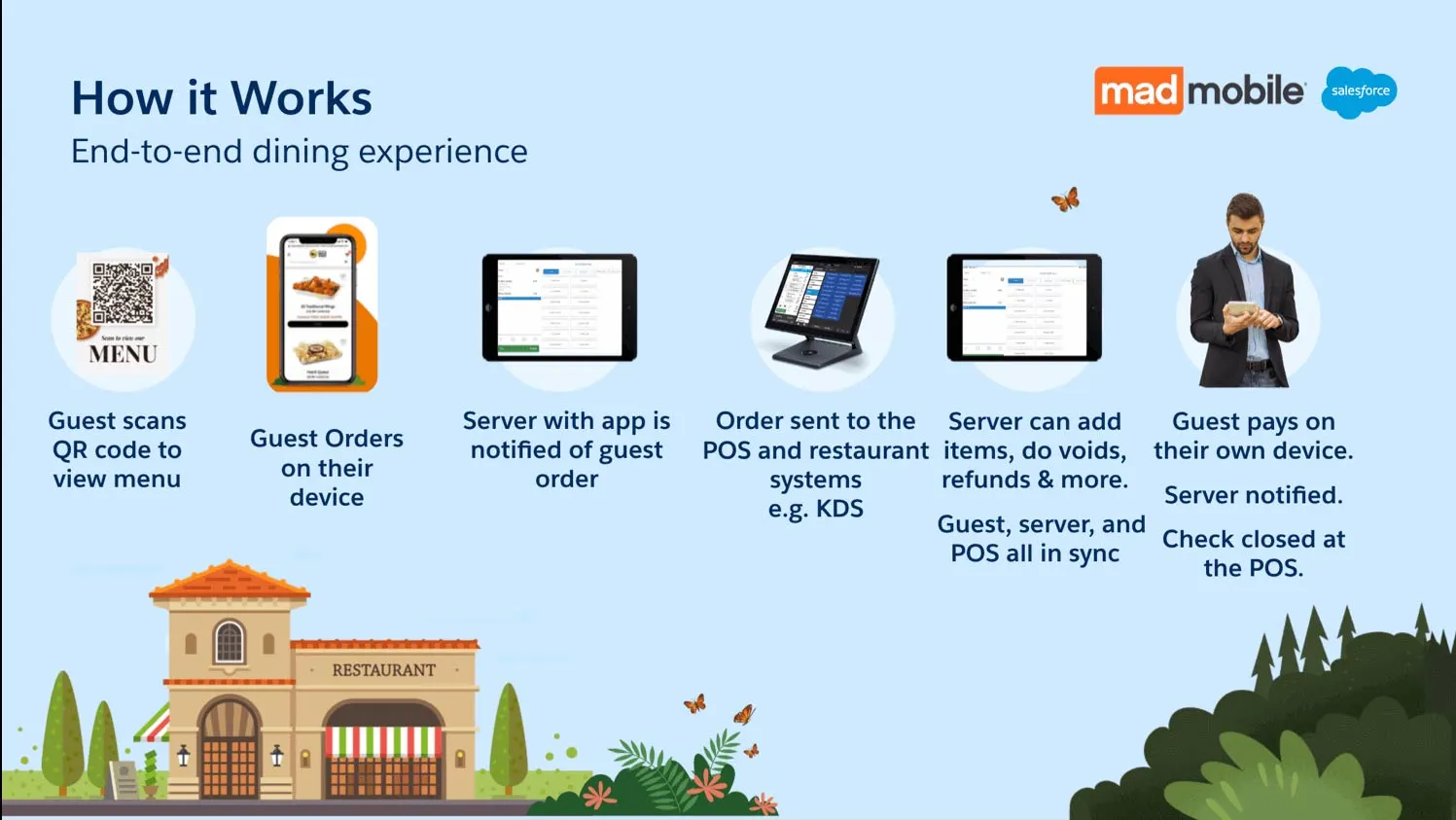 Connects commerce cloud mobile ordering directly to the in-store POS and staff

Requires custom partner app
No solution for servers/runners
 POS adapter is directly integrated into your existing point of sale. Automates your full menu, and all critical business logic, like pricing and promotions

Must manually duplicate menu and logic on the server
The menu is batch-updated periodically
Yes – provides real-time menu item availability

Yes – items can be added or modified at any time by the guest or server

No – must create a new order for every change

No – can only be done manually
Orders can be placed from multiple devices at the same table

Runs in-store and in the cloud for optimal performance

Requires an always-on internet connection to work
Salesforce dine-in mobile ordering
Launch in 6 weeks with the Restaurant Accelerator Program.
Enable hassle-free dine-in mobile ordering and payments with seamless integration between the guest's device and your existing POS.
All menu pricing, promos, and item availability information flows and synchronizes automatically in real time from the guest to the server and the POS system – without the need to manually duplicate pricing logic.
Consistent user interface
Enhance the end-to-end usability with a consistent interface from the POS to our server and runner's app.
Guest or server can add items to an existing order, eliminating the need to create an additional order.
Take easy and safe contactless payments by allowing the guests to pay from their device.
Take advantage of comprehensive connectivity of the solution with business-critical restaurant technology like KDS, printers, PEDs, and more.
Step up your dine-in experience
in just 6 weeks
Quickly meet changing consumer demands and empower your restaurant with mobile experiences without changing your current POS system.
Salesforce Commerce Cloud and Mad Mobile are helping enterprise and mid-market restaurants launch dine-in mobile ordering and payments.
Enterprise and mid-market restaurants that want to increase their speed of service, boost average order value, reduce labor costs, and enhance the guest experience.
B2C Commerce Plus – PPO

1-Year Contract
Mad Mobile platform 

Up to 10 stores or 100 devices

1-Year Contract
Bundled with SI – Visionet
Site setup, branding, launch 

Data loading, configuration, testing 

2 months of managed services