Did you know that 91% of businesses believe that a lack of data wastes revenue? It's true and shouldn't come as a surprise. But, recently, successful restaurants have begun to understand the power of data. 
Restaurateurs can use real-time analytics reports to stay in control of their business. Analytics provides answers to every question about your restaurant's performance.  This is being done through today's most advanced technology. With restaurant analytics, you can gain insight across locations or filter it down to a single transaction.
Knowing how to use restaurant analytics is one of the most effective measures you can use to keep your costs in check. Let's go over what restaurant data analytics are and how you can use them to boost your bottom line.
What is Restaurant Data Analytics?
Restaurant analytics is the analysis of all data related to your business. This data evaluates your restaurant's performance and helps owners make informed business decisions.
Using restaurant data analytics is crucial to improving your restaurant's profitability. Here are 5 things you can do to maximize your profitability using restaurant analytics:
1. Adjust Your Labor Costs
Paying your employees is one of the largest expenses you have. The good thing is it's also one of the most controllable ones. Restaurant analytics provide data to review, track, and adjust your labor costs. When you understand your labor cost and know-how to change it, you can boost your bottom line.
An acceptable labor cost percentage for a restaurant varies between 29% and 33%. This is also going to depend on many factors such as:
Type of restaurant

(Fast-casual, fine dining, fast food, etc.)

Restaurant location

Size & efficiency of the staff

Restaurant business volume
One of the best ways to manage your labor costs is to schedule staff based on sales forecasts. Analytics give you informative data like your restaurant's busiest days and times. You can then use this data to appropriately schedule staff based on your demand needs.
A labor-management platform (like our integration partner 7Shifts) can help forecast sales and reduce your labor costs.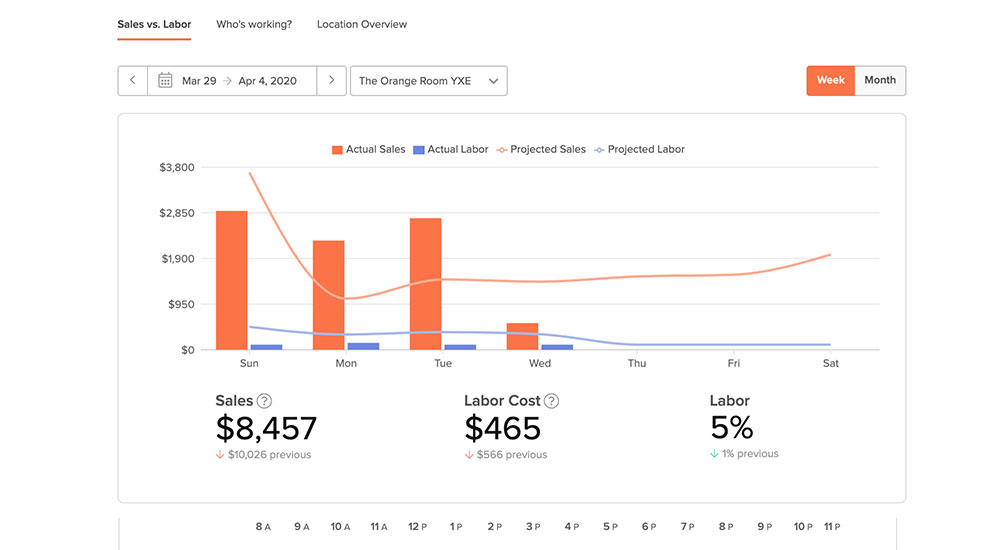 Restaurant labor management tools can also provide you with reports on overtime calculations. Overtime can greatly increase your labor costs if it's not controlled. Another factor that goes into labor costs is employee retention. Restaurant employees have a high turnover rate of 75% and replacing them costs more in the long run. We've also partnered with CheddrSuite to help you reduce turnover and manage expenses.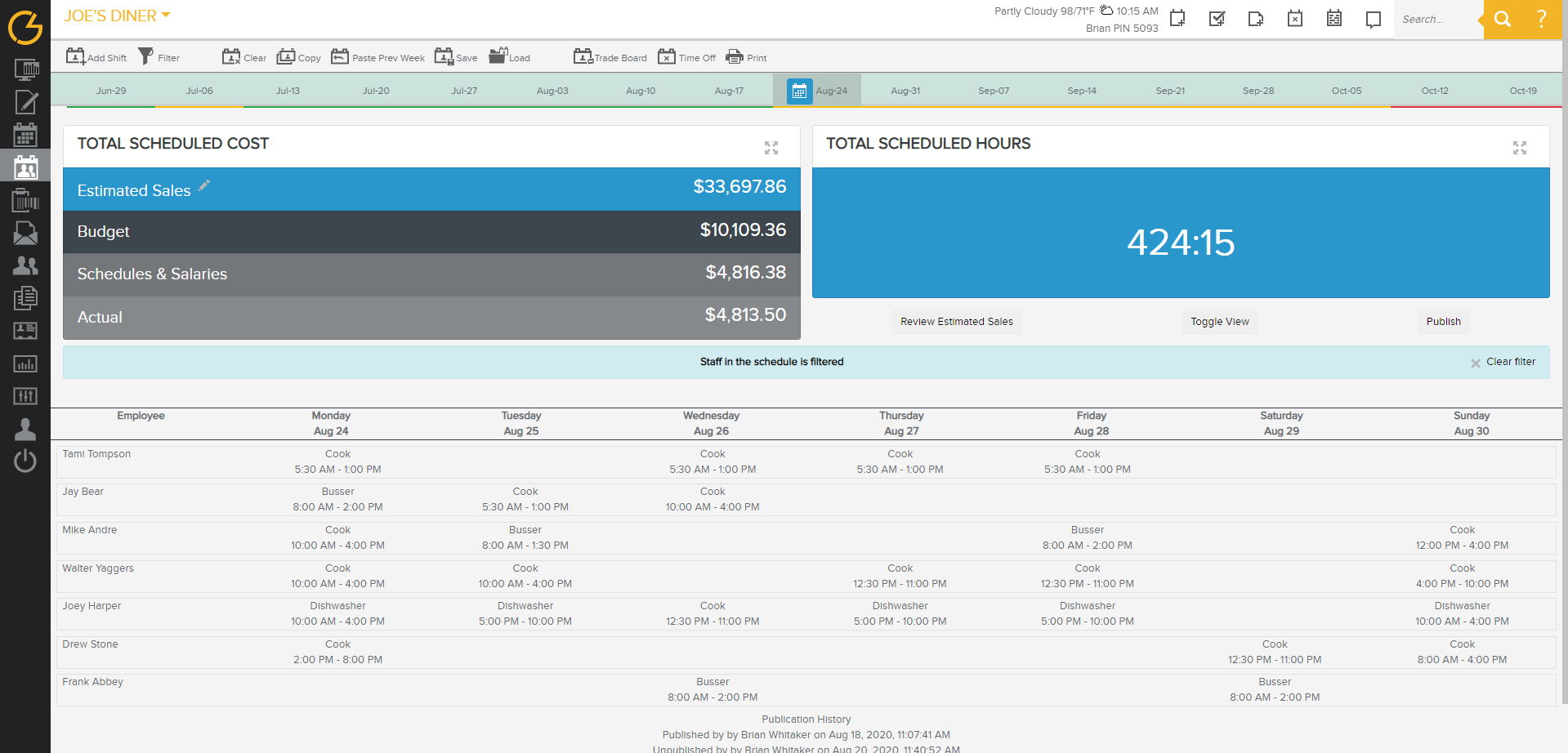 2. Adapt Menu Offerings
Is there a certain dish that performs better than others? Are there items on the menu that aren't selling? These are the kinds of questions that restaurant analytics can answer. Restaurant analytics give you the insight you need to do a thorough menu analysis. This can help you engineer your menu to adjust prices and improve your profit margin.
Additionally, owners can use this data to look at what add-on menu items are selling and which aren't. For instance, if your "lobster" add-on isn't selling you should cut this from your menu and inventory. Decisions like this will help prevent food and money waste.
Menu insight also shows you how seasonal menu items have done in the past and impacted your sales. Knowing your sales patterns that can help you with seasonal menu optimization.
3. Forecast Sales & Trends
One of the most powerful ways restaurants can use analytics is for sales forecasting. Proper sales forecasting is the baseline for making better data-driven business decisions. This is especially useful when it comes to ordering inventory and scheduling employees.
By comparing past data from current sales, you can predict how future business will be. Modern, cloud-based POS Systems contain all the data you could ever need. Today's integrations with accounting software provide the most accurate sales and labor data.
Take a look at the photo below as an example. This screenshot shows the Top 10 Items and how much revenue they made over each hour for a week. It's clear that Gameday Wings (10) w/FF produced the most amount of revenue around 6 PM across the board. From this data, an owner could plan to schedule more staff around that time and order the right amount of wings.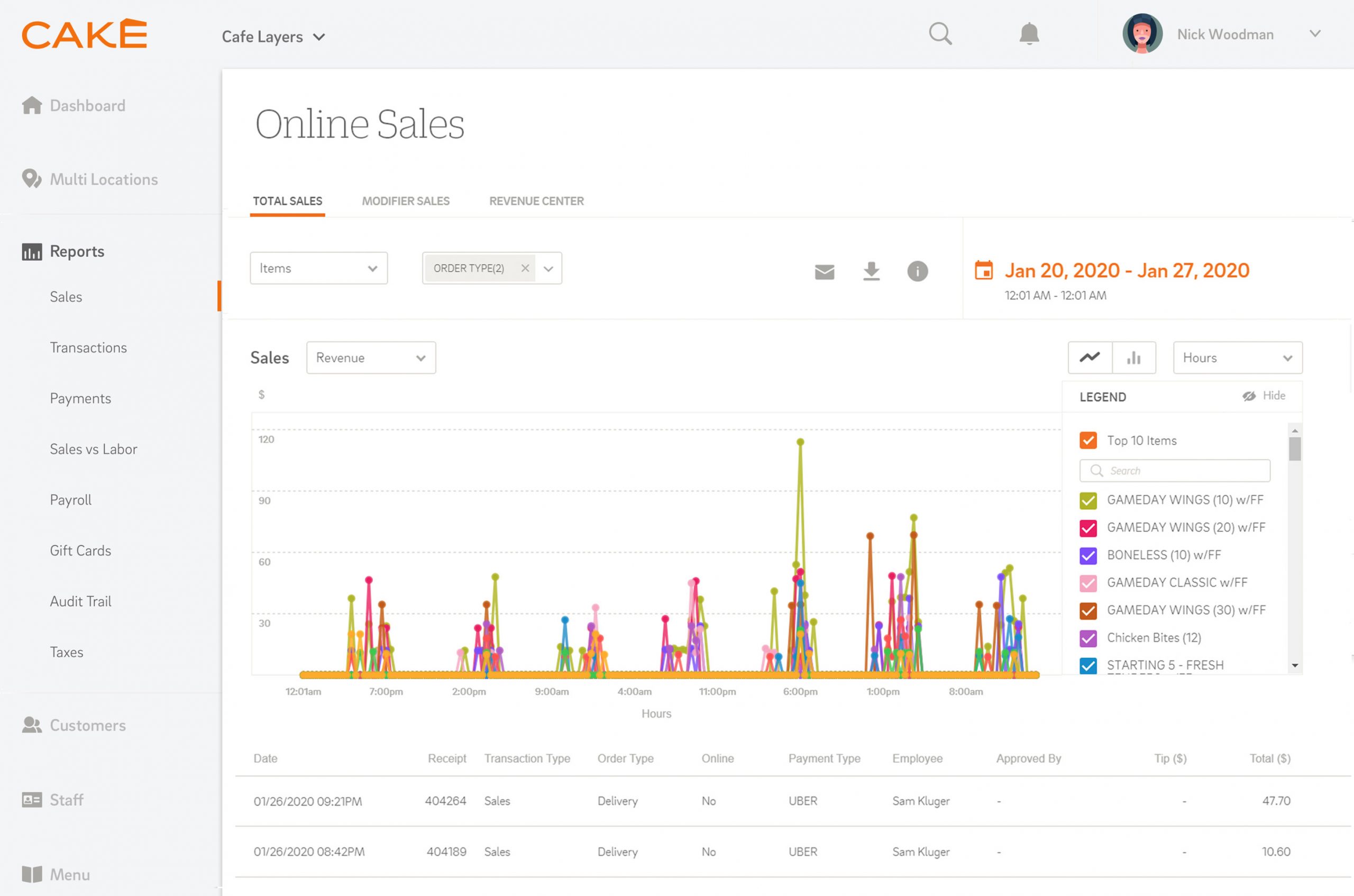 4. Personalize the Guest Experience
Did you know that by increasing customer retention by 5%, you can increase profits by up to 95%? It's all about personalizing the guest experience through data analytics.
Today, guest management platforms are great customer relationship management (CRM) tools. These help you keep track of your customers and grow your business. Guest management systems also optimize your reservation process. You can create Guest Profiles to help identify returning guests and view guest preferences.
Data such as your guest's order preferences allow you to tailor the dining experience to them. For example, let's say your guest's top item ordered is your Prime Ribeye. Servers can use this insight to make unique recommendations such as a bottle of Caymus Cabernet. This process is also known as upselling. Upselling based on your customers' preferences is an easy way to increase your AOV and sales.
CRM platforms also help you increase sales by enhancing guest loyalty. Integrated loyalty programs give you insight into your customers' behavior. Use this consumer behavior to create marketing campaigns that will increase customer retention.
5. Track Server Performance
Optimize your level of labor with restaurant analytics on your servers' performance. This data will let you see who is your highest-performing server, and vice versa, your lowest. Insight such as this can help you make better staffing decisions and save you money on labor costs.
This data is beneficial because it can help decide where you can improve your staff training. With employee turnover at an all-time high, it's critical to invest in your staff. Ongoing training is key to improving restaurant profits and efficiency.
Here are 3 types of training you should focus on:
Operational Training: Basics of restaurant equipment such as POS & reservation system, telephone, espresso machine, etc.
Food Training: Staff should know each dish's ingredients, description, and modifications.
Alcohol Education: Ongoing training of alcohol education so your staff can proper pairing and recommendations.
Tracking server performance allows you to see if your training is paying off. You can also incentivize your employees to upsell with staff competitions and prizes.
Better together with integrations
As you can see, there is a wealth of information in data, but restaurant analytics alone will not improve your profitability. You must utilize software integrations insight to help you make smarter business decisions. 
Your restaurant analytics are the most powerful tool for managing and understanding your bottom line. Take advantage of this information to keep your costs in check and profitability high.