Before opening your restaurant for the afternoon and evening, you look around at the empty structure, tables set, everything is where it's supposed to be at the bar, the kitchen is immaculately clean.
It's looking good; even the point-of-sale system, albeit older, still looks great. And the old dog still has some life left, or so you think until you step up and use it.
Like an old house from the 90s, the bones of the POS are still good. But, the technological functions are about as outdated as a house phone sitting on the yellow pages next to your pager.
The house phone, yellow pages, and pager are all on your cell phone now, along with everything a computer does.
And you take it wherever you want.
That's what it's like to achieve mobility. You have the freedom to carry that kind of technology everywhere you go — even your POS.
But, buying a new POS system is extremely expensive. With everything included, such as the hardware, printer, software, and activation fees, it's around $3,000. That price is for just one; imagine if you have several POS systems or even several restaurants.
Yet, the restaurant is still without a mobile server system.
And just like the old house, all you need to do is to upgrade the structure; there's no need to rip out and replace your POS system. Instead, there is a more cost-effective approach that will improve the value of the POS and get a better return on investment for your restaurant.
The addition of a POS adapter is a less expensive route and will add to your current POS system upgrading its technology.
Why should you update your POS hardware to achieve mobility?
Here are the three major reasons – customers want mobile experiences, mobile technology enables efficient service, and mobile is the key to providing modern contactless journeys.
Guests Want to Order and Pay by Phone
Restaurant customers were increasing their desire to order and pay by phone before the COVID-19 outbreak. Still, since the start of the pandemic, it's become imperative for restaurants to offer contactless pay.
A study from the National Restaurant Association and Technomic states:
56% of consumers place orders via a restaurant's website, but only 45% of operators offer this option.
43% of delivery users placed orders via a restaurant's app, but only 18% offer mobile ordering via their own app.
As we finish 2021 and in the future, customers will continue to use this ordering and payment method. According to Statista, expected online growth rose 12.2% above 2021 levels in 2022.
As a restaurant owner, a customer ordering by phone simplifies the process. In addition, since the customer is punching in the order, it's a timesaver for your staff where the server isn't writing a request down and running back to the POS only to tap in an incorrect order.
With mobile ordering, everything will clearly show up on the POS screen when a customer orders.
Waiting Times in the Vehicle is Reduced
During the breakout of COVID-19 in early 2020, many restaurants scrambled to either begin or ramp up their takeout service.
And when in-person dining later returned, customers did not—only 27% of customers returned to dine indoors. Meanwhile, takeout dining continued to increase by 54%.
Arguably, the crucial difference between curbside takeout and delivery is the fact customers want to order without paying delivery fees. Many are content to get their meals, but they don't want to spend a great deal of time sitting in their cars waiting.
Presently, curbside management is critical for restaurants. Presenting an exceptional customer experience is not only for indoor diners but a valuable resource in curbside care.
With mobile ordering, your restaurant has a tool that will provide an essential error-free system, but you have to be mistake-free in providing service to the customer.
And that means the mobile system needs the ability to:
Automatically send order updates to customers.
Runners can view/change curbside orders.
Create a microsite for customers to identify their vehicle and location when they arrive.
Allow for two-way text communication between the restaurant and the customer.
These components are another layer of achieving mobility and providing a truly outstanding customer experience.
Simplify the Process By Achieving Mobility
By going to a mobile system, your servers and staff will thoroughly enjoy the benefits, especially since it's easy to learn, train, and use.
Instead of taking down a hand-written order by the table and then running back to your POS — sometimes waiting on another server to punch in an order — the server is holding a mobile server with tableside ordering functionality.
Orders immediately get sent to the kitchen as servers punch in the customer's request at the table. There's no running back to the POS to "translate" what the customer just told you one minute prior.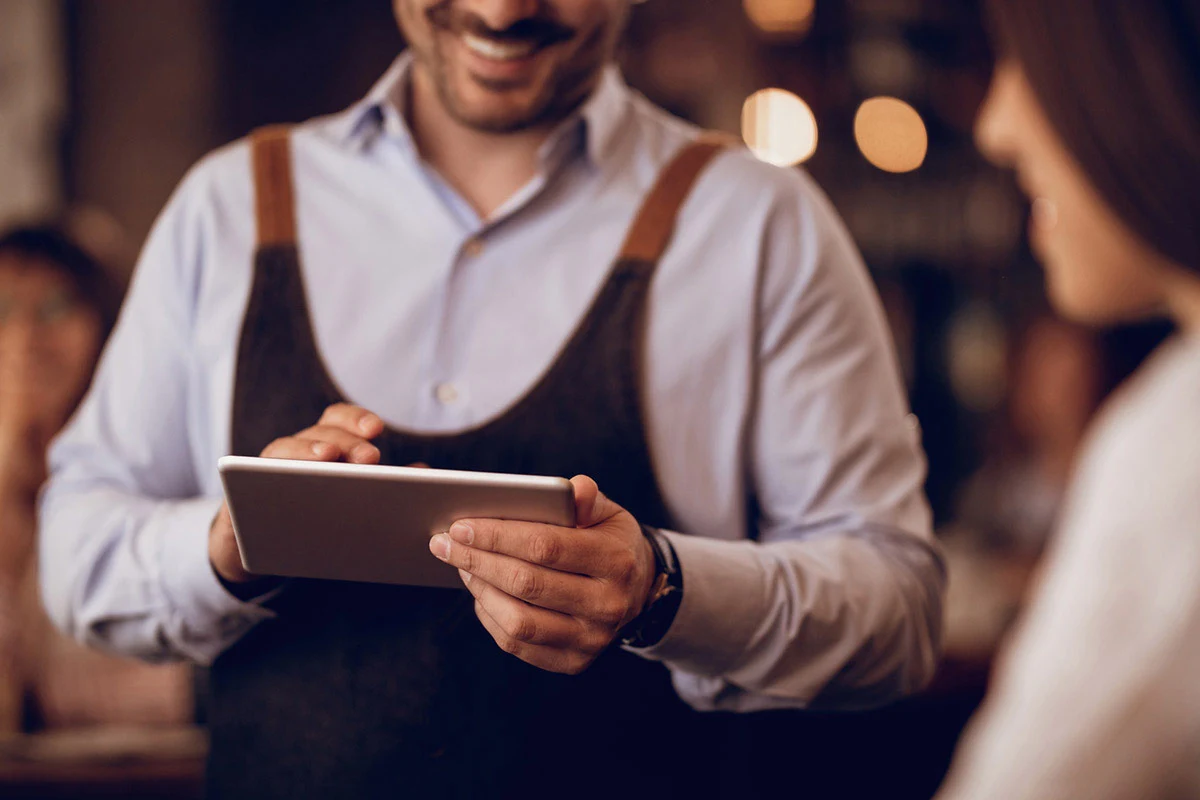 By ordering at the table, the server can better engage with the guests, making it a better experience for the customer. A better conversation with the guest opens up to a better tip for the server.
In addition, your restaurant will score faster table turns because of a speedier process in ordering.
According to Restaurant Technology News, 84% of full-service restaurants, and 72% of quick-service restaurants, have produced "significant" or "dramatic" improvement in their overall performance. Also, including improvement in financial results, after migrating to a cloud-based restaurant POS system.
Conclusion
Updating your restaurant's POS hardware doesn't have to be a complete demolition with the enormous cost of installing a new POS system.
The most efficient method is to upgrade your older system with an agile, mobile solution. It is far less expensive and, in the long run, creates a better ROI for your restaurant.
Mad Mobile's platform can enable your restaurant to achieve mobility without replacing your current system.
Enable mobile ordering that your customers will enjoy, a crisp curbside management system that opens a line of communication between the runners and guests, and tableside ordering where your employees can have better engagement with diners.