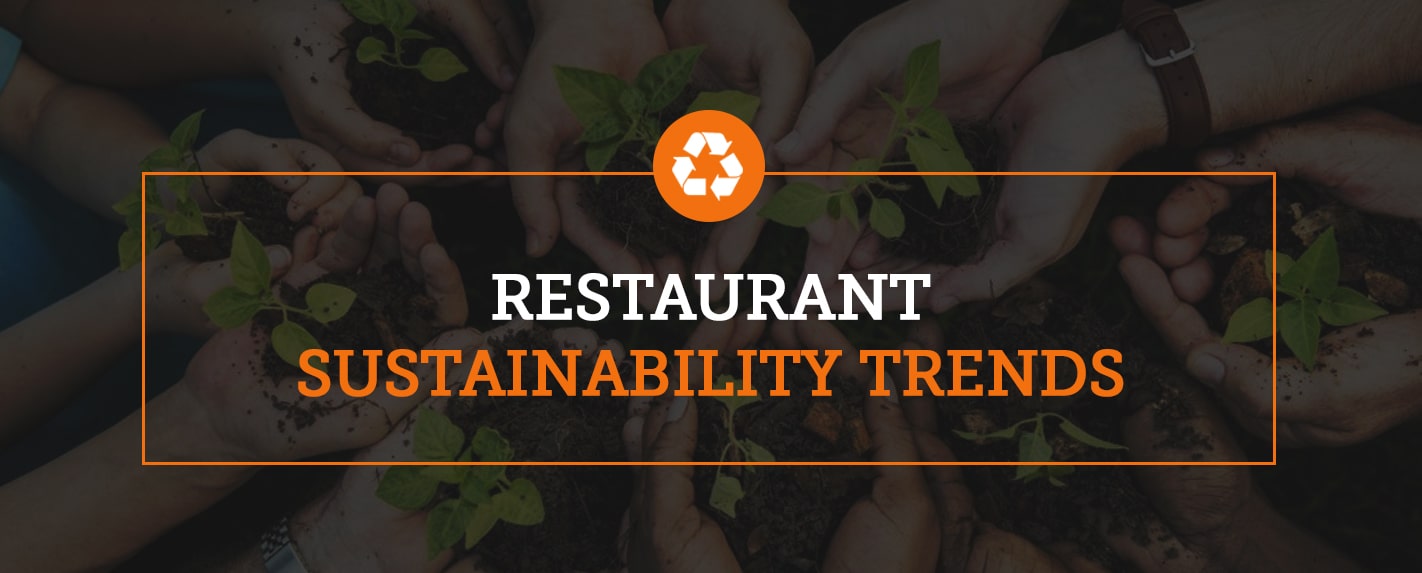 Many people across the United States and around the world have developed an interest in protecting the environment. For these reasons and more, the majority of consumers are willing to pay more for sustainable goods and services provided by environmentally responsible companies.
As an independent restauranteur, you may think it's up to regional, national, and global brands to save the world and protect the environment because their operations are so much larger than yours. That's not the case, however. Operators of all sizes have the chance to make a difference by adopting sustainable business practices. It's often easier for independent and smaller brand names to put forth sustainability efforts that have an immediate impact in the areas they compete in.
Restaurant owners and managers have a valuable opportunity thanks to the public's demand for eco-friendlier products. They can actively participate in the movement and attract and retain like-minded diners. Restauranteurs can act on sustainability trends and promote the results of their efforts to increase the loyalty people have to their respective establishments. Just as importantly, they can avoid the negative press that often accompanies being complacent or untruthful about their sustainability efforts.
Background of Restaurant Sustainability
As the term is commonly understood today, "sustainability" was first used by the Club of Rome in 1972. While these early discussions of sustainability were primarily limited to development, the concept has evolved into a top concern in many industries, including the food and beverage vertical. According to Environmental Leader, "Sustainability for restaurants means operating in a way that protects, preserves, or restores the natural environment, promotes social equity, enhances the lives of people and communities, and contributes to economic prosperity for shareholders and stakeholders."
As sustainability is so broadly defined regarding restaurants, there are many ways that eateries of all sizes can incorporate some sustainable practices into their daily routines. For nearly three decades, the Green Restaurant Association has researched restaurants and their impact on the environment. The association also awards green status to eateries that excel in eight environmental categories. Here are the categories the association uses to evaluate restaurants:
Water efficiency
Waste reduction and recycling
Sustainable durable goods and building materials
Sustainable food
Energy
Reusables and environmentally preferable disposables
Chemical and pollution reduction
Transparency and education
In addition to being certified, restauranteurs have the chance to demonstrate their sustainability efforts in other ways. One way you can now do that is by earning an award for the sustainable practices you implement at your establishment. First awarded to a restaurant in Japan in 2013, the Sustainable Restaurant Award was created by The World's 50 Best Restaurants to recognize the eatery that has the best rating for both social and environmental responsibility. The winner of this award must excel in the following three areas:
Using locally and ethically sourced, seasonal produce
Treating people fairly, supporting healthy eating, engaging with the community, and truthful marketing
Utilizing an environmentally-friendly supply chain, being energy efficient, managing waste, and saving water
Importance of Restaurant Sustainability
The Ocean Conservancy tracks the results of cleanup projects involving waterways throughout the world. In the 2017 International Coastal Cleanup Report, the Conservancy identified the things recovered from polluted sites across the globe. Here are the ten things recovered most often during preservation projects, from most to least frequent:
Cigarette butts
Plastic beverage bottles
Plastic bottle caps
Food wrappers
Plastic grocery bags
Plastic lids
Straws and stirrers
Glass beverage bottles
Other plastic bags
Foam take-away containers
While the order of the things recovered during cleanups in the United States varies slightly in terms of the items identified and the order in which they appear in a top 10 list, it's still apparent that restaurants are contributors to the country's pollution. For example, food wrappers occupied the second spot on the nation's top 10 list while straws and stirrers landed in the sixth spot.
Restaurant sustainability is important in many contexts, but two prominent areas for impactful results include the environment and food suppliers. By framing your sustainable efforts in these areas, you can strengthen your business's atmosphere and connect with your diners while also doing good in your community.
1. Environment
Although it's undeniable that the food and beverage industry is contributing to the pollution recovered along the globe's beaches and from underwater sites, the industry's contribution isn't limited to oceans alone. With that in mind, the industry as a whole and restauranteurs individually are well-positioned to reduce the size of their carbon footprint.
Like plastic bags were a hot topic in the context of the environment and sustainability a few years ago, single-use plastic straws have received plenty of press over the past year or so. While some restaurants have been on the leading edge to cut back or eliminate their use of single-use plastic straws, others are forced to comply with newly introduced local laws or face fines. Here are a few of the things some restaurants and locales did in 2018 to prevent the continued use of single-use plastic straws:
Fort Myers Beach, FL., implemented a sweeping ban on the use of plastic straws within its borders
On June 1, 2018, a ban on all plastic straws, stirrers, and utensils went into effect in Malibu, CA.
Bon Appétit Management, which operates more than 1,000 restaurants in the United States, said it would eliminate the use of plastic straws at its locations by September 2019.
Seattle, WA., implemented a ban on plastic straws and utensils on July 1, 2018, which requires a mandatory fine of $250 to be levied against non-compliant food service establishments.
In July 2018, Starbucks announced it would terminate the company's use of plastic straws no later than 2020.
Reducing or eliminating the use of single-use plastic straws and utensils isn't the only thing that restauranteurs can do to support environmental sustainability. It's common knowledge that paper accounts for most of the waste found in landfills throughout the United States. Although many people automatically think of unrecycled newspapers when they ponder that, disposable napkins and paper plates are just two of the things that make their way into landfills thanks in part to the food and beverage industry. Sadly, wasted food is also commonly found in landfills. Across the globe, billions of tons of food are thrown away every year.
What can you do to prevent your paper goods and discarded food from ending up in landfills? You can start by using linen napkins and reusable dishes and glassware. You can also introduce a food waste reduction program. Your program should ensure another entity, such as a local shelter, can repurpose your excess food or that it can transform into useful compost.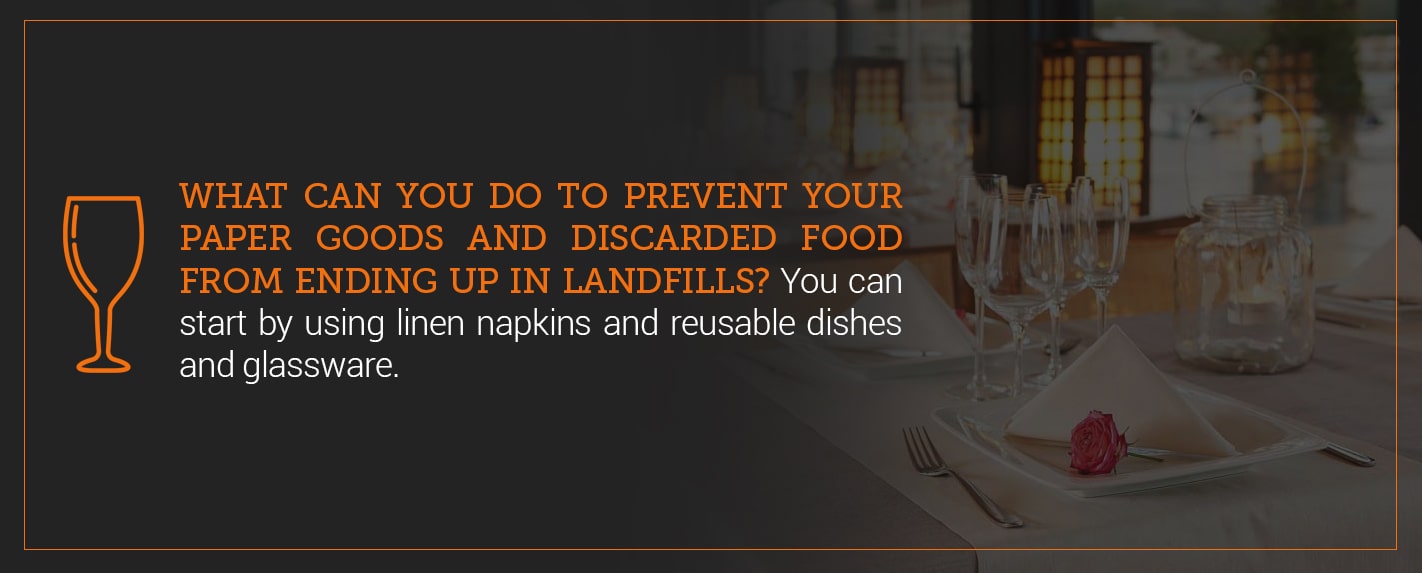 2. Food Suppliers
The second area of impact for restaurant sustainability lies in your connection and partnership with food suppliers. Whether you have a deep and thorough conversation with your current supplier in how to transition into a more sustainable lifestyle, or you find a new company who better aligns with your sustainable needs and goals, you can often create an impact at the source of your food.
One of the best ways to promote sustainability within your restaurant is to provide your customers with natural and fresh produce. Understanding what foods are available in every season can ensure the freshest of tastes in every meal, while also minimizing the extra costs of production and transportation of out-of-season items.
Beyond your local plant-based offerings, your food supplier should also provide a variety of sustainably-raised proteins. Prepare the best meals with meats, seafood, and poultry that contribute to a healthy diet without harming the environment.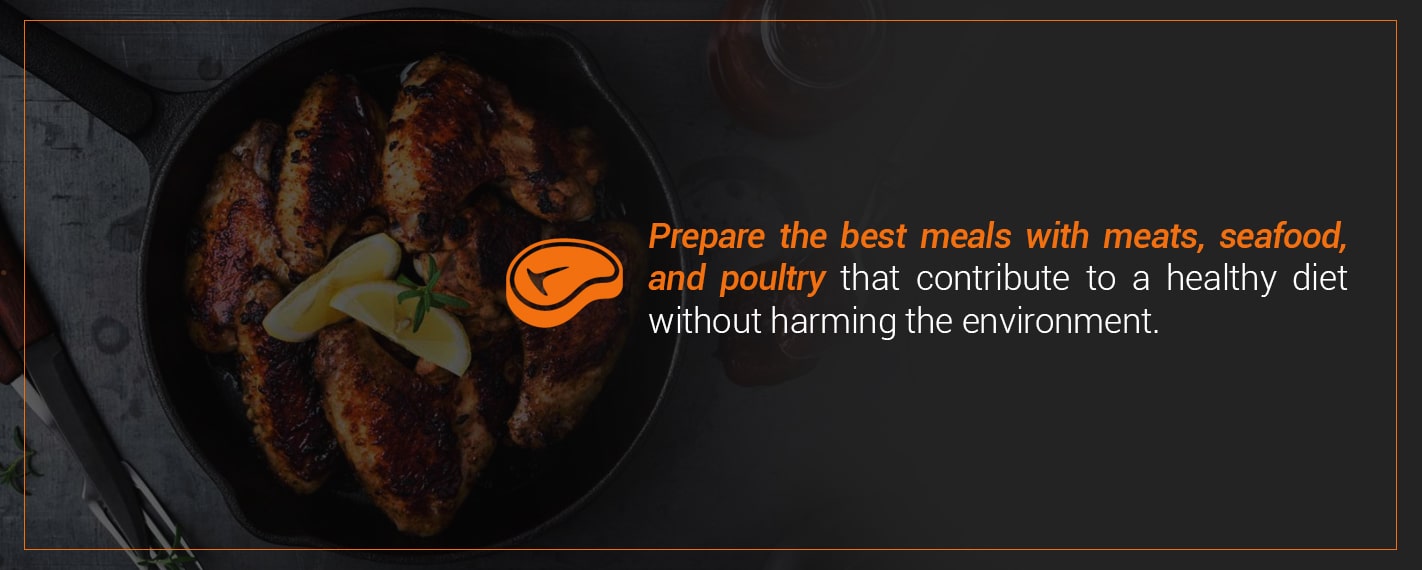 Benefits of Restaurant Sustainability
Implementing sustainable practices at your restaurant can produce significant benefits for the environment as well as your eatery. Once you're familiar with the benefits that come with modest, sustainable efforts, you may wonder why you waited so long to pay attention to and act on current restaurant sustainability trends.
1. Environmental Benefits
For a restaurant to be sustainable, it must be set up to support its community, surroundings, and itself. The environment is an important consideration when it comes to sustainability. It's impossible for any restaurant to remain sustainable if it systematically destroys the environment and the resources the eatery relies on for its own survival.
Here are some of the environmental benefits you can foster by adopting sustainable practices at your establishment:
Fewer durable goods in landfills: If you're going to build a restaurant or renovate an existing structure, you can reduce the number of durable products that end up in landfills by using recycled or repurposed materials to complete your project.
Naturally fertilizing the ground that grows your produce: With leftover egg shells, coffee grounds and some paper goods, you can partner with a local farmer or organization that makes compost to reduce landfill waste.
Create natural fuel: Every year, innovative companies make advancements in the field of recycling which enables restauranteurs to keep their carbon footprints as small as possible. If you haven't done so yet, find a recycling partner that can transform your used oil and grease into fuel to limit your restaurant's waste.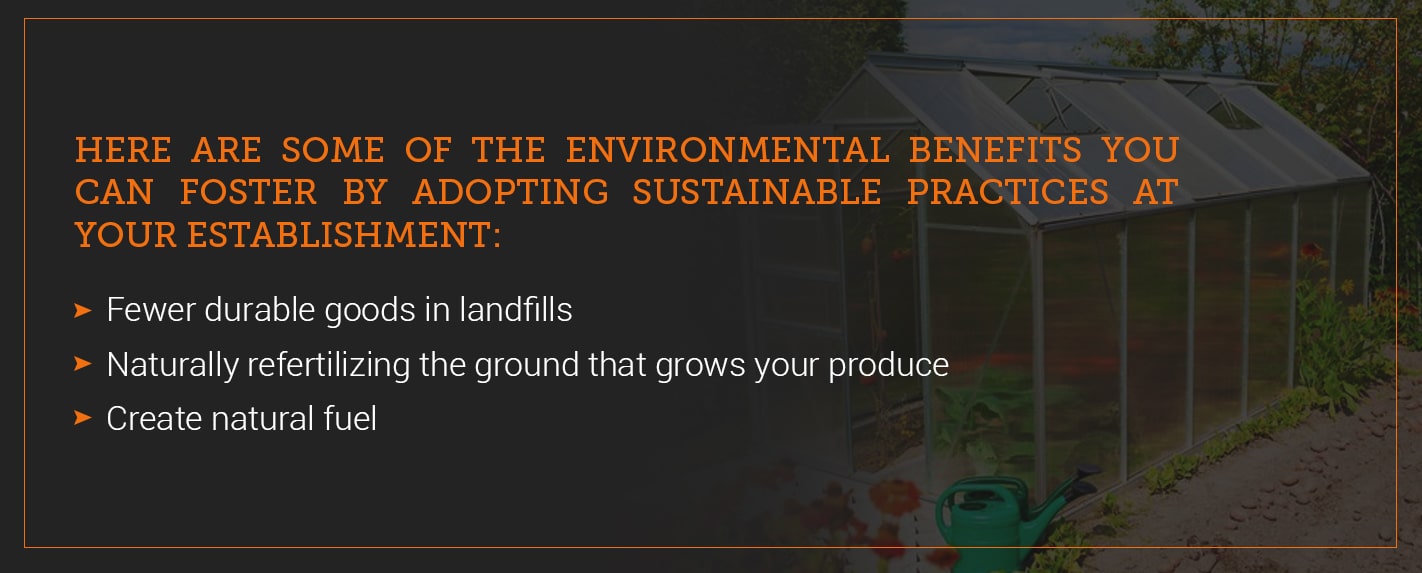 2. Saves You Money 
Just like implementing sustainable processes and procedures can benefit the environment, adopting them can benefit your restaurant by saving you some money. Here are some of the ways that putting forth some sustainable effort can benefit you as a restaurant owner:
Reduced taxes and disposal fees: To prevent unused food from winding up in a landfill, you should consider partnering with a local charity that can use the food to feed others. Your food donations can help you lower your tax burden. They can also lower your disposal fees because your dumpster won't have to be emptied as often.
Reduced overhead: Although it may require an investment up front, you can lower your total overhead expenses by switching to more energy-efficient lighting, HVAC and food preparation systems. Depending on what efficiency ratings your new equipment has earned from the federal government, installing the new systems may also lower your tax burden for several years moving forward.
Reduced advertising expenses: With hundreds of thousands of restaurants operating in the United States alone, it can be difficult to make your establishment stand out from the pack. Rather than paying a digital marketing agency to create an expensive ad campaign for your restaurant, you can save money by distinguishing your eatery from its competitors based on its eco-friendly practices.
Attracting and Retaining Eco-Conscious Diners
Spending their hard-earned money at places that share their values and beliefs is important to many consumers across generations. When it comes to families and individuals at or between the ages of 25 and 34, sustainable practices are particularly meaningful. To attract and retain customers who share your dedication to the environment, it's vital that you educate the public about your sustainability efforts and their laudable results.
How Mad Mobile Can Help Your Restaurant Be More Eco-Friendly
While setting up a restaurant to be sustainable isn't always a piece of cake, Mad Mobile's products may be just what you need to make your establishment more environmentally-friendly. Our All-In-One Point of Sale system, coupled with our OrderPads enable both quick- and full-service restaurants to use less paper.
Mad Mobile Point of Sale system is affordable and backed by 24/7 customer support. Our POS system is entirely digital, which is why it uses less paper than older systems. Even when your Internet goes down, your Mad Mobile POS system will continue to work seamlessly.
When a server has a tableside ordering solution, diners can get instant tableside ordering which can help with turning tables and line busting. Our OrderPads are fully integrated with the POS system, and have the same interfaces as our POS, so no additional training is required for your staff. Our OrderPads allow your diners to settle their own bills without getting a paper tab or receipt and have the option to email themselves a copy of their receipt. This capability will make your restaurant that much more sustainable.
Don't wait any longer to maximize your eatery's sustainable nature. Schedule a demo of Mad Mobile products that can make your restaurant eco-friendlier now.