The restaurant industry as we know it has taken a complete spin in the last six months due to COVID-19. We've seen restaurants open for dine-in, shift to off-premise, and then repeat itself.
Dine-in closures and social distancing have introduced consumers to a new dining experience. Restaurants are essential to consumers' needs of socialization and normalcy. But, in this COVID era, your guests' needs have shifted and you must stay on top of them.
Currently, Datassential is providing all their Coronavirus reports and resources for free. Datassential is a food industry market research firm. This data focuses on consumers' concerns and approaches in navigating life through COVID-19. Over the span of the last six months, they have conducted many surveys to discover how consumers feel.
Due to the unprecedented nature of the COVID epidemic, trends are quickly changing. In preparation, we've collected data and insights on the dining trends during COVID. The way customers now interact with restaurants has changed. Make note of the trends below to better understand what your customers want and expect from you.
Here are five dining trends among consumers during COVID:
1. Comfort Food Takes It All
What are people seeking amidst the COVID crisis? Comfort.  As diners make their way back into restaurants, 68% of people are most likely to dive into an indulgent dish. While only 32% of people are looking for a  healthy one. Based on a current Datassential survey, here are the top foods that consumers crave and miss:
Mexican food

Seafood

Asian food

Pizza

Burgers

Italian food

Steak
People are searching for relief and a sense of normalcy during this time. Restaurants and the food they serve just so happen to provide this. This pandemic is increasing stress levels, hence, people turning to comfort foods.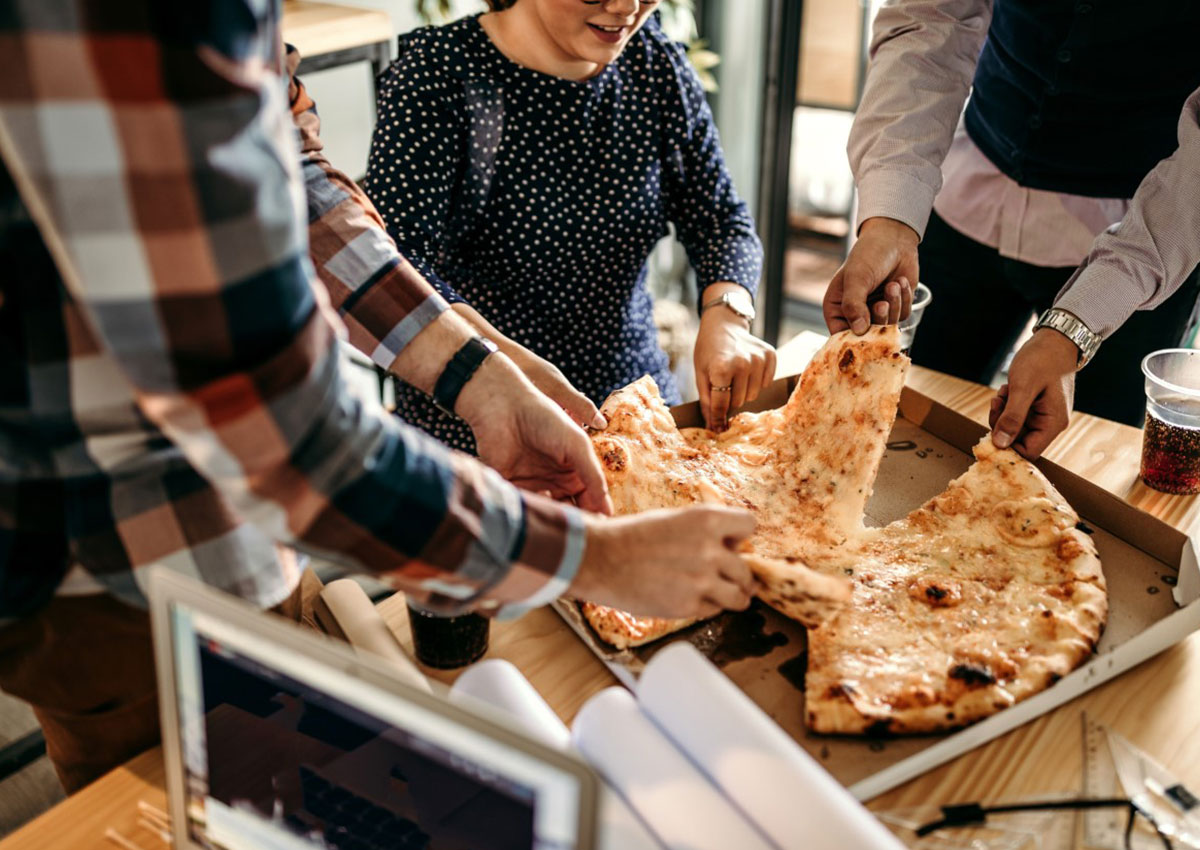 After six months now, these cravings highlight the appeal of consumers wanting to eat out. They want food they haven't been able to make for themselves at home. Datassential gives operators insight on how to drive customers with innovative new items. They call it "fusebiquity." Restaurants should consider combining common foods with new flavors and influences.
This trend is also noticed not only within restaurants but also in grocery stores. People are straying away from trying new things and want to hold onto familiar favorites. There's power in food to make your guests feel safe in all this chaos.
2. Dinner Food Is Still At Its Peak
Before the coronavirus outbreak, lunch was the top time for restaurant traffic. Now, this trend is seen during dinner dayparts.
The National Restaurant Association is conducting weekly surveys tracking this trend.  Over the last four months, about 65% of adults are ordering weekly takeout or delivery for dinner. Before the coronavirus lockdown, that number was less than 60%.
Takeout during lunch remains the second most popular time amongst consumers. In early March when lockdown started, only 37% of adults ordered takeout during lunch. Over the last four months, this has increased to an average of 45% of adults. These statistics are for off-premise meals but now we're seeing dine-in come back.
Considering this, restaurants have begun to optimize their menu offering during this time. Family-style meals are being created to provide food for all, and more for the next day.
We've also seen places selling their meats and other inventory for takeout. This provides people with take-home food to cook themselves. Give your customers an extension of your offerings to help you stay afloat. You have to be creative to drive your customers in a down market.
3. Takeout is Everything
Consumers want to receive food from restaurants in an easy way and cars are the safest. Over the course of the last six months, ordering ahead for takeout has continued to remain on-trend. Convenience is a key driver for consumers with the shift to off-premise dining.
In the time of mandated dine-in closures, restaurants that had a drive-thru were key. The NPD Group notes that drive-thru restaurant visits increase by +26% in April, May, and June. This represented 42% of all restaurant visits. Once restaurants reopened, drive-thru visits still increased by +13%. That represents the highest visit increase over dine-in, carry-out, and delivery. Cars provide consumers the most comfort and security through a drive-thru or curbside pickup.
Get set up with our Restaurant Curbside Management System here.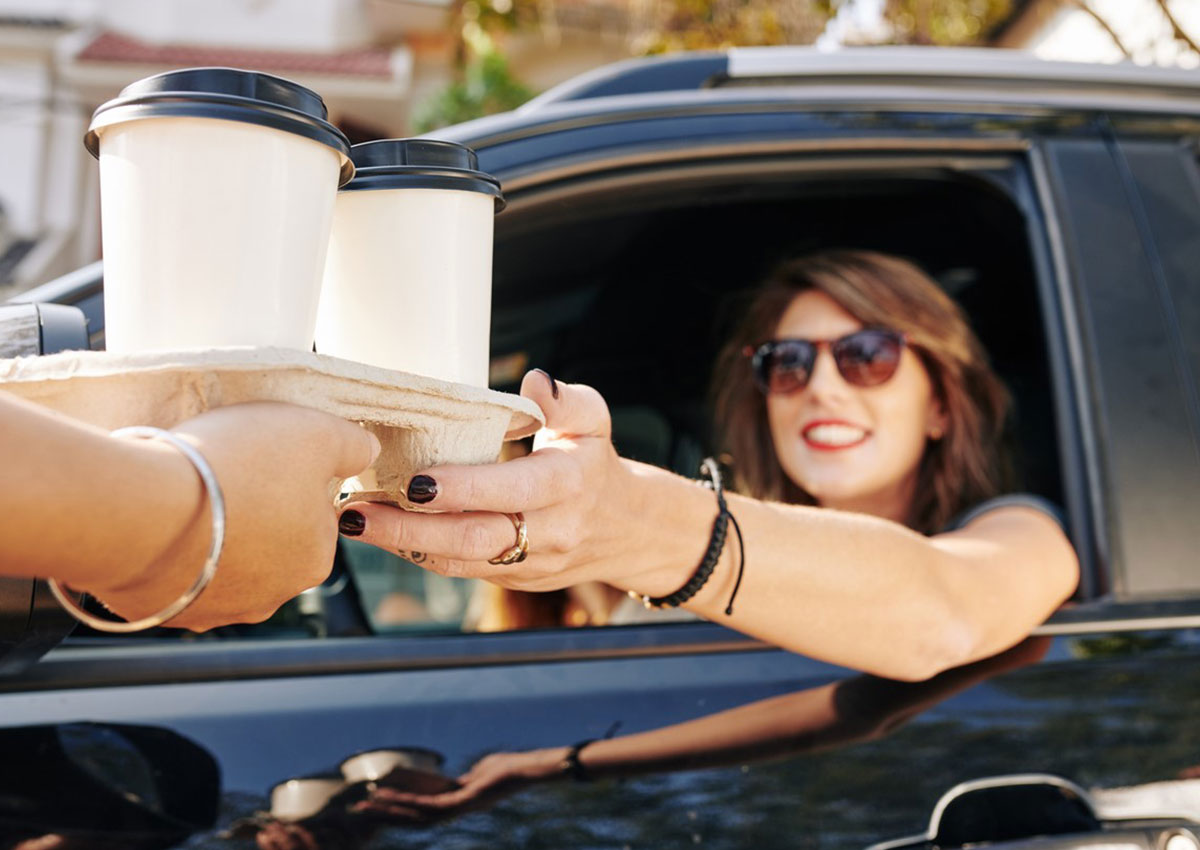 Moving forward, this trend will remain unchanged. Make sure that the actions taken to deliver your customers' food is done safely. Join the ServSafe Dining Commitment program to ensure this to your customers. It's a voluntary program that operators commit to the safety and health of your guests and staff.
So, how are consumers receiving their food from restaurants? Here are the latest dining statistics from Technomic's Industry Insights:
68% – Drive-thru at a restaurant

63% – Takeout

48% – Curbside pickup

45% – Third-party delivery

45% – Direct delivery

41% – Dine- in indoors, this increases to 55% of consumers aged 18-34

38% – Dine-in outdoors, jumps up to 52% of consumers aged 18-34
Ordering ahead in your restaurant needs to be accessible. Pre-coronavirus, online ordering, and delivery were already on the rise. The pandemic accelerated this trend. Data shows that 86% of operators have added an online ordering system and found it effective. Online ordering is essential to continue to promote even after COVID. Plus, now with back to school, online ordering can capture your guests as they are working from home. 
Get set up with online ordering today to provide delivery and takeout for your customers. Furthermore, keep your guests safe with a curbside management solution. With both of these tools, you can stay on top of the delivery trend.
Learn more: How to Handle In-store Dining While Fulfilling Online Orders
4. To-go Craft Cocktails
To give customers familiar favorites, to-go cocktails are a trend that's here to stay. This is a first in many states. Make sure you check with your state's liquor regulations and COVID guidelines to do this.
To-go cocktails are the perfect silver lining for both your restaurant and guests. Online sales of alcohol have skyrocketed by over 234% compared to a year ago. It's more revenue and an extra incentive for guests to order takeout. When asked "How would you order alcohol with takeout/delivery?" here are Nielsen CGA findings:
51% of respondents say 750ml of table wine

47% – 750ml of sparkling wine

47% – 750ml of spirits

40% – Multipack cans of beer
These craft cocktails range from pre-batched craft mixers to large format specialty drinks. These take-home bottled cocktails make consumers feel connected to restaurants once again. So, whether it's your Time Killer rum infusion or classic Old Fashioned, make it available to-go. Happy hour is now "virtual" but craft cocktails can make it feel much the same.
5. Growing Support
Right now, community support is everything. Since social distancing began, restaurants are providing a sense of normalcy for customers. But even better, the top reason for wanting to visit restaurants is to provide support.
We can see that there is a growing drive in diners wanting to support their local restaurants. Recent data shows that 87% of consumers got takeout from a specific local restaurant to show support. Consumers want to financially support their favorite restaurants by buying gift cards and food for takeout.
As restaurant management, look at this as an opportunity to provide aid to the community as well. When your customers see you're also doing all that you can to help, their efforts will increase as well.
What's to come next?
It's going to take time to discover what the "new normal" will be. While consumers wait for doors to reopen, it's hard to picture restaurants ever being the same. We must prepare for the unknown.
Many consumers are not eating on-premise as much as they would like and this is due to many reasons. Each state and county have their own guidelines for indoor dining. On top of that, there is still going to be some avoidance of eating out. You must evenly divide your efforts towards online ordering and on-premise dining.   
There's still hope and we must remain optimistic despite the hard toll the industry has taken. Use these trends as insight to see how diners are interacting with restaurants. These will help your business get back on its feet and better connect with your customers.