Ready to open the restaurant of your dreams? First, you're going to have to create an effective restaurant business plan. This is when you take your business dreams and plan out how they will become a reality.
Many people dream of taking their love for food and turning it into a business. But, what many don't know is the reality of how stressful opening a restaurant can be. No matter how much thought you've put into your concept, you need to back it up with a business plan.
In this blog post, we're going to inform you on how to write a restaurant business plan. We will go over everything you need to know to create a strong business plan for long-term success.
What is a Restaurant Business Plan?
A restaurant business plan is the framework from which your new business develops. It gets your restaurant idea off the ground and in motion to open. This plan provides insight into the restaurant design, management, and market.
Why do I need one?
One reason many restaurants fail in their first few years of operating is because they had no plan. Unexpected problems and expenses will arise while opening. If you don't have a clear business plan to turn to, there's not much chance of succeeding in this industry.
Additionally, restaurant business plans are vital to capture potential investors and lenders. You have to be able to show you've done your serious homework. Your business plan should make them want to buy into your vision. It provides proof you know what to do in every possible scenario and both of you will succeed if they invest.
The Components of a Restaurant Business Plan
A business plan is like a recipe for your concept to come to life. There's going to be lots of ingredients that go into it. It's important to know that these all complement each other and support your business as a whole.
Here are the main parts of a restaurant business plan:
Executive Summary

Company Description

Market Analysis

Sample Menu

Service Concept

Employees

Design

Location

External Help

Financial Analysis
Business plans vary depending on every factor, and that's okay. You can change up your order of steps to reflect the level of importance depending on how you are presenting to. Now, let's go through what to include in a restaurant business plan step by step.
1. Executive Summary
The first section in your restaurant business plan will be the executive summary. It is the introduction to your business idea and the goal is to capture the reader's attention. The executive summary should persuade them to explore the rest of your business plan.
In this section, make sure to include the following elements:
Restaurant concept and name

Mission statement

Plan execution

Anticipated return on investment

Core values

Financial overview of potential cost
This part serves as a summary of your key conclusions from the whole business plan. There will be plenty more to follow, but here is where you convince the reader they want to learn more. It will show the niche your restaurant will fill in the local market and why it should exist.
2. Company Description
Next, it's time to introduce the proposed restaurant in the company description. This is the part where you describe the high-level components of the business. For instance, explain the management business structure and ownership. Provide insight into the owner's previous restaurant experience to boost their credibility.
In this section, showcase what makes your restaurant unique and why it deserves a place in the market. Identify your brand, design theme, and inspiration behind the concept. You want to include details about the service style, location, and design.
3. Market Analysis
This is the part of the business plan where you explain how you will position yourself in the market. The market analysis is also known as a marketing strategy. This is often broken up into three key sections.
Industry Analysis: What kind of customers do you want to attract? Who is your target market? You should include their demographics and dining behaviors. Present statistics about your target market and the power they have in the industry.
Competition Analysis: What restaurants are nearby that will be your direct competition? How will your restaurant stand out against them and what makes it different? In this part of your business plan, you will need to show that you've researched your competition. Be sure to include information on their brand, menu, prices, and customer base. Demonstrate in your plan that even against your competitors, your restaurant is different.
Marketing Analysis: How are you going to promote and get your restaurant noticed? Will you bring in an outside source to take control or will your marketing be done in-house? These are the details that potential investors will want to know. Go in-depth about the tactics you plan to use to market your restaurant before and after opening. You can build buzz in your local newspaper and use social media to your advantage. Have a clear idea of how you plan to market your restaurant and attract its target consumers.
4. Sample Menu
Following the market analysis, you will need to add a sample menu to your business plan. Your menu is one of the most important representations of your restaurant's brand. Before opening, you may not have a final version or your menu but your mock-up should be very close. The sample menu should be on brand and visually appealing.
Your restaurant's menu is critical to your success. Each food and drink item should include prices based on a detailed cost analysis. It's important to conduct this menu analysis so you understand your profitability. This will provide data to investors and help create financial projections.
Here is an example of how a sample menu and service concept would be laid out in a restaurant business plan. This is Hashi's fast-casual business plan created by Cayenne Consulting.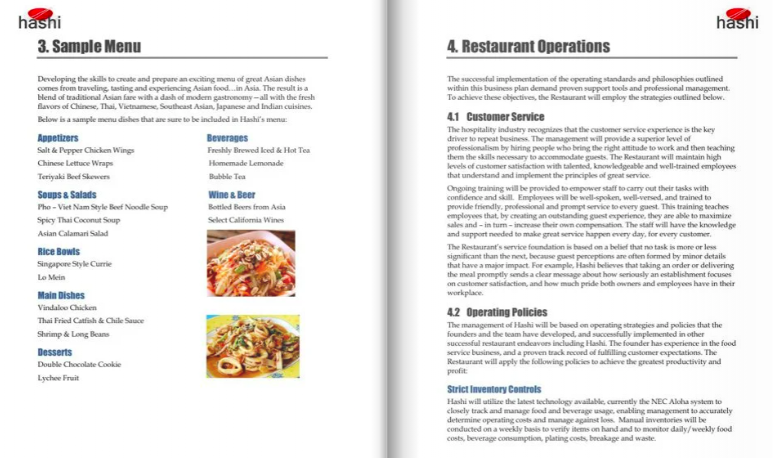 5. Service Concept
The type of service style that you offer will directly relate to your restaurant concept. What kind of restaurant do you plan to open? There are many kinds to choose from such as fine dining, fast-casual, and cafes. The overall guest experience will differ depending on what path you choose. 
In this section of your business plan, describe how the guest's experience will be. Will they be served at a table or will you have counter service? This plays a role in the number of employees you will need and your floor plan.
6. Employees
After identifying the service you plan to provide, you need to show how many employees you will need to hire. This is the place where you describe how management and staff will operate day-to-day. You may have different managers for the bar versus the kitchen all under a general manager. Outline the structure that works best for you in your business plan.
Not sure what to look for in a restaurant general manager? Take a look here.
7. Design
What is your restaurant going to look like? In this section, you want to incorporate some visuals for your readers. Create a mood board for your future restaurant's branding and design. You should add your logo to this section and the color scheme you are aiming for.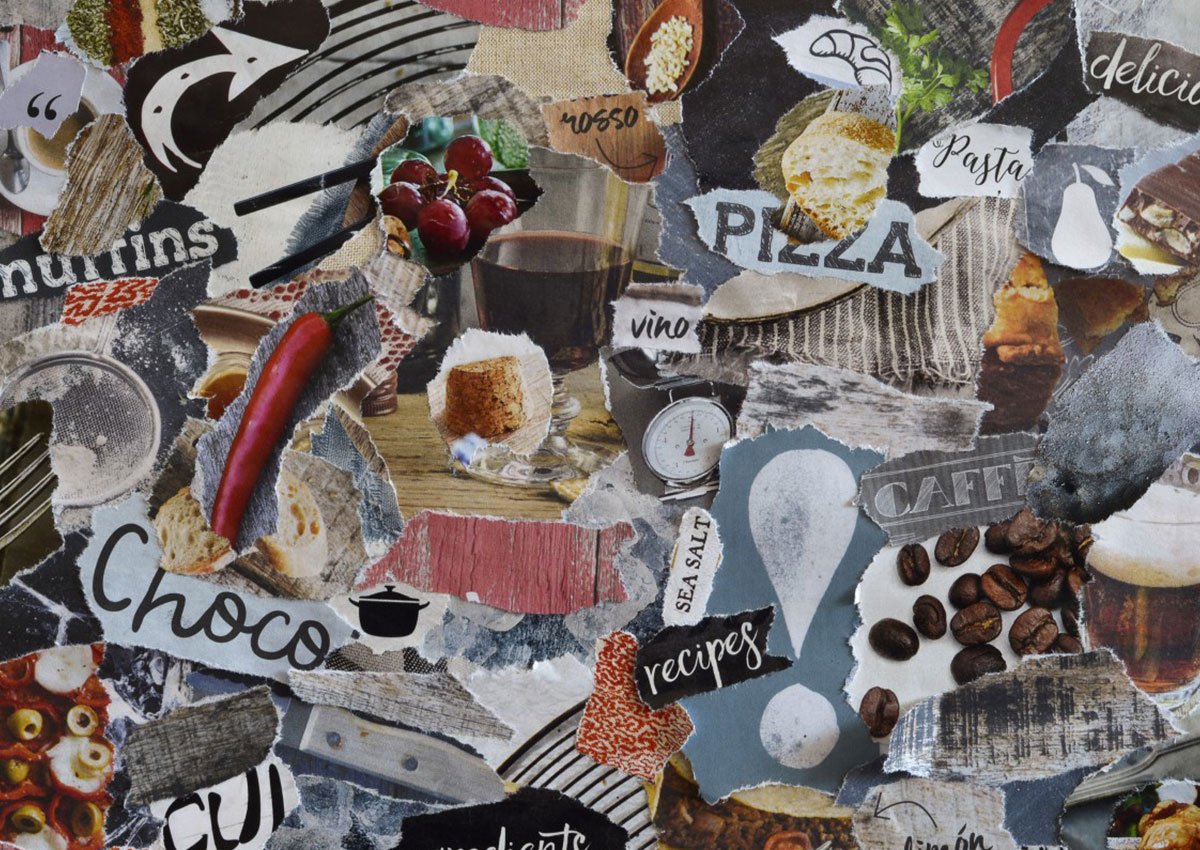 Discover how to invent your brand's image and design here. You can create a strong identity when you have a well thought out design aesthetic.
8. Location
The location section in your business plan needs to align with your target market. Even if you don't have a set location yet, you must be able to provide examples of potential places.
For example, if you plan to market to millennials, locate your business in a big metropolitan area. You must show that there is a need for your restaurant in this area and there's a relation to your target market.
9. External Help
In this section, list out all outside contractors and companies you plan to hire for help, such as:
Attorneys

Designers (website, interior, menu, graphic, etc.)

Architect

Marketing & PR Agencies

Financial Advisors/Accountant

Food Distributors
For each outside source listed, explain to your reader why you need them and what they will be doing for you.
10. Financial Analysis
At last, the final part of your restaurant business plan is the financial analysis. You will want your accountant to guide you through this part. Make sure you've hired somebody with a deep understanding of the restaurant industry. They should have a strong background in restaurant finances.
You need to provide your accountant with estimates on the following three things:
Average check size per table

Amount of seats available

Daily amount of covers
Given this, they can start to break down all the numbers. The key projections you must show to investors are:
Profit and Loss (P&L) Statement

Break-Even Analysis

Capital Requirements Budget

Expected Sales Growth
Here are some examples of what your financial projections need to look like in your business plan. These are from Butcher Hallow Bar BQ's business plan on Reference for Business.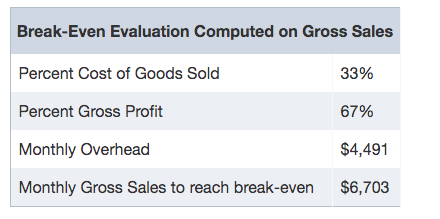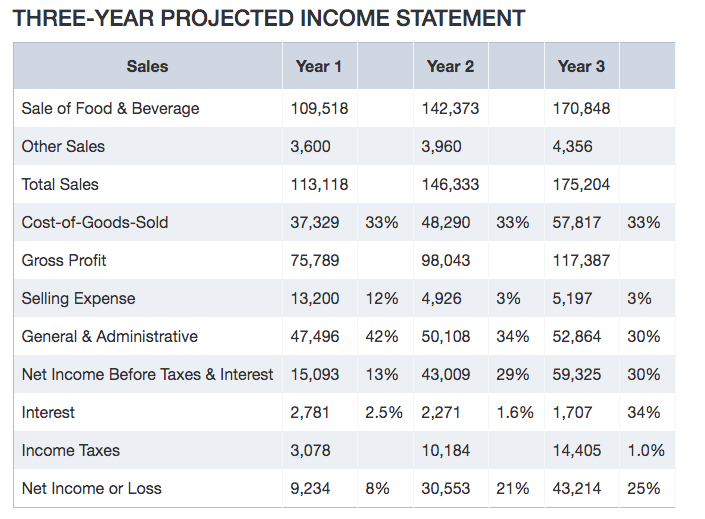 In this analysis, you must prove your restaurant concept is financially feasible. These projections are often the make it or break it moment for investors. Win them over with a strong investment and thought-out financial plan.
Opening a restaurant takes a lot of money, find seven ways to get funding here.
Restaurant Business Plan Sample
We understand that starting your restaurant business plan can feel overwhelming. Familiarize yourself with some business plan samples to help you craft yours. LivePlan by BPlans has a library of every imaginable restaurant business plan.
Here are some of our favorites:
Plan for the future
Set up your restaurant for long-term success with a solid business plan. The unexpected is expected to happen but with a plan, you can handle it.