A restaurant employee schedule is unlike any other. From deciding what you want your opening staff to be, mid-shifts and so on, a lot of factors go into scheduling. 
There are lots of challenges that come with managing a shifting staff. You need to know when you need more hands and when it's the proper time to make daily cuts. 
With unexpected situations, such as the 2020 COVID crisis, scheduling employees becomes harder. As management, it is your job to reinforce safety and keep your restaurant employees safe. 
COVID-19 is impacting all restaurants around the world, some more than others. To keep your employees safe, practice social distancing and schedule smart.
Creating an effective work schedule means balancing both your staff and business needs. Here are six steps and advice to help you schedule your restaurant employees.
1. Establish The Role of All Employees On The Clock
How many prep cooks are you working with? How many servers will you need today?

To ensure a smooth shift, each role in the restaurant should be clearly defined. Establishing roles is a must so people know what their job is and what they need to do when clocked in.
Reinforcing food safety during this time is extremely important. By having your staff designated to a cleaning project each shift, you can stay on top of this.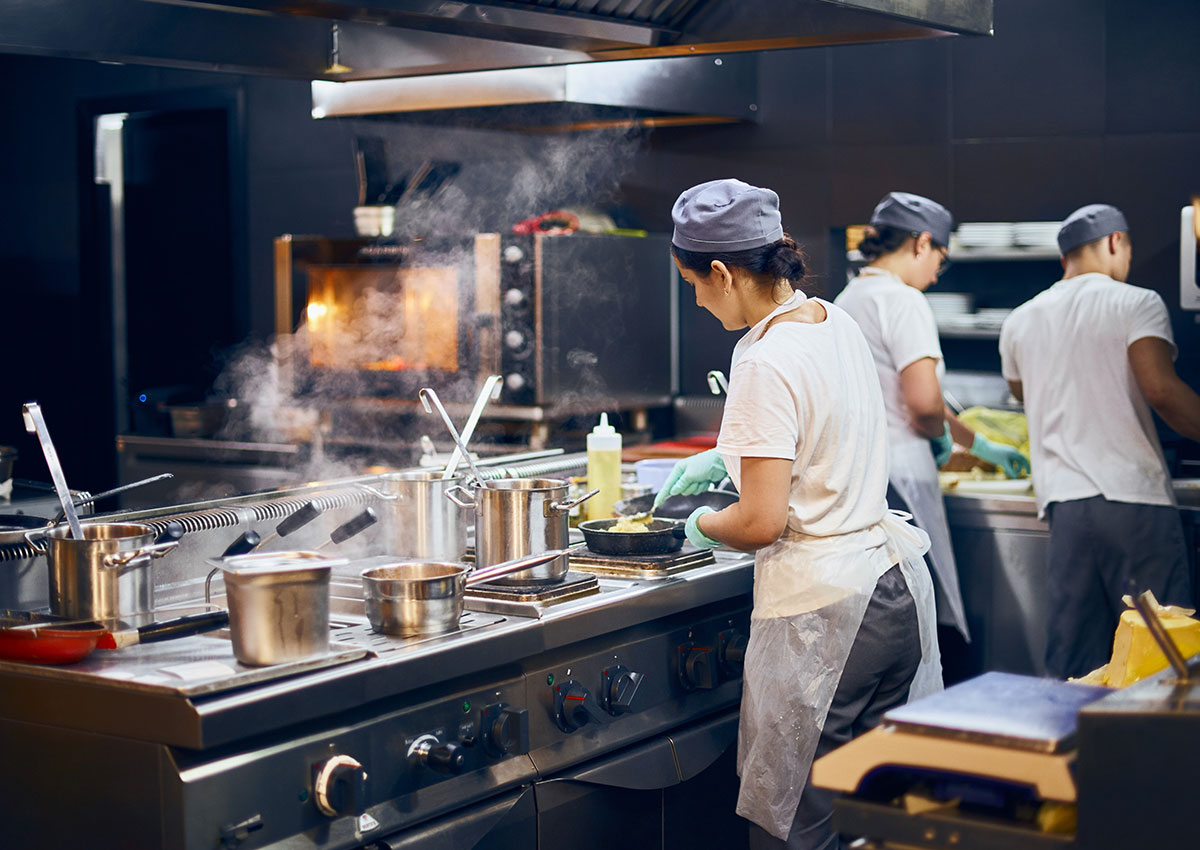 2. Take A Look At Your Current Situation
Most restaurants' are currently dealing with different situations than what their average days used to look like.
If your hours have been reduced or you've shifted to online ordering, this changes things. This affects the employee's schedules and normal day-to-day operations.
This would also be the time to think about the future and how it will affect hiring and scheduling. 
Stay up-to-date with these COVID-19 resources and restaurant information by state. 
3. Work Only With Who You Need
To save on labor costs, it's important not to overstaff. A prime example would be on your busier days, schedule your more productive employees. On the slower days of the week, use this as a time to distribute shifts to the rest of your staff.
Most restaurants are seeing their busiest time during dinners right now due to COVID-19. Take a look at your sales and determine when you need more staff and when you don't. 
4. Manage Accommodations
Your employees' needs and accommodations will always be something you have to focus on when making the work schedule. Work-life balance can be a struggle when your staff has their family to take care of and/or second jobs.
Managing these requests and accommodations is also a part of scheduling employees. Sometimes this determines the hiring of more staff and shifts hours for others. 
Having a certain protocol on deadlines can help you effectively accommodate all staff. This includes time-off requests and shifts swaps to ensure scheduling remains smooth.
5. Determine How You Would Like To Schedule
What kind of method do you use to make employee schedules? Depending on the size of your business and the amount of staff you have, there are different options for scheduling methods.
To be more cost-effective, you can use Excel spreadsheets or pen and paper. But, an employee scheduling software will save you the most amount of money on labor in the long run.
Time in the restaurant industry is valuable. With employee scheduling software, management can spend more time on the floor.
6. Make A Routine Scheduling Method
Distributing the work schedule on a weekly or monthly basis is essential. If you normally send out the schedule on a certain day, do this every time to remain consistent. The more time in advance you send out the schedule, the more time employees have to make changes. This leaves less room for last-minute decisions.
Once you've mastered scheduling, it's helpful from time-to-time to go back and reevaluate. Analyze your schedule to see what's working and change what isn't. This identifies problems within certain hours and makes adjustments to find better solutions. 
For some more helpful tips, check out this article from our 7Shifts partner,  "9 Steps On How to Schedule Employees Effectively". 
Things to Keep in Mind For Off and On The Clock During COVID-19
Smart Scheduling
During this time it's important to listen to your employees and see how their feeling. Allowing for sick-time and time-off requests can help keep everybody safe. 
Also, managing all the shifts includes balancing them out. You want to try to equal out everybody's shifts while also avoiding overstaffing. 
With social distancing in order, you want to avoid overstaffing. Schedule only the amount of employees you think it takes to get the job done. This helps prevent having too many employees at your establishment at the same time.
Do you offer online ordering? This can serve as an opportunity to keep your employees scheduled. The shift to online ordering and takeout is what is keeping our industry alive. 
Constant Communication
It's difficult to keep all your employees happy on a regular basis. But with these uncertain times ahead of us, it's getting harder. 
The goal is to always keep your employees aware. Inform them of any changes and always communicate with them. If you're unable to give employees all the shifts they are used to, talk to them and let them know what's going on. 
Easily Schedule Your Staff
All in all, scheduling out your employees efficiently can be a challenge, but it doesn't have to be. Unlock your restaurant's fullest potential with 7Shift's employee scheduling software. 
Streamline your workforce communications and spend 80% less time scheduling your restaurant staff. Handle all your operations in one place with CAKE's Restaurant POS System
Increase your productivity and keep your workflow organized with our cloud-based solutions. Optimize your business by reducing labor costs and saving time and money. Get started now.