It's Saturday night at the bar and you, as the manager, notice the evening is not as popular as it once was. Drinks and food items aren't flying to patrons as they once were several months ago, and it becomes a cause for concern as the profits take a downward spiral.
Before you hit the panic button, there are some simple tricks in optimizing your bar menu that will entice more consumers into staying at your establishment, spending more money, and coming back in the future.
But why should you optimize your menu? For one, updating your menu periodically after an analysis can help you get a clear sense of how your menu items are affecting costs and sales.
Revamping your bar menu will let your regulars try something new and bring in new customers. These changes should not only be on the food side, offering new and innovative cocktails can be a big incentive for new and repeat business alike.  This also allows your chef and bartender to be creative, and separate you from your competitors down the street.
This article outlines some methods and examples for a variety of restaurant concepts to help you optimize your bar menu and increase your revenue.
Analyze Your Reports
First things first, you need to analyze your biggest and best-selling items in order to keep what's most successful. By finding what is not selling, or moderately selling, you can identify opportunities for change.
If something is not selling, say bourbon drinks at a beachside bar since traditionally rum and tequila-based drinks are the better sellers, then limit it to just one offering, or take it off the menu.
If vodka-based drinks only moderately sell, maybe jazz them up with something new. Say your place is near the beach where Pina Coladas and frozen Margaritas are big sellers. What about making a frozen, slushy Moscow Mule? It could fall right in line with the big two frozen cocktails.
An ongoing menu analysis can help you form a strategy and can help you improve the overall success of your bar. Analyzing your menu doesn't have to be difficult, just make sure you set a regular schedule, perhaps once every month, and update it with every season.
Menu Design
The way a customer views the menu and where their eyes go can improve the dining experience, boost your bar's value, drive patrons' buying decisions, and push your profits skyward.
Restaurant Engine discusses how to frame your menu into "The Golden Triangle." The Golden Triangle is the spot on the menu that hits the customers' eyes first. Traditionally, a customer will start in the middle of the menu before moving to the top right and top left.
This triangle is where you put your high-margin dishes. Maybe not the most expensive items, but the ones that turn the most profit.
Always refer to the standard Menu Matrix when reviewing your dishes to see where they fall.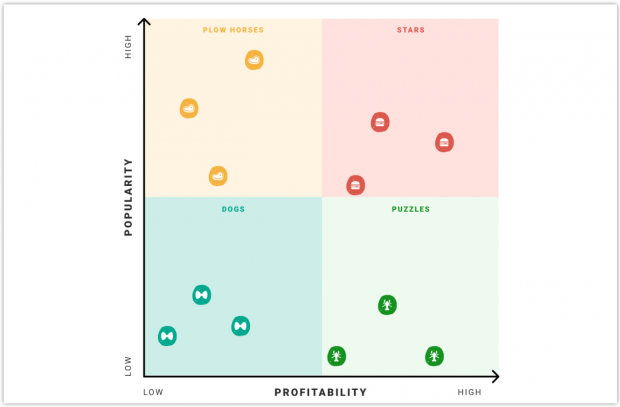 Source: Hospitality Magazine
Stars: high popularity, high profitability
Plowhorses: high popularity, low profitability  
Puzzles: low popularity, high profitability
Dogs: low popularity, low profitability 
To guide your customers' decision-making process, it's also helpful to highlight one high-margin item per category on your menu. You can do this by adding a box or bold text around the dish. 
So, let's say, for example, at your wine bar the post 5 o'clock crowd is just getting out of their offices and heading to your spot for a glass of chardonnay and happy hour food. They are handed a menu and begin browsing.
Imagine the first thing they see on the first page of your menu is your offerings around several charcuterie and cheese boards. A perfect pairing for their glass of vino. These are your Stars — your highest-profit items — at the top-left, top-right, and center of your menu.
Reflect Your Brand
Managers can get caught up in the focus and execution of their bar, but lose sight of the brand they are portraying. And that can be a significant loss of value.
If you run a sports bar your main drink seller is beer, any kind of beer, from domestic to import to craft. Beer is always flowing when the game is on or going into overtime.
The common brand of sports bars contain its staples — wings and burgers. But in optimizing your bar menu, wings and burgers can get stale too.
Roll out something new on the burger side with something like mac & cheese or pastrami on the burgers. Why not a new wing flavor like cilantro-lime?
Do it, whatever flavors you choose, but make it unique and make it yours and own it.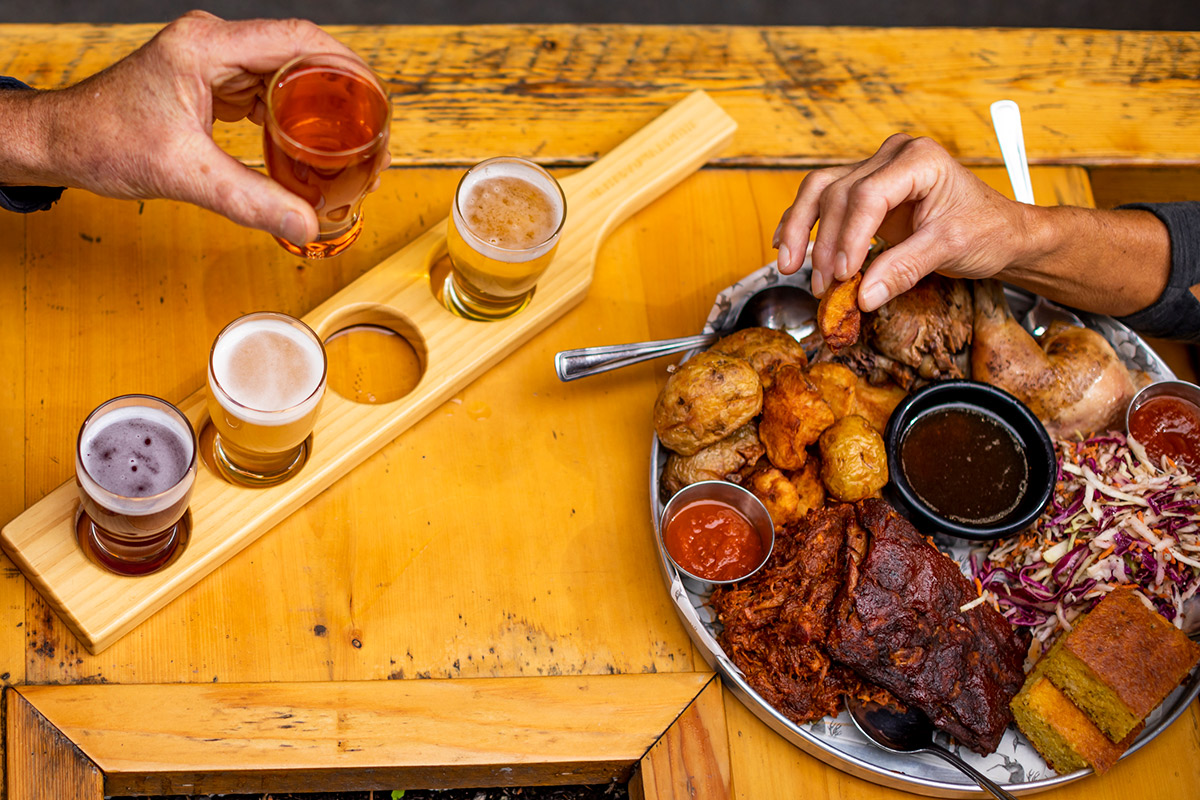 Make Seasonal Changes
The seasons change and your menu should change right with it. You can create a drink menu for spring, summer, winter, and fall. Although be careful with the last one, pumpkin spice can be overused and you want your drinks to stand out.
You can make a staple of the seasons from one drink. Let's take a year-round look at White Russians, which is vodka, cream, and coffee liqueur.
Starting with Christmas just add a shot of Peppermint Schnapps and, if you want to go the extra mile, rim the glass with crushed candy canes. Your customers will love it.
With Spring, get really festive with a Mardi Gras White Russian. You can get King Cake vodka, or, if you don't have that, use cinnamon-infused cream and honey simple syrup to add to the base. Top with Yellow, Purple, and Green colored sugar.
Summer is easy, make the White Russian, but blend with ice for a frozen concoction.
Now we get to Fall, and although everything is pumpkin spice flavored from coffees to desserts, you can be different. Fall is for earthy, savory flavors and nothing is more savory than bacon. Consider spending some time making a bacon-infused vodka and adding it to the White Russian.
Less is More
As a manager, you may think the more variety, the more customers will come in. But in a bar serving food, overloading food selections is just overwhelming to the customer.
Menu manager Greg Rapp says lucky number seven is the perfect amount of menu items per category in a restaurant. So seven appetizers, seven entrees, etc.
For a bar that wants to optimize its menu, seven great tasting items overall are better than 20 average ones. Focus on letting your chef come up with seven tasty components that will attract customers and make them stay longer.
Create Something New
This goes without saying, but if your menu analysis says there are items that are not selling, it's time to create something new.
If you drop enough items, that opens the door to allow your chef to be creative as well as your head bartender to create a new and unique drink.
But what sells the best may be the classics we all love, french fries, nachos, sliders … you get the idea. Keep those on your menu, but add some items that will put a simple spin on them.
Try upgrading french fries by making parmesan sweet potato wedges or shrimp and avocado nachos.
Here are a couple of links from Bon Appétit that can also generate ideas.
Cross-sell Your Cocktails and Food
In a case where you sell food as well cocktails at your bar, the perfect pair may be better than the perfect pour.
Your chef and your head bartender should come together and work together to create a "flavor experience."
We all know burgers and beer are the perfect pairing, but refining that is an option. A good old-fashioned cheeseburger and a lager are the standard pairing. But something may better pair a burger with bacon like a stout or an IPA. Or why not make a beer cocktail and pair it with a burger?
Cocktails can complement a dish simply by common ingredients or flavors in the dish. For example, a French 75 can pair with lemon or citrus-infused fish. Hearty dishes like meats work best with barrel-aged liquors like bourbon, whiskey, or scotch.
You don't have to frame your cocktails around the dish you make. You can do a 180, frame your dish around the cocktail. For example, if you have mojitos as a specialty cocktail, use the cocktail's herb, mint, in your dish to pair with it.
Conclusion
Optimizing your menu is essential to running a successful bar. While ensuring you're updating your drinks, pairing with new and creative dishes, and keeping customers satisfied, you'll have all the tools you need to gain higher profits.
With CAKE's Restaurant POS System, you can collect and keep track of all the information you need to optimize your menu. Technology can make it easier to analyze and update your menu as well as enhance your customers' experience.