Did you know that 54% of people are avoiding eating out? COVID-19 has us in a time where takeout is reign supreme. But, as restrictions lift, how will you divide your efforts?
Some people are inching their way back into restaurants. Others, not so much. Consumers still remain uneasy and do not feel ready to dine-in once again. Your top concern should be making your guests feel safe.
In preparation, everybody on the clock needs to complete ServSafe food handler training. The Food and Drug Administration (FDA) requires management to have food manager certification. Through March 31st, 2020, the online training and assessment are free. Even then, if you add the assessment to your profile by May 31st, you can get up to 1 year to launch. Do not miss out on this resource if your restaurant plans to reopen soon. This is essential to ensure the safety of everybody in your restaurant.
With this, it's going to take time as a "new normal" is being discovered. This is a time where half your guests will dine-in and others will still order online. What does this mean for your restaurant? The volume will remain high for in-store and takeout. Within the first couple of weeks, it's important to find the balance between both efforts.
In the reopening phase, off-premise efforts need to continue as well. These takeout tactics were able to get your restaurant through this difficult time. You can't stop them now.
Here are some tips on how to handle in-store dining and online orders:
Direct Staff in Each Shift
Like any shift, your staff needs clear, defined roles. But, since the Coronavirus outbreak, this is going to be extra important. Everybody on the clock needs to know exactly what they're doing. This will help reduce contact between staff and guests to maintain social distancing.
For example, your servers should be out on the floor helping the guests in your restaurant. Your support staff, such as food runners, can then manage online and curbside orders. Having certain staff set aside to manage orders can help reduce exposure to COVID-19.
To efficiently manage the guests inside, your host/hostess needs the proper tools to do so. Their role is critical to spacing everybody out on time. Plus, there is no way to tell what the volume of people will be at the beginning of this. 
With varying state guidelines on seating capacity, a reservation system can help. Reservation management can promote the following things:
Time to disinfect tables and let them correctly dry for 10 minutes

Accepting online reservations

Alert guests via text to help maintain physical distancing

Give proper estimated wait times to your walk-in customers

Manage how many people are inside the restaurant
It depends on your restaurant's size and location to determine if reservations are the way to go. In any case, a Restaurant Guest Management System can help.
Create a Takeout Station
Keep a designated place in your restaurant where people can order and pick up takeout. The FDA recommends establishing this pick-up zone to help maintain social distancing.
This place is where a staff member can be in charge of all the takeout orders. The station would also act as the place where staff does the takeout prep work. Prep work involves stocking to-go containers, condiments, and utensils.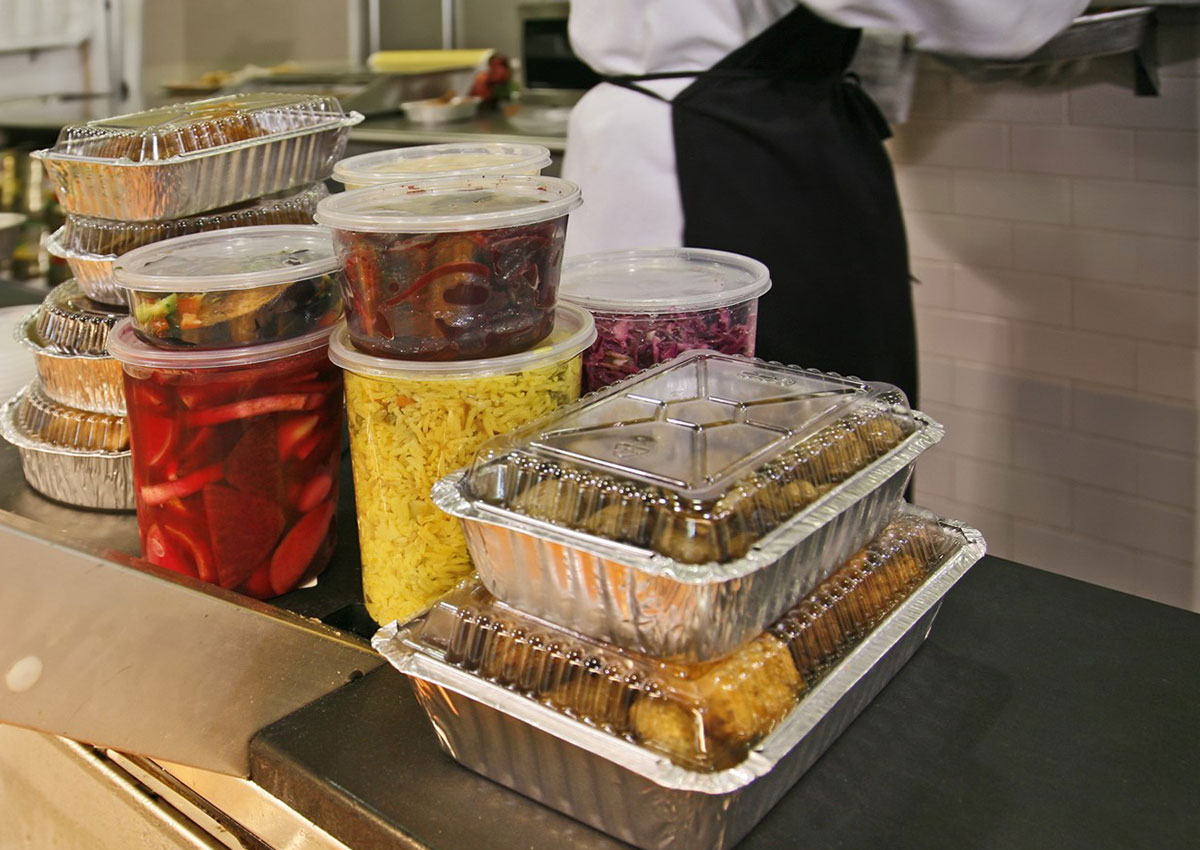 Once a station is created, this will help create a consistent system for staff and guests. A system such as this will help optimize your staff's time and operations. Make sure it's clear to your guests where this station is and it's accessible for staff as well.
Currently, due to COVID-19, you want to try to separate this station away from most of the tables. This will help limit the contact between diners and people coming inside for takeout.
An even better alternative is offering curbside pickup. According to Datassential, 47% of consumers would still like curbside service after reopening. How are you managing your curbside pickups?
Our Curbside Management System allows you to directly text your guests and see all your takeout orders in one place. It's easy to use and keeps curbside hassle-free. Learn how it works and how to set it up here.
Remember, services that practice social distancing will be essential for a long time.
Continue to Promote Online Ordering
In order to give guests even more ways to order, continue to promote your online ordering. As you do this, it frees up more space in your dining room for more customers.
While promoting your online ordering, make sure to do so on social media and in-person. On your social media photo captions, redirect and remind guests about online ordering. To make ordering more accessible, include your website link in your bio. By doing this, your guests can find your online ordering system effortlessly.
By supporting online ordering, your staff doesn't have to spend as much time taking call-in orders. This will help find the balance between fulfilling online orders and in-store efforts.
The recommendation above will compliment your online ordering efforts and make takeout easier. These convenience-driven services help improve the guest experience and engagement with you.
The perfect solution
What is business as usual? As we begin to figure out what normal is, you need the right tools to keep your guests happy.
Don't forget to continue emphasizing off-premise dining. Having the options for takeout and delivery will make your guests feel listened to. The work that it took to stay afloat will continue on until guests feel safe to dine-in once again.
Until this time, balance is key. The reopening of on-premise dining means we are moving forward in the right direction. Appreciate this chance and don't take it for granted. Abide by your state restaurant guidelines and do what you do best; serve your amazing food and help your guests reconnect over food once again.